It's time for England to show the rest of the world that they mean business and it starts on Friday night.
Steve McNamara's side have to demolish the Exiles to prove a point - not only to themselves but to the public in this country.
We know that the World Cup is fast approaching and this is vital for McNamara's team to build on. If they are going to scare the likes of Australia and New Zealand then they must be prepared to pull out a high class performance on Friday night.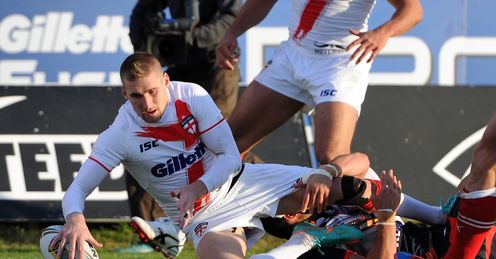 This should not be a game for trying out different things, there are no excuses and this game should be played like it was the first game of the World Cup. England have to get out of the blocks early and get right into the faces of the Exiles players. Believe you me, the Exiles are not taking this easy and they want to prove a point too.
If England are going to scare the likes of Australia and New Zealand then they must be prepared to pull out a high class performance on Friday night.
Stevo
Quotes of the week
Live on Sky Sports
England v Exiles
7.30pm, Fri, Sky Sports 2 HD
There have only been three England v Exiles games in the past and the Exiles are leading 2-1. It is a very strong outfit and they will want to win this game.
The Exiles half-back partnership of Michael Dobson and Travis Burns is very good and they could be key, while Pat Richards could punish England with the boot.
However this is a quality England squad too, they have had the progress and the preparation and this is the time for the likes of Kevin Sinfield, Sam Tomkins and Rangi Chase to show up and put in a fine performance.
This is not a preparation game, this is the start of the World Cup and there are no excuses. If England don't win then I don't want to hear about them not being able to pick the likes of Gareth Widdop, Sam Burgess, Jack Reed and James Graham who are playing in the NRL. What happens if those players get injured? England have to look at it as if this is the time that is taking on Australia in the opening game of the World Cup.
This is going to be rough and tough but England have to come through this triumphantly. England have to show that they are strong physically and mentally and rip into the Exiles - forget about playing against your mates, this is just so important. Imagine what the Aussies and the Kiwis will be thinking if the Exiles beat England?
We need a convincing win here, England cannot take any prisoners. I think England have the chance to do something special at the World Cup, but that starts here against the Exiles.
Comments (1)
Alan Winstanley says...
Well after watching that game on Friday night England v Exiles its enough to drive you to drink,what a load of garbage, When you view an State of Origin Series you soon realise that we have not got a cat in hell's chance whatever you want to call us ie England,Geat Britain Europe WHAT EVER!!!!!! I have only one thought which might help and that's reintroduce LANCASHIRE v YORKSHIRE SERIES,, then after rethink scrap that because we have far too too many jolly foreigner's so that wont do ,but all I ask is that stevo&hemmings stop going on about the World Cup we have not a chance so my only suggestion now is for a complete ban on ALL oversea's player's and lets start to rebuild our own home grown talent....
Posted 18:50 17th June 2013