In an attempt to cheer myself up after the semi-final defeat to New Zealand I went along to watch the latest 007 movie and realised where we've been going wrong. It's fine picking James Roby, James Graham and James Peacock but it's James Bond that we need in the team. He never seems to be on the losing side!
The Rugby League equivalent of 'Groundhog Day' happens every time that we lose to our Southern Hemisphere rivals. The usual questions are asked (for about a week) and the usual replies are given. Here is my summary.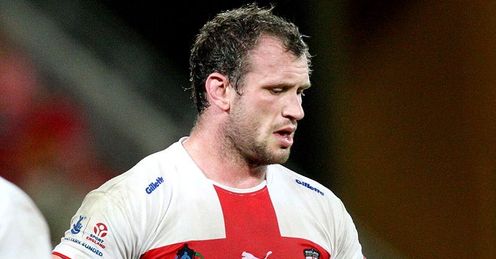 Over the last 27 years I have had most experiences that International Rugby League has to offer. I started as a spectator before becoming a player which morphed into the Manager and has culminated in my position as a commentator. At some time in the future I will return to being a spectator again, at which point the cycle will be complete.
Skill shortage
My summation of this World Cup is that England did not have the technical skills to compete and beat the Australians and New Zealanders. I don't think that there is a massive difference in terms of the physical, mental or tactical capabilities of the three major national squads.
Political in-fighting within the sport of Rugby League has wasted so much time, money and energy that could have been better spent. People have been and continue to fight for their empire.
Phil Clarke
Quotes of the week
NEW ZEALAND v AUSTRALIA
8.30am, Sat, Sky Sports 2
It could be argued that over the last 15 years we put too much focus on our physical preparations in place of our technical ones. It is much easier for a player to go to a weights room and pump some iron than it is to go onto a field and practice passing a ball whilst running at full pace to a moving target (i.e. what a player has to do to score a try at the highest level of the game.)
Much has been said about the difference between the kicking game of the Kangaroos and the Kiwis and that from the England side. That again is a measure of the technical aspect of the game. "What are your skills like?" is the question that is repeatedly asked in international Test matches. Unfortunately we did not have as high a skill level as the two teams that will contest this week's Final.
Wider view
A brief analysis of the reasons why England will not play in this week's World Cup Final would only answer some of the questions that fans ask in these circumstances. We have to take a much wider view to understand and appreciate the jigsaw puzzle which hinders our international chances of success.
Here are some of the problems.
1. The NRL is more intense than the Super League. Its environment breeds faster, more skillful, mentally tougher and more tactically aware players. The pass rate to get in it is very high and the standard to keep your place means that it is a survival of the fittest to stay there.
2. Australia has more than nine times as many people playing Rugby League than we do in the UK. They get to pick their best from a much bigger army of men. New Zealand struggle for numbers but have the advantage of their players playing weekly in the NRL.
3. Australia gets first pick of the best 'athlete' in many towns and cities. Rugby League is the most attractive and trendy sport in many parts of Australia. That is not the case in most places in the UK. The biggest, fastest, strongest and most skillful sportsman often choose to play football, cricket, rugby union or one of several other sports.
4. The Australian culture and climate are a massive advantage. Even in New Zealand, there is a much greater degree of importance given to sport than there is in the UK. All sports are celebrated and recognised.
5. A winning culture breeds a winning mentality. Australia have got into the habit of winning. (In 2003 David Waite's GB side pushed the Kangaroos into the last five minutes in all three tests but they still managed to win all three).
6. There are too many overseas players in Super League to give our national team a chance of beating their main rivals. Twenty years ago we had 16 teams playing in the top division and 12% of the players at that time were from overseas. In the 2008 Super League we had 11 British teams in the Super League and the overseas contingent made up 29% of the total playing pool.
7. The Professionalism of Rugby Union in the mid-90s means that we no longer have players like Martin Offiah or Jonathan Davies to help. We also lose some players to rugby union (e.g. Chris Ashton) and are losing out with many aspiring teenage players who now choose to play the 15-a-side game instead.
8. Political in-fighting within the sport of Rugby League has wasted so much time, money and energy that could have been better spent. People have been and continue to fight for their empire.
9. There has been no real investment in junior development from most Super League Clubs since the switch to Summer Rugby. If you analyse the percentage of intellectual or financial capital that has gone into the scholarship schemes in comparison to the first team you would realise that it out of balance. Australian clubs try to produce their own players and have done this better than most UK clubs. Young players are given an opportunity in the NRL much more than in Super League.
10. Most supporters, players, coaches and club owners are more interested in the domestic competition than they are in the International game. We sometimes get more fans to watch a club game than we do for a Test Match. We could do more to speed up our rate of improvement.
11. My experiences tells me that the standard of coaching in Australia is better than that in the UK (obviously this is a major generalisation and I do think that there are some excellent coaches doing great work in the UK).
12. We don't have as many players with the right attitude to be world-class players. (Again, a generalisation but go and monitor the attention to detail, preparation and extra training of your average Australian player to the average British one. This is not exclusive to rugby league but has been noted in football, rugby union, cricket also.)
13. Many people within rugby league are either in a state of denial or accepting of second best. In some areas we have gone backwards and do not seem prepared to go and learn from other sports. Rugby union is miles ahead of rugby league in some aspects and yet we don't seem to want to accept this and learn from it. We have regressed in terms of sports science and are falling behind many other sports. We need more people with an inquisitive outlook to improve the knowledge base.
14. There is no real research budget or thinking at the top level to help maximise our chances of international success.
15. The sport, as a whole, has a limited understanding of skill acquisition. Repetition of uncorrected mistakes just leads to more mistakes.
16. Some people claim that promotion and relegation forced clubs into short-term decision making. Time will tell if the new license system encourages longer term thinking and a willingness to produce rather than recruit players.
17. It could be argued that a more exciting and entertaining domestic competition in Super League, with less focus on completion rates and defence, actually damages or chances at international level.
18. The State of Origin competition is tougher than a Test match at times and prepares Australia's players to perform under intense pressure.
19. More extensive coverage of the game on TV helps to promote the game and educate young players and coaches.
20. I don't know what number 20 is and I would like to ask you. Please tell me what you think that I have missed. There is no rank order to the above list. Some are more important than others and some are inter linked.
Identifying all of the problems is one thing. Coming up with some solutions is much more difficult especially when we have no control over things like the weather, the government or the desires and wishes of the NRL clubs (who don't have much interest in International Rugby League.)
Please let me know if you think that you have any answers. Phil Clarke
Comments (18)
Roger Smith says...
I was at the England v New Zealand game in Newcastle. It was apparent to me, the Australians sitting next to me, and even the Kiwi the other side that referee Archer was not getting the New Zealanders anywhere close to onside. Coupled with other dubious decisions that ALL went against England, it was little surprise that we lost. If the opposition only have to retreat 9 metres, AT THE MOST, then it obviously becomes more and more difficult to get any go forward, and conversely for the Kiwis they did not tire as much as normal because of all the advantages that being allowed to be offside gave them. After the game Aussies were coming up to England fans and apologising for the ref who they branded a disgrace! When I got home and watched the game on Sky I was most surprised that the commentry team made no mention of the constant and blatant offside. Living in Essex, 2 hours from the nearest Superleague ground, it is not easy to convince others that rugby league is as good, or better than union - never mind all-conquering football! It doesn't help the cause by having dreadful refereeing standards at international level. Why don't we all play to the same rules and be refereed by the same rules? One other point - the way ticketing and official travel was organised in this country made it very difficult for people, like me, who were not from the rugby league heartland, to obtain tickets and sort travel arrangements for the tournament. I was dismayed to find that I had bought tickets and made bookings for the wrong semi-final. Why was it not made clear, well BEFORE the tournament started, that Australia were going to play their semi in Sydney, no matter what? Having said all that, I thoroughly enjoyed my time in Australia, in no small way due to the friendliness of the Australian people I met. I thought that, in general, they were a credit to their country.
Posted 15:33 6th December 2008
Philip Hart says...
Phil, One other thing i think plays a part is back when you were playing the greats like yourself, Garry Schofield, Hanley, Offiah etc would all go over to Australia and have a spell down there after your season had ended. It got you guys playing with them at club level and learning from them. The benifit was there to see at Test level. 1992 is the cloeset we've had to beat the Aussies but you look at the england team and not one person scares me.
Posted 13:28 28th November 2008
Jay Carroll says...
First of all I feel that the attitude of British sports men and women is more negative than some of the leading sporting nations. But I dont feel through any fault of their own! I have spent some time in the states and seen how much emphasis they put on winning. This is brought about by the way they admire their sports stars. Most kids aspire to be the next Jordan or Faurve, and when they aspire to be these people its encouraged and positivley reinforced by parents, school teachers and sports coaches. They have summer camps set up (my job while in the states!) set up in individual sports, geared towards creating sports people from the age of 7! Teaching them fundamental skills as well as the attitude they need to be successful in the sporting arena. If money is an issue for these youngsters then the camp or government bodies pick up the slack to ensure that youngsters have opertunities to succeed. I have several friends who have been there for several years coaching the kids footy teams, most of whom are in managerial positions and are working hard to coach the kids there. My point? the 7 year old kids here are coached on a local field with no facilaties by parents who voulenteer their time to coach, dont get me wrong I admire anyone who voulenteers their time and I will not knock the parents, but a more professional approach at an early age will breed success and a winning mentality. In terms of rugby I feel we would benefit from having less imports, so clubs really think about the player they are signing rather than just sign all and sundrey just to find there may of been a kid in the acadamy caperble of doing the same job all along! Bring back promotion and relegation. Concentrate on producing quality players in the hotbed areas of Leigh, Halifax, and Cumbria, rather than expanding to S. Wales where Union is more successful, better paid and better thought of than League with a fantastic international set up too!
Posted 12:08 25th November 2008
Matt Lang says...
Whilst we're at it how about the weather? Amateur rugby league at junior level remains a winter sport in thie country. Whilst I fully agree that over in Oz RL is a marquee sport, getting it's pick ahead of the majority of other sports, surely our young players are not gaining essential ball handling skills that the Australians take for granted because in the most part, they play in the dry? Just a thought.
Posted 09:17 25th November 2008
Paul Forsyth says...
I would like to point out a few things regarding England's awful showing in Aus. The pivotal players chosen by T smith were a massive weakness in the squad. We had a full back who is flattering himself at St Helens due to their sheer domination of Superleague. How slow did he look compared to Slater? He looked out of his depth at the top level of the game. Our two wingers were clearly not up to the mark. Calderwood is simply not a good enough club player, asking him to compete against Vatuvei, Tate, Folau, Inglis etc is pure folly. Gardner, as with wellens plays for the best team and his exploits are hughly over exagerated. The two centres are too old, simple as that. Burrow was very good as was Graham and Peacock. I firmly believe the talent is there as the fruits of the academy systems were our best performing players. There are far too many journeyman Antipodeans in the english game. The key positions just mentioned are top heavy with such players. I fail to accept that the likes of Sam Obst, Ben jeffries and the like are better than some undiscovered young english players unable to get their shot at the top grade. Australia's domination of the game came around the time state of origin began, is this coincidence; i don't think so. I would like to add that I thought the coach was found wanting, defensively we have gone backwards since the last Tri-nations debacle under Noble, all this has seriously disillusioned me and i find myself watching the other code now. if you take Wigan as the worst offender, they have produced scores of talent in the recent past and all have ben farmed out to other clubs in preference to Aussies. Tim Smith is a wild child over weight risk, yet over he comes for a fat wage packet at the expence of a talented youngster. The current Wigan team is stacked with Aussies and this cannot be good for the game, period. Sort it out or we will never be able to compete and I for one am fed up.
Posted 22:32 23rd November 2008
Dave Crooks says...
I watch a massive amount of both codes. As I live in Northern Ireland I played only Union but enjoy the league game. In my humble opinion both codes suffer from the influx of overseas players. With the large amounts of of money being generated the owners of clubs in both codes appear to be looking for the quick fix and therefor buy in the players to fill certain positions instead of nurturing and brining on home grown talent. I have watched all the internationals this weekend and am disapointed by the results but not surprised. The Southern Hemisphere is carrying all,before it..I think this process has to be addressed. The old adage of its the taking part and not the result is dead and buried, its time that the Northern Hemisphere got its act together, or we will continue to be second best in all codes and games. I have to include cricket and football. By the way I was not impressed by the Ireland result yesterday.
Posted 10:59 23rd November 2008
Downtheante . says...
I see it as no coincidence that with a Northern Hemisphere referee we saw a game of rugby in the final instead of a wrestling competition. Australia are the best wrestlers in the game of rugby league and if that's the kind of game you like to watch then good on you, but I prefer not to watch slow play-the-balls and blinkered Australian match officials overseeing matches. Add the referees to your list Phil. Australia's second try against England came from a knock on at the play the ball that we could see all the way from England but the touch judge couldn't see from 5 yards away. They could see our forward passes (what happened to the momentum wording in the rule?) buit no-one else's apparently. They could see us encroaching after a high kick against the Aussies but couldn't see a Kiwi encroachment against England - only an obstruction instead that led to the Kiwis taking the lead... etc, etc, etc. Oh and did I mention lying on at the play-the-ball at all? How tedious was that? Unless it was England and then they pinged us.
Posted 10:46 23rd November 2008
Darren Beazant says...
Dear Phil Many great points to discuss with the powers that be! In my opinion i feel we need to start at the grass roots of the sport being schools etc..... from there the players are then connected to professional clubs at the age of 11 maybe 12 years old (each club with teams of under 11s,12s,13s,14s etc) .... being coached by past players who have played the game at the highest level. Each age group would then have its own league or leagues (similar to the colts league 20+ years ago) coaching the skills of passing,support play,tackling,kicking etc.... can then be developed somewhat similar to the successfull football academies of the Premier League. Hopefully this would create in time the quality and depth of players at each club resulting in not only a stronger SL but also two or maybe three divisions of similar talent. This no doubt would take time and a lot of hard work from many many individuals along with the clubs and the RL,but like many things in life there aint many shortcuts to success! Maybe going back to the basics of the game coaching the players of the future to let them express themselves on the field,to sometimes ignore the game plans and take chances/risks will hopefully produce players similar to the greats of yesteryear Murphy,Reily,Laughton,Hanley,Gregory,Lydon,Edwards to name but a few !!!! Best Wishes
Posted 06:30 23rd November 2008
Ric Lockley says...
Many accurate points Mr Clarke as usual. Perhaps someone should ask the Kiwis how to do it? The crunch to me comes down to the talent pool. The more youngsters who play, the better are the choices available later on. We can do well. The world club challenge means something here and we usually win it.... remember even Wigan won it away in Queensland! Sometimes I can`t believe it when the half-time hooter goes so quickly. Ten minutes of an elite soccer match is enough to have me channel hop with the remote. The S.L. product is excellent and the fans love their clubs. Give the manager time to do his work and invest in the broader game, particularly the juniors. Progress will come. Keep up the good work with SKY.
Posted 20:14 22nd November 2008
James Major says...
Phil, We haven't done well in Australia since years ago, if ever, our knackered players get intimidated by the press coverage, intimidated by the stronger personalities of the kiwis and the kangaroos and if this england team had played samao/tonga/fiji i'm guessing they would have struggled with them as well. Englands poor showing in this touranment needs to be looked at, such things as too many overseas players, too many games, not enough big games (like the stage of origin) for our players to reach the intensity levels required when facing NZ and Australia on their patch. However we have always known this, there has always been too many past it aussies in the english league and we have always played too many games. The problem is the fact that the clubs have to play these games in order to make money. This needs to be looked at. What are our priorities? In my view the economics behind this situation are not going to change. We are a small sport with ambitions to be bigger and that is a good thing. We shouldn't be too harsh on ourselves. There is hope, we should always remember that we beat the kiwis 3-0 last year, yes, the kiwis were in a weak state at the time but still that was a magnificent acheivement and should not be forgotten amidst all this doom and gloom speak on British Rugby league. I for one am looking forwards to next year and the 4 nations which looks like it is going to be really exciting now with the aussies and england with points to prove. One thing i would say though is to allow the french to play all their games in perpignan as the players are comfortable there and that will make them more competitive. In conclusion its not all bad, the players just underperformed.
Posted 16:57 22nd November 2008
Mike Burgess says...
Most of what Phil has said is spot on. However, England's lack of sporting success is not limited to RL so please don't be too harsh on the players. They gave of their all and performed to their abilities. Their abilities were just not as good as the teams that beat them. RL supporters keep in mind that Pommy cricketers have never won the world cup; the footballers have only won the world cup once (42 years ago); the tennis players haven't won the Davis Cup for over 70 years; RU tasted only one success in 2003; the netballers have only beaten Oz once in 47 matches; the men's hockey team last tasted success when winning gold in 1988; their acquatic personnel perform like land lubbers (apart from the young lady who recently won 2 gold medals); and their track and field personnel are nearly always outclassed. They have never achieved success in the ultimate yacht race (America's Cup). I mention all this not to deride English sports people but to emphasise that there must be an over-riding reason for their lack of success on the world stage (which has frustrated me for 50 years whilst being a pom living in Oz). For the situation to change it needs unified commitment by all levels of government personnel; sporting hierarchy; the media; and the mums and dads (local clubs, etc). There must have been an endless amount of untapped talent in England overlooked in years gone by. This would not happen in Oz. So, my suggestion is provide ample world class sporting facilities throughout the country; have a structured and regulated sporting body (like the Australian Institute of Sport); encourage the importance of sport participation for all ages; encourage success and not be embarrassed by it; and acknowledge deficiences and not make excuses for them. Finally, someone who is in a position to implement the change needed should come to Oz and see first hand how important sport is in the towns outside of the major cities.
Posted 06:58 22nd November 2008
Brian arthur Barton says...
Phil I agree with you in most of your comments but i do feel as a spectator who as watched our game for many years that it not soley down to the overseas players that our game as gone backwards Many of the overseas player contribute to bringing our young talent through and many have prospered . There is not enough money in our game to make it an attractive sport to young players when they see what earnings they can make in other sports such as football golf tennis and many others. Our game does not get the media coverage it requires not even from Sky to make it attractive to these players unless they truley love the sport. It is a short time playing and they have to earn as much as they can in a short period of time. Apart from the normal televised games we should have more coverage even on terestrial television they have the challenge cup but it is straight into the game finished then of the air and an hours show on a Sunday We have to first i believe get all our grounds up to standard have better training facilities and get out to the grass roots and make the sport attractive theree is talent out ther that i am sure would be attracted to the sport to play if it is marketed in the right manner. Get our players into schools and the amateur clubs show interest in the kids playing i know some of the super league clubs and players do this but not all . The sport needs as much media coverage as possible and when we have these big derby games lets get it advertised on bill boards and show people our sport is a great game to watch
Posted 14:19 21st November 2008
Pete Short says...
Good points Phil, I just hope the RFL read them too. Tony Smith and the RFL have to use this as a wake up call and need a new approach with England before the next world cup.
Posted 08:32 21st November 2008
Daniel Tabrett says...
You haven't missed much at all and u obbiously know what u r talking about and have done a great lot of thinking on the topic. Being an Aussie and seeing our domestic comp while also supporting the super league one thing stands out 2 me. That is our national side is made up of players throughout most of our clubs in the NRL England players r made up of Saints and Leeds players which makes it hard 4 english sides 2 build from domestic 2 international games cause u play with most of the players week in and week out anyway. A great axample of this in the NRL is JT who plays 4 the cowboys and is one of the best if not the best player in the world. The cowboys came 2nd last last year but there he is playing 4 Australia. When was the last time u saw an actual world class player playing 4 a super league club who came 2nd last? well u wouldn't 2 oftern and the salary cap over here ensures our players get picked from all over the NRL unlike the super league which boosts the talent seen week in and week out in the NRL. The super league need more competitive clubs 2 compete with the Leeds and the Saints so those clubs can also add 2 the quality of the international team.
Posted 05:25 21st November 2008
Jack Morris says...
Hi Phil you say that 20yrs ago that there were 12% overseas players in rl so theroreticaly we should have a stronger national team yet we still got hammered by the aussies.remember 1982 the clubs went mad for aus coaches & players to improve our young players.we copied the aus mistake free method,the flat pass amongst the forwards,onus on defence and so on.but the aus coaches have evolved still the same tight defence but the halves creating movement around the pitch and backs running from deep onto the ball whilst we still play a safety first game and dont encourage players to use their natural flair'having watched the nrl on tv the games are more exciting because the refs let play go on more than in super league and this allows players to use their natural ability.I hope Iam wrong but I can see some big scores and one sided games in the next 3seasons.
Posted 19:48 20th November 2008
Michael Denniss says...
I feel the media play a big part in how we perseeve rugby League players. All too often players are given accolades that they do not deserve. Many of the players went to australia with big reputations and in some cases bigger ego's. Roby,Graham,Price, wellens, Sinfield and others are not great players, they are good players. Also what do we use as a benchmark? Too many other nationalities play in super league and dilute our homegrown talent. We are masters of seeing players with potential disappearing because they cannot get a game.
Posted 16:34 20th November 2008
Matt Hyslop says...
The most important difference between the nations (in my opinion) is easy. Half back and stand off! There is not a great difference between the forwards from the 3 main nations. England had no real chance when their halves have no real potential to boss a match and most importantly the standoff (Leon Pryce) is not a footballer. He has no right to be considered an international no 6. Maguire is a better footballer but no where near the calibre of Lockyer. The answer is depth in these positions. You get that by promoting footballers over gym junkies. Peter Sterling, Wally Lewis, Ricky Stuart, Laurie Daley, Andrew Johns, Brad Fittler, Darren Lockyer are footballers first and athletes second. When Lockyer was out injured a couple of years ago, in the tri nations, NZ won 24 nil. In the other two finals he played, he dominated and australia won handsomely. That's how important a quality no 6 is! That's the answer!
Posted 15:35 20th November 2008
Martin Parker says...
we seem happy and content to develop / help develop the french & welsh side - thro money @ helping. what we should have done is helped english teams / english players i.e widnes and halifax , proven breading grounds for english tallent !!
Posted 12:45 20th November 2008