A friend of mine was talking about some great British comedy programmes last week and their use of what's called canned laughter.
That's when the producers of a show decide to add the effects of a laughing audience onto the programme.
They often refer to it as a laughter soundtrack in the industry and it first became popular in American sitcoms during the 1950's.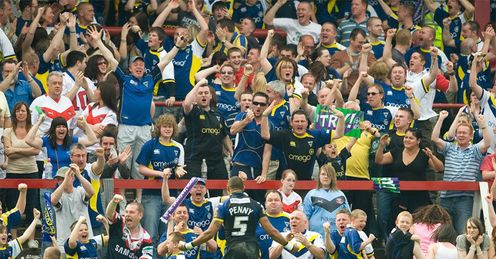 In the UK, prior to the last few years, most sitcoms were recorded in front of live audiences to provide natural laughter. However, shows like The Royle Family and The Office broke new ground by not featuring any audience laughter at all.
I can see you wondering where I'm going with this, and how it is relevant to rugby league. Well, the question that intrigues me is 'what effect does crowd noise have on you?'.
On average a team in Super League were awarded 225 penalties over 27 games in 2008. St Helens were actually awarded the most (264) and the other teams all received a minimum of over 200. The exception were Brian McDermott's Harlequins who were given just 170. Now 55 penalties less than the average is a massive amount.
Phil Clarke
Quotes of the week
SUPER LEAGUE LIVE ON SKY
Wakefield v St Helens
7.30pm, Fri, Sky Sports 2 &HD2
Harlequins v Hull
6.00pm, Sat, Sky Sports 2 & HD2
More specifically, what effect does the noise have on a referee at a game of rugby league?
We would all like to think that the referee is able to ignore the attempts of the supporters to influence him, but he is only human after all.
Most people react to a loud noise or shout and most referees will look or consider, even if it is momentarily, when the supporters appeal for a penalty - traditionally the shout was to 'Get 'um on-side!' but more recently it's about interference at the play-the-ball when one of their team is being held down.
After six rounds of Super League in 2009, I'd like to highlight an interesting point. Harlequins and Celtic Crusaders, both teams with less than the average size support, have received significantly fewer penalties than the other teams. When you take a look back to last season, you'd be amazed to see Harlequins statistics.
Ill-disciplined
On average a team in Super League were awarded 225 penalties over 27 games in 2008. St Helens were actually awarded the most (264) and the other teams all received a minimum of over 200.
The exception were Brian McDermott's Harlequins who were given just 170. Now 55 penalties less than the average is a massive amount.
It's important to remember that a third of all tries scored in Super League originate from a penalty, so you can see the importance of having the referee raise his arm in your favour.
Just trying to stress the point, Harlequins are not a dirty or ill-disciplined side. They've conceded fewer penalties than any other team in Super League this year, it's just that they can't seem to get the referee to award them one!
It might be worth the Harlequins buying the equivalent of some canned laughter. Is there a soundtrack available of supporters appealing to the referee for a penalty that they could play through their PA system?
Phil answers your questions
GIVING THEM THE HOOK?
Phil, are we seeing the end of the traditional hooker? I saw Leeds did without one the other day and caught the back-end of a conversation you and the team were having and I couldn't work out whether you were advocating doing away with the role or saying a successful teams needs one man in the job, all the time. Sorry if it means repeating yourself, but do you think we are moving towards the end of a proper hooker as it were? Personally, I hope this doesn't happen, but of all sports, rugby league seems to evolve pretty quickly, so nothing would surprise me. Jimmy Halton
PHIL SAYS: The game of rugby league did away with the traditional role of the 'hooker' just over a decade ago when the scrum no longer became a contest for possession. The term 'hooker' was used to describe his job, using his feet to 'hook' the ball in the scrum. Whether you agree or disagree with the shift in the rules, a 'hooker' now has a completely different role to before the switch to summer rugby in 1996.
I think that the game's rule makers felt that it was taking too long for a scrum to have a successful outcome. It would often collapse several times or see one team penalised and stop the flow of the match. I understand that it is still highly valued in rugby union, but do see the problems that I've cited above. The referee has to make an educated guess to determine which team have collapsed the scrum and it can be confusing and frustrating for spectators. You are quite right about the speed with which rugby league evolves.
The 'hooker' nowadays is effectively another scrum-half. He still needs to have an excellent pass from behind the play-the-ball and fulfil that aspect which has been given to the 'hooker' for the last 100 years. He also needs to have the great vision to sense where to direct his team. Most teams will still favour one player having the primary responsibility of standing behind the man at play-the-ball and making the first pass of the play. (In the rule and coaching books he is referred to as the acting half-back, which is exactly what he's become, acting like another half-back or scrum-half.) I always find it interesting when you see a winger or second rower going into the acting half-back position and attempting to pass from the play-the-ball. Some are much better than others. It is probably the most important skill in the whole sport, and yet gets overlooked by almost everyone. If you look at the best teams in the world, you'll notice that both the accuracy and the width of the pass from the play-the-ball is significantly better than most other teams. Whatever direction the game moves in, I hope that you still enjoy it!
A CUT ABOVE
Loved St Helens-Leeds on Friday night Phil but it did get me a little worried: are these two head and shoulders above the rest of Super League. The pace and intensity at which they play the game struck me as being streets ahead of anything I have seen this season - and for some time. Are we looking at the same Grand Final, same top two, again? Marco
PHIL SAYS: I agree with your statement, Marco. They did seem to be a level above all the other teams from what I've seen this year, but a lot can change over the next 26 weeks. It is worth considering for just a moment why those two teams have been consistently better than the rest for the last three or four years? The salary cap restricts them from buying all the best players, and in fact, Leeds have still got some left to spend this year, assuming that Greg Eastwood doesn't arrive.
St Helens are that advanced that they have three of their best young prospects playing and learning the game at other Super League sides: Scott Moore looks to be a capable replacement for Keiron Cunningham and is having a brilliant year at Huddersfield. Matty Smith is maturing nicely at the Celtic Crusaders and could fill Sean Long's boots one day. Steven Tyler is another young man they have out on loan in South Wales this season. Why is it that these two clubs seem to be so far in front of the rest? It's not just the coach.
Both have had changes of coach without a decline of standards or performance. I can only draw one conclusion. They both have the best men running their clubs. Gary Hetherington and Eamonn McManus get 9 out of 10 decisions that they make right and as a result have seen their teams contest the last two Grand Finals. If they don't appear in this year's, then they won't be far from it.
Got a question for Phil on an issue, a game or a player in Super League? The mail it in HERE, or use the feedback form below...
Comments (3)
David Lea says...
I believe it to be absolutley correct that refs are making decisions based on fans shouting. It is no suprise at all that Saints were awarded the most penalties, surely anybody who who has watched a game at Saints or even on the telly can here the saints fans shouting, moaning and crying at every play. While this is annoying, it works so who can blame them.
Posted 17:23 30th August 2009
Phil Ford says...
Phil the crowd swaying the officials is nothing new. When I used to support Liverpool City as a lad there was a bunch of us from the Huyton area who always stood behind the posts, when our goal kicker atempted a conversion we always jumped up with a big yes! and cheers when the ball came near to the posts even if it was just out, on a number of times the touch judges put up there flags in agreement with us. It is great to see sutch large crowds at the games today. The more there the better they can help the ref.
Posted 14:47 27th March 2009
Phil The dude says...
I think that your spot on Phil with your thoughts on the crowd swaying referees. Anyone who thinks any different is probably a referee or someone who has never watched our great game. If us spectators didn't think we could sway the referee we wouldn't be screaming at every suspect decision, there would still be singing etc. But as you said a player lying on at the ruck is probably the main culprit especially against the faster more attacking sides- but as you said were only human!
Posted 21:41 26th March 2009