As a child of the 70's I grew up with a television programme called Opportunity Knocks.
It was a British Talent show which originally started on radio and moved to TV in the mid 1950's. Those of you old enough to remember the 80's and 90's might recall seeing Bob Monkhouse and Les Dawson hosting the show in an attempt to discover the next generation of entertainers.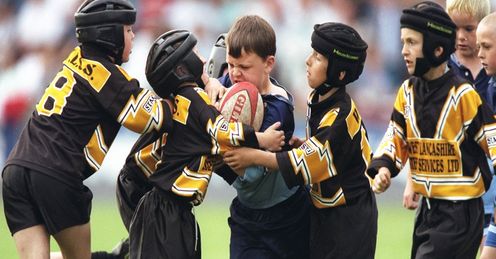 The modern equivalents are Britain's Got Talent, Pop Idol, X-factor and the shows where they attempt to find a new lead performer for a West End musical. Whatever they are called, they centre on giving somebody a chance to show their skills.
Most of the rugby clubs in this country employ staff and spend time and money in attempting to discover and develop their next star performers, or so they claim. Some do it much better than others.
Now the RFL is trying to encourage the clubs, after a decade or two of increasing overseas players, to see more of these young players given a chance to play at the highest level.
Phil Clarke
Quotes of the week
If we look at a typical Super League club, we'll see that they receive £1.2 million per year from the central distribution of funds. Ten per cent of this (£120,000) is supposed to be spent on junior player development. In theory a club should employ a Head of Youth, a Player Performance Manager and somebody with expertise, qualifications and the personality to develop the strength and conditioning of young players at the club.
Most clubs start to have some influence on their players when they are about 14 years old, and they enter a scholarship programme with a club. A recent revision of the rules means that each club can sign 12 players in the 14-year age group and 24 in the 15s and 16s. Add to this about 20 players at the club who are between 17-20 years old and its easy to see each club with about 80 to 90 players in their youth system. Let's multiply that by 13 and find that in theory, there are about 1100 young players under the watchful eye of the Super League clubs.
Now the RFL is trying to encourage the clubs, after a decade or two of increasing overseas players, to see more of these young players given a chance to play at the highest level. Their rules for next season state that seven out of a 25-man squad need to be club trained, i.e. been with the club for three years or more.
However, this is, as was stated by the St Helens Chairman recently, far too low, and does nothing to create a paradigm shift in the sport. We need to increase that number to at least ten. It is vitally important that more British players are given some first team experience. As it stands, jerseys 18 to 25 can be given to club trained youngsters who are rarely playing and the club will still be meeting the criteria set down.
I am aware, respectful of and impressed by much of the coaching that goes into young players. Wigan for example, are so advanced that they film the scholarship training sessions and provide instantaneous feedback via the footage on a giant screen inside their training base. It's more advanced than many first teams. However, my point is this: they need an OPPORTUNITY to play.
Many young players are only ever given that chance because of an injury to a more senior player. St Helens and Leeds are perhaps the exception over the last few years.
At the end of the season we'll look back to see if there have been more young British players given a first team game now that relegation is no longer an annual threat to clubs.
I'm quite an impatient person, but I would like to see the percentage of overseas players in Super League dropping much more quickly than the current system is designed to do.
It's no good spending our efforts on improving the coaching and development of young players if we don't find a way of giving them some first team action. Opportunity needs to knock on the door of these young players, and it is their responsibility to be ready.
Comments (4)
Geoff Newman says...
Steven Clarke is absolutely right, and in fact could have given many other examples: Joel Tomkins only got his chance because of the injury to O'Loughlin, similarly the likes of Goulding, Mossop & Flanagan. Others, like Farrell & Davies, have played well enough in the reserves (as both you and Barrie commented) to be given a few games, but it seems the senior players are "untouchable", no matter if their form dips. In addition to increasing the number of club-trained players, how about a minimum number of first-team games they must play?
Posted 18:17 2nd September 2009
Graham Smith says...
Very good article Phil. I agree with your points, however the number of 'homegrown' players who have been with the club for a minimum of 3 years is probably better off at 7 for now, and should be increased by 2 per year until it reaches 15. This means that clubs will be forced to develop players to the point of being able to play regular 1st team football, rather than keeping them on the sidelines as numbers 18-25, and using them just when someone gets an injury. It will also more than likely encourage more people in to the sport, as they are far more likely to be given an opportunity to make a career in Rugby League, which can only be good for the game as it will give us more talent to choose from.
Posted 11:57 14th August 2009
Steven Clarke says...
Hi Phil, Thoughtful piece as always. Although the issue of relegation has been scrapped, I do not believe that in the short term i.e. the first round of licenses, that British representation will increase dramatically. The reason for my thoughts is that the clubs either in or around the playoffs will not chance a reserve grade/ academy player when there is a steady, reliable NRL alternative. If we look as an example at Wigan. Mark Riddel is a steady player who will neither stand out or look out of place. Mike McIlorum is his equal at the very least and I would hazard that he is paid far less. British, quality, enthusiastic but inexperinenced and coaches won't take that chance every week, their job is on the line no matter what the new regime was meant to bring. If Tim Smith was fit, would Sam Tomkins been given as many games? What excitement we would have missed. Ainscough's start to the season was dashed by a coaching decision. However, if we look at the flip side. Ben Harrison given his chance, Vinny Anderson now sits on the bench unable to dislodge him from the team. I agree we need to reduce the overseas quota but only when it is coupled with brave coaching decisions will we see any real impact. We DO have the infrastructure to bring these lads through.
Posted 08:45 13th August 2009
Matt Summersgill says...
I compleatly agree with everything you have just said Phill. As a Rhinos fan i am very proud of what out team has achived & with the british players it has acheived it with, Altough I'm starting to get slightly disapointed with our reicent sighnings. I think Brian Mclennan is a fantasitc coach but i don't like the way he seams bringing in more overseas players!!! Buderus & Eastwood this season (although Eastwood never arrived he did sighn and as far as i am aware could be over next season) & Delaney for next. As you said in your piece Leeds & Saints lead the way with blooding young british players, yet it seams to me Leeds are sliding in times when we sould be cutting the number overseas players. Dont get me wrong I love the overseas players we already have Lauitiiti & Webb ect but i dont see why we need any more.
Posted 17:06 12th August 2009