The sight of an elated or frustrated coach at a rugby league game can be a painful or pleasurable experience.
Witnessing him sitting through the highs and lows of his team's performance can be almost as interesting as watching his team play.
We take a strange fascination in the torture that he seems to endure without anyone laying a finger on him, when his team miss a chance to score or concede another embarrassing try. It's as though it is all his fault. We're guilty in the media of giving him too much credit when his team win and too much blame when the team lose.
Evolved
As the sport of rugby league has evolved over the last 30 years I thought that it was interesting to look at how the role of the coach has changed.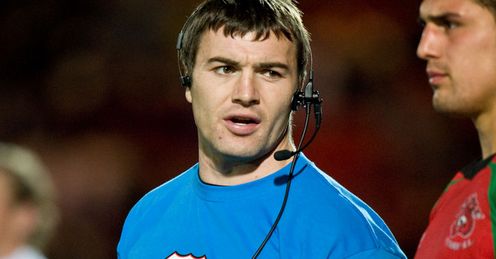 The first 'full time' coach in the UK was a man called Graham Lowe. Wigan brought him over from New Zealand in 1986 and he was employed solely as a rugby coach. Up until that point, all of the coaches in this country had other jobs as well. Their work in rugby league was on a part-time basis, with the players training after they had finished their day jobs. This started to change at Wigan by the late 1980's and the role of coach changed as a result.
Nowadays, every Super League club has what they call a 'Head Coach'. Most have at least one assistant coach, one fitness team trainer (strength and conditioning coach or sports scientist) and one physiotherapist. Many have full time analysts, some have part time psychologists.
The Head Coach is now responsible for a team of staff beneath him and is in many ways employing them indirectly. He oversees what they do and needs to ensure that they are motivated and challenged in their working day. I'll come back to this point later, but let's look at what else we expect the Head Coach to do in a typical week.
Feedback
Well, let's start with the match. He goes to a first team game in the season and watches his team play. At the end of the game he will assess the injuries, be expected to attend a press conference and possibly mix with club sponsors. If he has time, he might just see his own family at the end of this.
At some stage after the game he will deliver a review of the team's performance to the team. To do this, he needs to watch the game again, at least once, which will take a few hours. Some coaches review the game in microscopic detail, which takes considerably longer.
Most coaches tell me that the greatest way to improve a player is to give him one-to-one feedback. The coach will then be required to spend some time watching the good and the bad from the last match. Ideally a coach would do this with all 17 who were selected, but if we say that 15 mins with each player is a reasonable tutorial, you can soon work it out. It would take about four to five hours for the coach to do the whole team.
In addition to this there may be five or six members of the first team squad who were available but not selected for the team. What does he do to help these improve?
Finding time for this group is tough, especially if they've been to play on loan at another club. When does he watch their performance? What about those who are out injured? How does he inform or educate those whilst they are recovering from injury?
Tone
A rugby team will always spend some time out on a rugby field and the Coach needs to be there, for at least some of it. Even when he's not delivering the session, his presence very often sets the tone. He needs to observe the attitude and application in preparation. In reality, this is where the coach does his work. It's effectively all over by Game Day.
If we add on top of this the press conferences and media interviews that a coach does in a week, plus the staff meetings and medical updates, potential disciplinary hearings at the RFL on a Tuesday (and their appeal hearings on a Thursday) you start to see that what used to be an enjoyable passion for part time coaches when I was a young boy has now become a hectic week which needs planning like a Moon Landing.
Imagine then trying to find the time to watch the opposition that you are playing, attend your own second team matches and conversing with your club owner and Board of Directors. Several coaches that I know also spend a lot of their time talking with agents about signing players for next season.
The club will also expect the Head Coach to attend some club functions and sponsors evenings and be present at one or two community events.
Crisis
Frustratingly, most of their time is often taken up by player-crisis management. Divorce, separation or arrests can easily side track a coach from the work he had planned. I've even known some coaches have to go to the airport to collect a player who is flying in from Australia.
Occasionally they are asked for their input into new facilities that the club wish to build. The design and build of new training facilities could be one such example. It all takes the most important thing in the world, TIME.
On top of all this, when does the Head Coach find time to learn how to get better at his job?
Most people now call it C.P.D. - Continuous Professional Development. A day visit to the English Hockey HQ or a Premiership Football Club to analyse what they're doing to improve performance is an idealistic dream to many coaches, but a necessity in many other walks of life.
Most Head Coaches have never employed people before and are expected to have the skills to do this when they are given the job by the Club. Getting all of the staff pulling in the same direction, agreeing to one way of working is a lot easier than it sounds. Trust me, I know from the experience I had as Chief Executive of Wigan some time ago.
Value
I wonder if it's time again for clubs to look at what they expect from a 'Head Coach'.
Even if he is able to work a 50 or 60 hour week, which I know that many may do, how do you get the best value from him?
I would be fascinated to read the detailed job descriptions of the 14 Super League Coaches. What do they expect the Head Coach to do? What does the Coach himself expect to do? Is he responsible for the First Team only? Or should he be coaching the coaches of the teams below him as well? How much of his time do a club expect him to spend on recruitment? How much of his time do a club expect him to spend on non-rugby issues? Does any club ever measure this? Does a Coach ever monitor it?
It's often said that Coaches live and die by their results. If this is the case, let's not distract them too much; I hate to see them dying in the stands.
Comments (4)
David Woolley says...
SCRUMS Hi Phil Isn't it time that the game dealt with the Scrum. The present format is an insult to the professional game. Surely you and your professional collegues must cringe when you see the present system of packing down and feeding. Have the powers that be lost the desire and imagination to make this part of the game competitive and worthy of a forward contest between the teams? I understand that changes from the traditional competitive packing down had to be made to create more order and lessen the chance of injury but presently it demeans the now fast flowing nature of the sport. What about a move to a 3 man scrum,feeding the ball through the middle with the back row set back 2m from the feed line. allowing for back row moves either side of the scrum or early feed to the backs. The referee would use the marker spray system used in football to set the lines....... There must be other ideas of improvement, anything to save the game from this farce........... or perhaps you see it different!
Posted 13:22 26th September 2014
Trevor Fuller says...
Hi Phil, Another interesting & thought-provoking article here! One thing I'd like to know is, if you compare this situation currently with clubs in the NRL in Australia or New Zealand, how do SL clubs fare? Do they employ Team Managers or equivalents there like contemporary football clubs do in the English Premiership, Championship & other leagues? Head coaches are better deployed when they are focussed on servicing or coordinating all the actual training & on-field needs of teams or players rather than getting stuck & bogged down in what is essentially administrative or media issues etc., which are better covered by a Team Manager/equivalent position. In an effective organizational structure, the efficient distrubution & breakdown of labour & the actual tasks being performed by their team-members or staff, usually make the difference between long-term (& short-intermediate term also!) success or failure in any club, sport, enterprise or institution efforts & results. Maybe, by utilizing management positions more intelligently, this is one of the main areas why NRL/Australian teams or clubs have been more successful at Rugby League than English clubs were in the past 30 - 40 years or so, both on & off the field? There's perhaps more food for thought here, Phil, don't you think?
Posted 10:49 14th April 2011
Super Graham says...
Phil, an excellent article covering a side of the RL club very few fans ever get to experience. There has always been a lot of debate about coaches from the antipodean countries being more capable than UK coaches. Of course there are exceptions to this rule, but on the whole I think it is a fair assessment of how things have been in recent years. What makes the ability of the Australian coach better than his UK counterpart? Is it the standard of the amateur/proffessional game down under or is there something else? I'd love to see more UK coaches take charge of SL clubs and I think the development of Rob Powell at Quins should be massively commended and become our blue-print for the future. For info I am a Warrington fan and though I obviously appreciate the efforts of Tony Smith, I can only see him being replaced with another big name Aussie at the end of his tenure, which shouldn't be the way!
Posted 16:03 13th April 2011
D Foster says...
As usual, a well-written, thought-provoking column from Phil Clarke. Always a pleasure to read.
Posted 15:00 13th April 2011