Congratulations to Wigan and Leeds for their success in the Challenge Cup Semi-Finals.
They now have less than three weeks to prepare for their big day at Wembley, whilst also trying to keep one eye on their Super League hopes.
I love the last three months of the season when we start to see 'sudden death' games. It's amazing how much defences improve when players know that they don't get a second chance.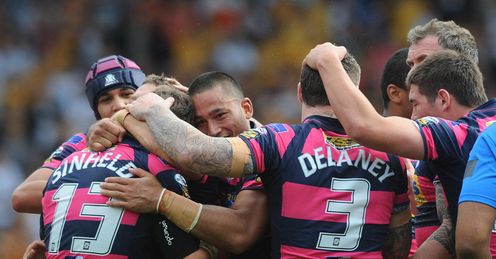 All of the teams and coaches are attempting to develop a defensive resilience which makes their line impregnable. If the opposition don't score, you can't lose! Rarely are big matches won by luck or flukey plays, but by habits built up over several months.
It's just eight weeks on Saturday to the big night at Old Trafford when dreams can come true from the hard work over eight months.
Phil answers your emails...
Got a question for Phil? Email him at skysportsclub@bskyb.com or use the feedback form below...
Magnificent Seven
Phil, with all the talk of rugby 7s being included in the Olympics why is it assumed that this will be a side drawn from rugby union? I reckon any of the top rugby league clubs could field a sevens side to beat any international 7 England RFU picked. Plenty of evidence from past Middlesex sevens and the success of Wigan, St Helens and Bradford who all made the union sides look second rate.
Simon Guthrie
PHIL REPLIES: I used to enjoy watching seven-a-side rugby when I was younger. That was when both codes of rugby were played in the winter and the skills of the players were lower than they are today. Fewer players were full time and the ones that were tended to spend most of their time getting stronger, faster and fitter not better at passing, catching or kicking the ball.
Whether you choose to watch the best rugby league team or the best rugby union one, there are now so many examples of players moving at top speed and transferring the ball across the field to space that 7's no longer has the same attraction for me. I watched the Dragons in Australia last week score a brilliant try from a scrum that was a classic example of my point. The players were literally running at full speed, I mean sprinting flat out and still managing to pass the ball accurately more than five or six metres to their team mate. Believe me this is an incredibly difficult thing to do.
I know that we have had a 9-a-side tournament in this country but am not sure what it's trying to achieve. For me, there are enough tries scored in a game to convince me that I've had value for money at the end of the match.
Anyway that doesn't address your point. The examples that you give are quite a few years ago and I'm not sure if things are still the same. Rugby union has had some players playing 7-a-side tournaments for several years and will have adapted to the demands of the game. That's not to say that one or two league players wouldn't be close to selection. Would you suggest that we have Olympic trials?
Just imagine the interest that you would get in that.
Time out
Phil, Regarding your frustration with the substitution rules presently in Super League. We must be careful never to force our game into the shame of the other code, (Bloodgate). You wrote of Stuart Barnes's comments following the Origin game, when, if I remember rightly he suggested that game was played at just too fast of a pace for him to be able to enjoy, - not enough dead time. I was struck listening to a radio commentary of a union game. This dead time was quite considerable, giving the commentators ample time to discuss the game and review the best plays so far. League commentators are always working hard just to keep up with the flow of the game. This doesn't actually put our frontline commentators in the best light either.
I know this sounds American and just isn't League, but if each team was allowed to call one time out per half. For instance, a time out could only be called when the ball has gone out of play, for a scrum and the team calling the time out has the 'put in'. The time out would last one minute. During the time out both teams would be permitted to make their substitutions. This would allow only five points of substitution per game (including half time.) It would add four minutes to a game, but in the scheme of things it would give four minutes of review time in the commentary box, in which the game could be dissected, and clear analysis given. (Spectators at the ground could have chance to discuss the flow of the game in a new way.) It may mean that a team has to handle the loss of an injured player for several minutes, but that would be part of the game. The calling of the time outs would require strategy, and the total number of substitutions would almost certainly drop. Two, one-minute breathers in a half could alter the course of a game, but again this would involve strategy of team management. Just a thought?
John Firth
PHIL REPLIES:Before we are too critical of rugby union, I am aware of some rugby league clubs who have been creative in their use of substitution rules in the past. Some coaches think rules are there to be broken.
Your suggestion about a time out is radical but brilliant. It should be debated. My initial thoughts are that it's a great idea and I would trial it somewhere. In fact I think that the NRL might be quite interested in it as a means of increasing their broadcasting deal. David Gyngell, the head of Channel Nine, who currently cover most of the rugby league in Australia, has said that the sport would need to find some ad-friendly breaks in play, in addition to half time, to allow the TV channel to sell more adverts and then pay more to cover the games.
I think that the strategic decision by the coach or captain to call a time out would be fascinating and add to the drama. It would enable fans and commentators to debate if it was the right time. Could teams use it to turn the momentum of the match? It would allow players the chance to take on fluids and lessen the need for constant water carriers on the pitch.
My outsider's view of cricket and tennis tells me that the ability to question a decision, and therefore stop the game momentarily, has been popular with most fans. Again, it increases the tension and hasn't seemed to stop the flow of the game too much. If you read my article last week you'll see that I was advocating a reduction in the number of substitutions allowed in a match. Your one-minute break would provide a brief rest for the team, unlike the 10 or 15 minute rest that the big guys are currently given. I'm not sure that you could limit the time outs exclusively to substitutes. What if you had some serious injuries, surely it's fair that a team can replace two of its members if they both broke their leg in the first half?
It seems like one of the best ideas I've heard in years and should be discussed by the games Administrators, Officials, Doctors and Coaches.
Thanks for throwing it in.
Who makes the rules?
Phil, My only real argument with your last article is the start when you say we're always behind Australia when it comes to rule changes. We are indeed behind them with regards to rule changes but they flout the rules of the international federation and change rules as they see fit. I'm all for us playing to the same rules worldwide, but should it not be that the international federation determines the rules not the NRL? Australia seem to have too much say over referees as well, what do you think?
Matthew Williams
PHIL REPLIES: I'm unsure as to why the NRL have ignored the International Federation in the past when it comes to rule changes. It doesn't look good for our sport. If we aim to be a global game then we need one set of rules. I would even say that we should shift to theirs rather than be a few years behind them. We inevitably adapt the changes that they make so might as well do it at the same time.
The suggestion above by John Firth is one example in which they might actually listen to us. It's brilliant and I envisage it happening in Australia in the next few years.
Comments (3)
Bill Woods says...
Phil Having just watched Halifax/ Widnes and seeing Widnes penalised out of the game by conceding something like 9 penalties on the bounce, i have to agree with the comments on refereeing standards. Widnes were penalised time and again for not being square at the play the ball but on each occasion the Halifax player (especially Worrincey) stood up after being tackled and took a step forward and then to either the left or right, moving off the mark and getting to the side of the defenders and yet this infringement was ignored and the defender was penalised. I see this time and again in Superleague and it is blatent cheating but becomes even more infuriating when the defence is penalised. I thought the ref in last nights game was appaling and his interpretation of the the laws suspect to say the least. Is this rule being ignored to allow the attacking team to get on the front foot and keep the game moving ?
Posted 08:53 12th August 2011
Paul Stocken says...
phil, i am so angry with the refs every week when i see blatant forward passes, and even the linesmen are in line with play and can see its forward. me and my son now think its to keep the game flowing, which we all love to see ,(but) when they are a good 2 or 3 feet forward it is crazy
Posted 18:57 10th August 2011
Peter Mosby says...
What are your views on the current refereeing standards. I have watched the game and played it for 40 years and I believe the standard is very low. There appears to be no consistency whatsoever and we have seen blatant fouls, forward passes etc go unpunished. One area I believe should be changed is the 'dummy runner'. Whichever way you look at it , it is obstruction when a man without the ball runs across a man chasing a player to make a tackle. It does not matter whether they touch or not. Referees have to use their own judgement in these cases and consistency is negligible. It should be an offence unless the player has the ball. Again, grapple tackles!. Most tackles seem to involve a neck hold when a player hits the ground. I thought this was against the rules. Head high tackles is a controversila area as recently I have seen several awarded for tackles on Sam Tomkins. He does tend to duck as he hits tacklers therefor most straight tackles on him will be head high. Rant over..what are your views.
Posted 15:31 10th August 2011