Congratulations to Leeds Rhinos for their success in the World Club Challenge.
It was an unforgettable night for everyone who attended and you could say that it was 'third time lucky' for the Rhinos after losing in their previous two attempts.
However, I think that hard work, commitment and desire were more important on the night than luck. In between the 40th and 60th minutes Manly had twice as much of the ball, much of it close to the Leeds tryline but Brian McDermott's men found a way to keep them out.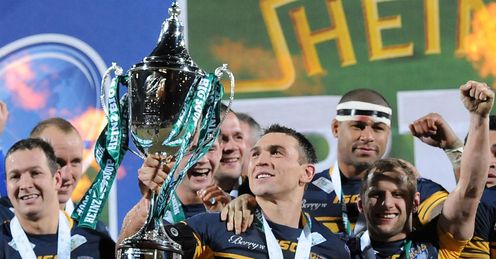 The first victory for a Super League side in the last four years has coincided with a debate about expanding the concept to include more teams and I would like to discuss the potential of doing that here.
In my opinion, I think that we need to break this debate down into three areas:
1. What do the players want?
2. What do the fans want?
3. What do the clubs/governing bodies want?
The Players
After being fortunate enough to play in the World Club Challenge on three occasions, the last in front of 50,000 in Brisbane, I'd say that it would be a game that every British player would want to experience. I say British because I am not sure about the Aussies.
Unlike rugby union we struggle to get support for our international matches with fans seeming to have a closer affinity with their club teams . What impact would this have on international crowds? If an expanded World Club Challenge was played outside of the UK would supporters travel to the matches?
Phil Clarke
Quotes of the week
From what I read, a State of Origin appearance is the bigger attraction to them. Every professional sportsman or woman is fiercely competitive and the chance to play against the best competition is essential if you want to be the best you can be.
Some critics have mentioned player burnout but I would counter this in two ways. Do the best players need to play in every game for their club? More interestingly, if you gave a player the choice of playing more games in a season and earning more money, or playing less games and possibly having a longer career, which would they choose?
Who are we to say how many games that they should play? One of the biggest reasons why they play is to earn an income. Should we restrict that?
The Fans
Do supporters need something more than just knockout cup games and a home and away league programme?
The success of the Champions League in football and the European cups in rugby union seem to suggest yes. But is the rugby league supporter of the same mind? Do they just want to see occasional visits by teams from the NRL or do they want to travel to see their team play?
Unlike rugby union we struggle to get support for our international matches with fans seeming to have a closer affinity with their club teams. What impact would this have on international crowds? If an expanded World Club Challenge was played outside of the UK would supporters travel to the matches? From what little I have seen of England's cricket games in the Middle East this does not seem to be likely.
The Clubs/RFL
I would imagine that the desire here boils down to two things - financial and performance. The idea needs to make money for the clubs who are already struggling in difficult economic times. If the top four teams were entered into a World Club Challenge against the top four teams from the NRL who would get the money?
What impact would this have on the other 10 clubs in the Super League? Would it widen the gap further? Has the Champions League in football taken the top sides away from the rest of the Premier League because of the money that they make?
In terms of performance, it could be argued that by having more players playing more regularly against teams from the NRL it would help to drive up the standards, but I'm not sure. I don't think that it is as simple as that.
Nigel Wood from the RFL said that he thinks that we have four, five or six teams in our competition who would be competitive against the top teams from the NRL. It is 15 years since we last had this sort of competition and it would be interesting to see if he is right.
I have found that too many ideas are suffocated too early and not given a chance to be debated sensibly. It's important that an intelligent analysis of the pros and cons are examined and that all of the considerations are thought through.
What do we want to achieve?
One of the most important for me would be the impact on international rugby league
How could this tournament compliment and work alongside the planned international programme over the next five to 10 years? If we start by asking ourselves what is the purpose of expanding the WCC format we might be a bit clearer in what we are trying to achieve.
Many people say that for sport to be successful these days if has to be global, but I could contradict that by talking about Aussie Rules. Here is a sport that has no international future and yet it is incredibly successful in Australia.
I realise that I've written an article here with far more questions than answers and want to finish with two more.
How would it work? My suggestion would be to play it at the start of the year, possibly February. I would leave the Grand Final as the end of the season and then have the international programme. The location and tournament format is beyond me and I think we all need to do some more research.
How would it help the game? This is the biggest question that we need to agree with our counterparts in Australia. I know that we are both battling in our territories but need to try to come up with a better plan.
It is too easy in life to be cynical and critical and to dismiss a new idea when it is first put forward. We should take our time, refine, amend and tweak the proposal until we decide what to do.
I have no doubt that the first person to suggest that we shift to summer rugby was laughed at. Now it seems that the majority of people agree that it was a good idea. We need to mix the creative visionaries with the financial pragmatists to see if this idea has a future.
The one thing I am certain of was that winning for Wigan in Brisbane in 1994 is one of the best memories in my life.
Comments (6)
Matthew Blackwell says...
Some interesting comments - here are mine. Get rid of the four nations and run Lions tours and WCC on alternate years. You could then alternate the Lions going to NZ and Oz on tour and the visitors coming over here. I never liked the idea of splitting the home nations, for me it seems like we are trying to copy the Union model, which just doesn't work for RL. In Union, Scotland and Wales have their own leagues and identities. In RL there is one league and so you invariably have the home nations as tiers one to three of RL - England, then Wales, then Scotland. A tour would see the Lions play club sides during the week and then a test at weekends (with the Kiwis and Aussies doing the same over here), giving players that wouldn't normally get in the test side a chance to play NRL clubs etc The WCC could be run at the same time of year and see the Champions and the top 3 (if the champions are outside the top 4) from the Super League take on the same from the NRL in a straight knock out competition. This would basically mean 3 rounds, the first being a "magic weekend" type event with 4 matches played in one day (and therefore offering value to the fans). The second round would be two semi finals, played back to back with the final the following week.
Posted 13:35 23rd February 2012
Phil Russell says...
I agree with Stevo why have a 3 game WCC when it only come's down to the best 2 sides in the world. NRL champions and SL champions. Plus as it has been said how many supporters can afford to go down under ? As for players getting experience playing the Aussies what do they do every week in Super league. Do what was said last night play more Internatioal games with the Aussies both first team games and A team games that way more players will get experience. But also ask the players and the NRL + SL + the supporters there the people who pay to go through the turnstiles. THANKS IT'S A GREAT GAME RUGBY LEAGUE
Posted 12:31 23rd February 2012
Mark Bingham says...
Phil, I remember far too well when we last had this competion over a decade ago and how it turned into a farce. If memory serves I don't think any of the english won in Oz (maybe Wigan) and as a saints fan I remember our great side of Cunningham,Newlove,Martyn, Joynt etc getting well beaten in all the games they played over in Australia. Also I dont think the aussie fans would be intrested in the format because as you rightly pointed out there main focus is state of origin. I dont anticipate we would take many fans to Australia when we already struggle to get fans to travel to the south of France. I dont think we are as competitive as people make out especially with the widening of there salary cap. With NRL teams strarting to take our better players the gap can and will only widen. I agreee it needs looking at but the last thing we want is to take one step forwards and three back. If all our teams do poorly and the fans dont watch the games it could have a detremental effect on the game over here.
Posted 09:03 23rd February 2012
Steve Firth says...
This will open up a huge debate about the future of our domestic game but following Gary Hetherington's model would be a disaster on many levels. If the game is serious about expanding the WCC then it must become a league of its own comprising the top 6 from ESL & NRL. We would have to draft 4 more teams into ESL to bring the numbers up to 12. WCC will then be played home and away as a full league with its own play off, probably on a domestic basis leading to the WCC final of the top European club v the top Australasian club. The following season, the team finishing 6th will be replaced by the ESL champions. This format builds on the success of WCC, provides a higher level of competition for our top clubs, creates another marketable comp, brings 4 more clubs into elite competition, allows the season to reduce slightly creating an opening for a midseason international series, allows the Magic weekend to be scrapped forever and will allow us to re-establish our international game.
Posted 08:14 23rd February 2012
Paul Thwaites says...
There is one simple soultion Phil. Like 15 years ago hold a one off tournament with th top 4 NRL clubs against the top 4 Super League Clubs as a pilot exercise. Lest see if there is still an embarrassing gulf between the two premier Rugby League nations before taking it any further. Half of the games in the UK, half in Oz. I for one haven't got the money to go to Oz at the moment however, as I imagine neither have most of the north of England, in comparison to the Union 'toff' supporters who have. But it would give an insight to compare the results to 15 years ago.
Posted 21:27 22nd February 2012
Neil Chadwick says...
If there is so much concern over logistics and the international game simply bring back the Lions and Roos tours. Firstly it keeps international RL alive. Secondly by the LIons going to Australia and perhaps playing NRL then British players get a chance to improve their game. Although there is a benefit for domestic teams going down under, remember many SL clubs still Australian's in who have played in the NRL and have that experience anyway so the benefits to British players is limited. Also when the Roos come across then SL clubs can play play them. The interest would be huge, SL teams competitive and a chance to win the ashes while getting that intensity during the whole process. Alternative to WCC!
Posted 21:10 22nd February 2012