It's not just the clock in Australia that seems to be ahead of things over here. Tactics in the game, rule changes and fashions in rugby league all seem to be set Down Under.
In fact, I can't think of the last time that something happened in the Northern Hemisphere before it did down there.
Let's take the number of changes that a coach can make with his four substitutes. They reduced it to 10 four years before we did over here. It always seems to me that we're playing catch up.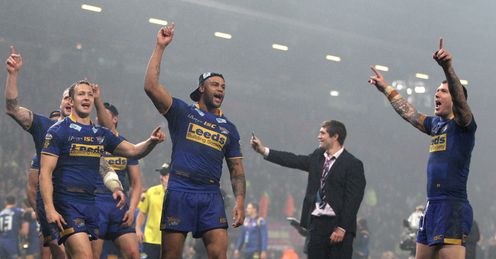 Well if that's the case then rugby league needs to keep an eye on what's coming next in the NRL, and the latest 'talk' is very interesting indeed.
The negotiations for the next TV deal to cover rugby league have brought up what might mean a radical change for the game. In an aim of increasing the revenue to the sport, the broadcasters have suggested that the game needs to find more opportunities for commercial breaks. They need to be able to sell more 'advertisement' slots if they are to increase their offer.
Well a game might last a bit longer. Is that a good or bad thing? Are you getting entertained for longer? The most popular team game in the world, football, has a 90 minute match, would adding a further 10 minutes to a game of rugby league make much difference?
Phil Clarke
Quotes of the week
The NRL has reportedly been working for months to analyse the opportunities that would allow more commercials during the game.
Part of this comes from Aussie Rules coverage, a sport which lends itself to more ad breaks and rugby league wants to see if it can do the same.
There is talk about each half lasting 50 minutes with a drinks break after 25, so that you effectively have four quarters. There would also be short commercials at 20m re-starts and goal line drop outs.
Protecting our game
The people tasked with analysing all of this believe that it's possible to protect the integrity of the game and also increase the revenue through more commercials. When you watch a game of rugby league, and look at the number of seconds that it takes for the ball to get back into play after it has found touch with a kick, for example, you start to realise that there are opportunities out there.
The stats from the NRL show an average of eight kicks a game finding touch and it takes an average of 35-37 seconds for the ball to come out of the scrum and play to resume.
According to an article written last week by the former coach Roy Masters, the NRL are considering making each goal line drop out a compulsory 30 seconds (most defending teams usually try to make it last longer!) A typical NRL game has three drop outs per match. If you do the maths you start to realise that the game could benefit financially if this idea takes off.
So what does all of this mean?
Well a game might last a bit longer. Is that a good or bad thing? Are you getting entertained for longer? The most popular team game in the world, football, has a 90 minute match, would adding a further 10 minutes to a game of rugby league make much difference?
The sport might receive more money. Some would go to the players and some to the benefit of the game. In Australia they keep losing their players to Aussie Rules, up here we lose them to rugby union. Would it be a way of keeping more stars in the 13-man code?
Whatever happens, I don't think that we'll have much of a say in it. The NRL and games' administrators in Australia don't really worry too much about anyone else. They'll make their decisions, change the rules and wait to see if we join in.
It is worth pointing out that laws governing Australian TV are quite different to those over here. It is less likely that there would ever be adverts during play in the UK. Even in Australia there are seperate rules for free to air TV (e.g. Channel 9) as there are for subscription TV (e.g. Foxtel )
History shows that we have to follow them in one way or another.
Comments (7)
Steve Hill says...
Please let common sense save us from the Australians. While I am all for moving forward with the game there has to be limits. Rugby league has always been the biggest innovator in sport never afraid to keep the game alive as a thrilling participant and spectator sport but if the Australians go down this road and we follow them then we may as well sell our souls and sporting integrity to the devil and start watching association football! What would Lewis Jones, Vince Karalius and Albert Goldthorpe have made of it. As for the Australians just doing things by themselves anyway well this is where we need a genuine International governing body with authority. We will never make the impact of the other major sports until this comes into being. We will always be sports best kept secret and a poor cousin to rugby union until this happens and that includes making the Australians being told in no uncertain terms that these are the rules and you cannot just go ahead and change them.
Posted 13:50 26th March 2012
John Garvey says...
Just a comment to say that if you can't check for a forward pass what about seeing if the receiver is in a offside position.
Posted 20:04 25th March 2012
Phillp Williams says...
What a joke - we need one governing body making rule changes. What happens when we play the aussies in an international game if they play under new rules and we dont adopt them - play 2 25min quarters and one 40min half??
Posted 20:10 22nd March 2012
J Spenc says...
If these changes do come into rugby league i will definitely stop watching the sport. it will start out with these changes coming into effect and over time more breaks will be introduced and before u no it we will have a sport that resembles American football. the players kits are covered in sponsors the grounds are covered with billboards advertising sponsors. i would suggest that what needs to be done is for the nrl to get more ppl into their venues and as such would be able to charge a higher price for all their advertising oppotunities
Posted 14:59 22nd March 2012
Leigh Richardson says...
thats one change they can keep, its bad enough having breaks every five minutes during the build up. if this comes in how long before shoulder pads. helmets and pom poms? no way the pom poms are here arghhhhh
Posted 08:07 21st March 2012
Ben Johnson says...
What a terrible idea, it would turn viewers away from the game, it's not in the British culture to have advertisement stuffed down our throats, that's why sky have taken the BBC approach to F1 with no adverts, at the end of the day we're trying our best to build the reputation of Rugby League, so let's not detract potential suitors. Maybe if each try scorer was 'sponsored' and this was broadcast, that is a potential place to advertise. Even underwear is sponsored in the NFL, think about that kind of thing.
Posted 02:42 21st March 2012
Ben M says...
while i accept that more money in the british game would help the sport, this idea is one i find quite worrying. Most people who dislike the NFL dislike it because of the constant breaks (admittedly the way the game works that cant be helped). Therefore a sport like rugby league whose attraction of new supporters relies on the quality of the product would surely only suffer from constant advertisement breaks. Also what is to say once in a while this won't cause viewers to miss some of the action? While it is probably rare to happen, England's goal against Germany in the 2010 world cup missed by ITV does spring to mind. So without imposing a minimum amount of time between restarts which would slow down one of the quickest sports around which would annoy many fans, i think that could cause problems. As a commentator do you not think the few seconds between plays is crucial in giving you a chance to analyse what has just happened, therefore does this not put you off? I also think this wouldnt go down well with the clubs, many of whom already moan about there being too many games in a season. While ten minutes on its own doesnt seem much, in the context of the current minimum season length of 27 league matches and 1 cup game thats already the equivalent of an extra 3 and in the extreme of Kevin Sinfields 42 matches last season an extra 5+ games. Apart from the obvious strain on fitness by the end of the season i think it would also greatly change the dynamics of the game, with the shorter bursts meaning a potential move back to the use of impact players that the rfl has just tried to get rid of by reducing the number of interchanges as they can then go on longer whilst getting a break. but then the strain on those who play the full 80 would increase greatly as i think is clear from the way so many teams already tire in the last 10-15 minutes.
Posted 20:48 20th March 2012