I didn't see Houdini, Copperfield, Blaine or Daniels, but I did see some Magic tricks at the Etihad Stadium during Round 15.
For the record, we had a total of 79 tries from the seven games played and I think we all saw some brilliant rugby league.
It was quite appropriate that the event took place at the Etihad. This Arabic word loosely translates to a uniting of organisations, a coming together of all the clubs in the Stobart Super League set well in the sunshine of east Manchester.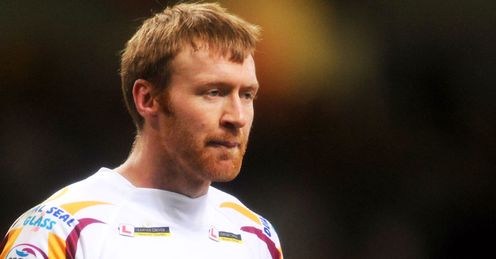 We had a record attendance of just over 63,000, which was quite similar to the numbers that attended the Magic events in Cardiff and Edinburgh. A deeper analysis of the ticket sales will tell us if these are the same 60,000 people who are willing and able to travel to an 'away day' for all 14 clubs.
I'm not sure of the purpose or goals of the Magic round but felt that it gave the players a chance to play in a big stadium, and the supporters of teams who might not make it to Wembley or the Grand Final to shout for their side on a bigger stage.
If the club owners and the supporters want to see it again, then let's hope that Magic 2013 is even bigger. There was a feel-good factor that was hard to quantify and I'd like it again.
Phil Clarke
Quotes of the week
It was also interesting to see all 14 teams perform on the same pitch over a two-day period, giving you a midseason chance to decide who the best players and teams were.
Skill
Everyone will have a different opinion on the star performers from Round 15, but I think that most people would agree that the best entertainment came at the end of the Hull FC-Hull KR match.
I find the tries scored by wingers to be the most exciting for players and spectators. Usually it's taken a high degree of skill and timing to get the ball the ball to the wider men and this was certainly the case for David Hodgson's try.
His ability to go 'in and away', running infield to stand up his opponent and then quickly changing direction to go away from him and towards the sideline, with a chance that he might be forced out of play, is my favourite type of try.
The fact that this would decide the match heightened the pressure on Hodgson and had everybody in the ground on their feet. There are some magic moments in sport that you never forget seeing and this was one of those for me.
What were the others? Well, Danny McGuire's five tries were special, as was the win for Salford. They entertained from start to finish and made more passes in their match against Huddersfield than they have in any other this season.
Wigan's defence against St Helens, meanwhile, was brutal and I'll never forget a tackle by Michael McIlorum on Ade Gardner - and neither will Ade!
I know that the sun shining makes a big difference on people's impression of an event. It's much easier to enjoy yourself watching seven hours of rugby in the sun than it is in the rain.
If the club owners and the supporters want to see it again, then let's hope that Magic 2013 is even bigger. It is always a risk playing seven consecutive games on the same pitch, and we were lucky with the weather. But there was a feel-good factor that was hard to quantify and I'd like it again.
Phil answers your emails...
Got a question for Phil? Email him at skysportsclub@bskyb.com or use the feedback form below...
MORE THAN RESULTS
With regards the question about relegation from the Super League, why not introduce a playoff system between the bottom team in Super League and the top three in the Championship. The second and third-placed teams could play each other to see who meets the top-placed team, then they play-off to see who plays the bottom team in Super League, and then the winner of that plays in Super League. This would mean that there is something to play for in both leagues and can only benefit the game.
David Wilson
PHIL REPLIES: David, from reading your question/comment, and the ones below, I am starting to wonder if I am in the minority here. Maybe I haven't clearly explained my point, or perhaps you feel it's irrelevant, but it's not just about having 17 players who can win a few matches. If that were the case, you wouldn't spend anything on developing your own juniors, building better facilities or trying to run your club in a sustainable way.
THAT'S ENTERTAINMENT?
Hi Phil, I do not agree with the relegation/promotion issue as I think the clubs finishing top should be allowed in the Super League and those who have poor seasons relegated. It's fair and stops teams thinking: 'We'll write off this season and rebuild next year'. This will make rugby league more entertaining to watch (not that it isn't already) and also provide teams with more to play for than winning a second-tier trophy. Another factor is big teams taking talent from small clubs. The RFLU should stop then poaching the best talent and that will promote a better calibre coming into Super League.
Philip Roberts
PHIL REPLIES: Phillip, I'm not sure that I agree with your point about making the game more entertaining. You might get one or two more exciting games at the end of the season, but you'd also get about 20 matches when the team that were promoted had little or no chance of winning. Let's take the Leigh Centurions as an example. The last time they came into the Super League with annual promotion and relegation in place they won just two games all season. Can you honestly tell me that it was an entertaining year for Leigh fans, or for the fans of teams that played against them in some one-side affairs? I have spoken to a player who was at Leigh in 2005 and he agrees with me that it would not be practical to put a team together with such short time. They would invariably yo-yo.
NO HELP FOR THE YOUNG
Phil, your main argument over the absence of promotion and relegation is that it will stop clubs overspending in an attempt to gain success or avoid relegation. An article in the Guardian back in April said that 10 of the 14 clubs overspent last season. I am guessing Huddersfield have overspent, Bradford certainly have. Haven't clubs like Saints and Wigan broken the salary cap rule over the years in order to gain an unfair advantage over those who didn't? A punishment of a few points and a fine was too little to dent the success they had already had and would have. Rather than having caps where clubs can still make a loss every year why not just say you cannot spend more than you generated the previous season. It will also encourage clubs to be more savvy in promoting their club for sponsorship and when marketing. With regards to developing youngsters, clubs will have to do this as they won't be able to afford top class Aussies, thus making the national team a lot stronger. This is how promotion and relegation will work and make the sport more exciting and dramatic and bring through exciting new talent.
Dave Whittaker
PHIL REPLIES: Dave, I agree that the financial management of clubs like Wakefield, the Crusaders and Bradford does not appear to have been that good in the past, but that doesn't take away from my belief and about 100 years of evidence. I started to follow rugby league in the 1980s and witnessed 20 years or so of annual promotion/relegation. It did not seem to benefit the clubs or the game in the long run. The only people who gained from this were players who move from the relegated team to the newly-promoted one. I used to laugh when I watched the promoted teams' players celebrating on the pitch at the end of a season, knowing that they wouldn't be there to start the next in Super League.
Your argument is flawed on the concept of 'bringing through exciting new talent'. A newly-promoted team will select experienced, older players from wherever they can find them. They won't have the time or opportunity to allow a younger player to improve. Your question seems to touch on several aspects and I can't address them all. However, if we stick to your point about promotion/relegation and we were able to honestly ask the clubs in the Championship whether they think an annual cycle is best, I wonder what they'd say.
WHAT'S THE DIFFERENCE?
Phil, Huddersfield survived in the Super League because they were given three chances, Leigh only got one with no time to buy players and we were left with guys that no-one else wanted. Widnes, meanwhile, knew they were promoted at the start of the last season, giving them a 12-month head start followed by three years in Super League, how can that be fair? I agree with Andy Burnham that promotion and relegation would make a better system to avoid clubs such as London not bothering to play knowing they are safe from relegation for the next season or so. Bring it back, spread the funding fairly and create a much better system. I believe Leigh would generate great gates, as the cup game with Leeds testified, and the local games against Wigan and Saints would fill the Leigh Sports Village. We deserve another chance.
Ray Kenny
PHIL REPLIES: Ray, life isn't fair and neither is rugby league. The system has changed and the timing for Leigh was unfortunate. If Leigh couldn't compete when they last came into Super League following the annual cycle, what makes you think that they'd do any better this time? Just look at Widnes; they are struggling and will need two or three years to prove whether or not they're good enough to earn a place in the top league. If they're not, then another club will get a chance. A brilliant new stadium in Leigh will obviously help in attracting new supporters if they came back into Super League and I've enjoyed going to the Leigh Sports Village many times. But you need to have lots of building blocks in place behind the scenes as well.
Comments (4)
Ian Williams says...
I may be biased being a Salford fan but for me the way we came back in the dying minutes when Huddersfield were celebrating what they thought would have been a win could not have been a sweeter way to win and as i was leaving a Wigan fan came up to me and said best game of the weekend I have to agree. Not taking anything away from the Hull match but our game was miles better.
Posted 12:13 31st May 2012
Nicholas Hall says...
Hi Phil, As a Hull FC fan i am furious with Steve Ganson's decision to award the forward pass for Michael Dobson's try! That ultimately changed the game, now i think Hull should have defended their line better however he also missed the short kick off straight after the Jordan Turner try when Tony Martin was taken out and therefore is out injured for the season! The referee's in our game are useless and i feel like in tennis and cricket that since the players are allowed to appeal against their desicions the right calls are made! It would be great if it were to happen because im sure all fans of rugby league want fair matches and im sorry but the referee's are not up to standard! The challenges should come into play! The players put their body's on the line and there efforts are ruined by poor referee's! Why can't video referee's allowed to help out on pitch officials when they get it wrong? And it's time forward passes should be ruled when the video ref is called on why is it when every other rule is taken on but not the forward pass which is probably the most important rule in our game!
Posted 11:49 31st May 2012
Chris Rawlings says...
All fair points Phil....it is clear that the complaints about P&R are from fans of those teams not at the "top table". Far more benefits to the system we have now...just have to accept there are people who can't see the wood through the trees.
Posted 08:52 31st May 2012
Bernard Groom says...
As a player in the 50s and Salford fan since 1946, now by residence a Warrington Supporter I know that promotion and relegation between the various leagues would stimulate competition within the game as a whole. It is true that the Super League Clubs will buy experience, as did my first love Salford in the from the 40s onwards and although we never won many significent trophies, we did see some wonderful rugby from the old heads and often went close to winning the league. This team always had a sprinkling of local talented players and that is still the case today despite the presence of Australian and "other nationalities" (remember that team). Just as an aside, I feel that the proposed player statue at Wembley should be of someone synonymous with that venue. It is impossible to choose one from the many wonderful players who have graced our great game without creating a sense of rejectioned to many others. However, there is a player, and later manager, whose name is forever linked to Wembley and the Rugby League Cup Final, for the coveted trophy which bears his name - Lance Todd. Problem solved!
Posted 20:25 30th May 2012