"Don't believe it, rugby league it!" It was a punch line that a friend called Adam Oldroyd used to say about 20 years ago and it's never been more applicable than this week.
Salford scored almost 50 points and embarrassed the Wolves, Widnes put 40 points on the Tigers, Hull KR almost came back from 26 points down to win at St Helens, and Bradford won at Wigan in an emotionally charged team performance.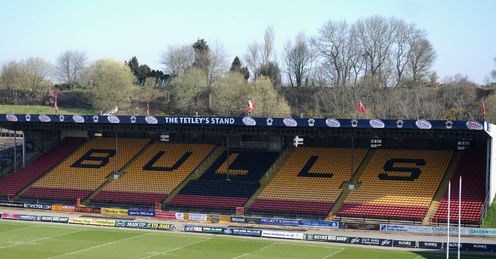 What a week for the Bulls. Where did it all go wrong? No doubt there will be a plethora of stories to come out of Odsal over the next few weeks. Everybody wants to know how a club can get itself into this state.
Throughout my lifetime I've seen most rugby clubs find themselves in a similar situation. Hull were saved due to a a merger with Gateshead and the good fortune that the Council built the KC Stadium, while Leeds were rescued from financial meltdown by a self-made property millionaire called Paul Caddick.
I know from first-hand experience how hard it is to run a professional rugby club. It's a bit like playing the game: it looks easier from the side lines.
Phil Clarke
Quotes of the week
Wigan sold their ground to a supermarket chain to avoid collapse and clubs like St Helens and London have been kept alive by the benevolence of their Chairmen. Most clubs have been in a similar situation, but some have had some better luck.
We were all of the opinion that the new licensing system (not really that new) would help to prevent situations like this. How wrong could we be?
I struggle to spell the word 'accountancy' and must confess to having very little knowledge of the Bradford Bulls financial situation, but if I were invited to the Back Chat Pub with Rod Studd and Stevo here are the figures that I'd scribble on the back of a beer mat:
Typical Super League club
Income
TV deal
£1,200,000
Gate receipts/Season tickets
£1,600,000
Sponsorship/Corporate/Advertising
£500,000
Retail
£500,000
Others e.g Lottery
£200,000
TOTAL
£4,000,000
| | |
| --- | --- |
| Expenditure | |
| | |
| 1st team players | £1,800,000 |
| Other players | £500,000 |
| Staff | £600,000 |
| Stadium costs | £300,000 |
| Retail costs | £250,000 |
| Other costs | £450,000 |
| TOTAL | £3,900,000 |
In time the full story will come out, and my rough calculations maybe wrong for the Bulls. I've based my figures on a club with about 10,000 paying supporters, spending up to the Salary Cap in the first team. I can only guess that their income has dropped significantly.
I know from first-hand experience how hard it is to run a professional rugby club. It's a bit like playing the game: it looks easier from the side lines.
Bradford have in some ways been a victim of the unique circumstances in that city. For well over a decade there has been talk of a super stadium for the football and rugby clubs.
The Bulls even moved to Valley Parade at one time, but all of the talk hasn't led to the action that they needed. In the current economic climate it's even less likely that the ambitious plans to redevelop the sporting facilities of the city, both for the public and the professional teams, will happen in the near future.
What will this mean for the Bulls and the game? If I were a gambling man I'd say that it's all over for them. It's sad and I hope that I'm wrong, but I doubt that they'll survive.
There was a crowd of over 19,000 people at the DW Stadium last Friday to watch the Bulls play against Wigan evidence that it can be done right and that people still want to watch.
If it was their last game, it was a great way to go out, beating the top of the table in their own back yard (or relatively new multi-million pound purpose-built stadium to give it a more accurate description).
Comments (5)
Peter Handley says...
Do you not think that saving the Bulls would be a complete smack in the face to clubs like Leigh & Halifax who have dropped to the Championship, got their finances in order, then got the knock back when it came to issuing licences so clubs like Bradford could carry on abusing their position? Boasting a "proud record in winning super league 4 times" is a bit hollow when they clearly did it by spending money they didn't have on salaries they couldn't afford! Anyone can do that....
Posted 09:44 17th July 2012
Dominic Joseph says...
Maybe the other clubs as a consortuim could buy a proportion of the club to get it back on its feet... Bradford could buy out when back on its feet. (short term deal of course) that way the superleague would look after its own
Posted 16:03 12th July 2012
Paul Squires says...
Well Phil, I hope too that you are wrong and the Bulls don't fold. The truth is though that most professional sports clubs are money losing ventures, and can only be supported by wealthy individuals or businesses, who have a financial or personal reason for bailing out the losses. Even Man City have reportedly lost in the region of £200 million for the season just gone. In my view, the RFL are partly to blame for not only the Bulls plight, but also that of other recent administrations. Did no one at Red Hall think to ask if the Bulls would pay the vat on the sale of Odsal? Did no one suspect that the club was in turmoil? Bull's debt is almost exclusively to HMRC, why do they always appear to be intransigent and unsympathetic? Bradford is a national disgrace as a city. Deprived, depressed and socially challenged. I would ask is there no way forward with HMRC to try to preserve what is one of our only community successes. I reckon the sums involved are a fraction of the amounts of taxes avoided on a daily basis by the rich and not only famous! Time I reckon, to call the politicians and experts to task and let them actually do something other than make worthy statements to the press, and preserve the club for future generations. Maybe Jimmy Carr could chip in!
Posted 18:51 8th July 2012
Ben M says...
You have mentioned licensing supposedly preventing this kind of thing, but how far would you agree with the thought that it has actually made things far worse for the lesser/ poorer performing clubs clubs who, as a result, have to spend more than they can afford in order to match the required standards, such as Bradford, Wakefield and Crusaders? Similarly do you think Barrow's breach of the salary cap last season was a result of the same pressure to avoid being trapped in the less profitable championship?
Posted 00:06 5th July 2012
Paul Egan says...
Dear Phil, Just had the pleasure of watching the third and final australian origin game. What a classic!. Had to record the game and watched it before watching our tame effort to match it. I have watched all of the origin games from both hemispheres and when are our governing body, the rugby league, going to realise that we will never match their intensity. I beleive we would be better off bringing back our own county origin game; Lancashire v Yorkshire, in a 3 game series. People can say it will not be competitive and that nobody will watch it but for what I can see nobody has watched both the exiles v england games with very low crowds. As a fellow lancastrian surely you will agree that if lancashire played yorkshire at st helens we could get at least 8 000 people there to watch us give the old enemy a beating. Furthermore to add intensity to the game it should be used as a trial game like the aussies do origin. So players will have to play if they want to play for england in the autumn. I know people will say 'what about players from cumbria and london?'. Well the londoners can play for lancashire and the cumbrians for yorkshire or something like that. Also players, like in australia will not be able to play for there clubs the week before making the league more competitive for them weeks e.g. if wigan played widnes and had 6 players missing due to them being called up it would be a much closer game. What do you think, Phil would love to hear your opinion?
Posted 21:38 4th July 2012