Last year on Sky Sports the rugby league department attempted to predict the end of game score by using the match stats and an algorithm that took into account the results and stats from 700 previous Super League games.
I have to hold my hands up and say that I was the driving force behind the attempt to bring predictive analytics into the Super League coverage and I also admit that I got it badly wrong. The Margin Meter that we used in games didn't work. We made several errors and were foolish enough to think that we could extrapolate the current stats over the remaining time of a game to forecast the final result or margin of victory.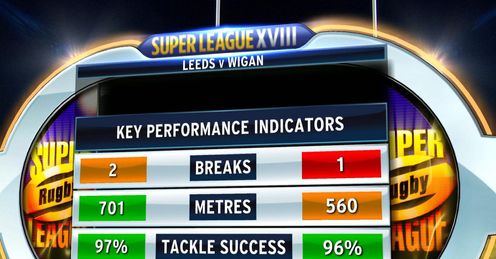 We received some strong criticism over our attempt and have spent the last twelve months trying to learn from the mistakes that we made. Other sports like football, rugby union and even rugby league in Australia are also attempting to use a similar approach to give the viewer greater insight into the game. Basically we want to know if the numbers on the scoreboard are backed up by the stats. Is the current score what you'd expect bearing in mind the balance of play?
Rugby league is a complex sport and I'm not trying to simplify it down to a few numbers. I realise, appreciate and understand the creativity and effort required to break through your opponents defence.
Phil Clarke
Quotes of the week
At the games, we try to measure the attacking, defensive and possession statistics and see if they support what the scoreboard says.
We have an expert helping us with all the calculations as I'm not bright enough to do the maths. Bill Gerrard has a wealth of knowledge in sporting statistics and has done work for Billy Beane in the past (see Moneyball). His analysis of the hundreds of previous games, and the stats from them, tells us that the fundamentals of the game explain around 80 per cent of the outcomes. This is a high level of accuracy to calculate what the scoreboard should be.
Gauge
We've learned what the Key Performance Indicators are and how to 'strip the dread from the data' as the author of a book called 'Naked Statistics' describes it. Breaks, metres and tackle success are the three most important statistics in analysing the game.
Rugby league is a complex sport and I'm not trying to simplify it down to a few numbers. I realise, appreciate and understand the creativity and effort required to break through your opponents defence. I also know how important 'breaks' are in determining where in the league table a team will finish after 27 Rounds. In addition to 'metres made' and 'tackle success', they are a great guide to show us which team will finish in which places when we get to the end of the season.
Some of you may have seen the performance gauge in the bottom of the screen on live games recently. We've tried to show both the most important numbers and represent them in a traffic light system, with green meaning good, amber as average and red as poor. A team with three green lights playing against a team with three red ones will almost always be in front on the scoreboard. But there are some occasions where one team may have had an interception try and one through another freak event, be leading by ten points, but being outplayed in the main statistics. The performance gauge checks to see if the score matches the momentum of the match. Most of the time, the scoreboard reflects the stats and it's just a matter of time before it catches up.
Switching to green
Winning teams are ones that have the ability to switch on the green lights when they need to. They have the ability to change the momentum of the match and accelerate when the opportunity arises.
The digital age in which we live means that there is more information and data available than ever before. We're just attempting to strip the 'noise from the signal', as Nate Silver describes it. With all of the things that happen in the game, we're trying to pull out the most important ones and provide a snapshot of the statistics in an easily digestible way.A Swedish mathematician called Andrejs Dunkels said that it's easy to lie with statistics, but it's hard to tell the truth without them. I want to ensure that the comments I make are evidence based and not just a gut feeling.
Comments (6)
Matty Wootton says...
I disagree with this. i like to know the stats at half time and full time but to keep telling me what a 'computer' thinks will happen really annoys me and i think makes our game look stupid. even if the 'computer' predicted the score and got it right, whats the point, it would spoil the game i ask you this - would life be as good if you knew when you was going to die? leave things be and enjoy the 80 minutes with your own opinion not what a computer says! thank you x.
Posted 04:57 2nd April 2013
Tony King says...
Interesting stuff Phil. Does your data show any evidence that different teams have a different points per metre ratio? In the NFL points per yard is arguably a better forecasting tool than just yards as it takes in lots of other factors such as getting good field position from kick returns, turnovers, and the ability to actually make the hard yards in the red zone and turn a teams yardage into points. Any evidence of this in Super League?
Posted 01:25 28th March 2013
Paul Thwaites says...
Phil, why don't we have a bonus point system the same as in Rugby Union? Why should a team that battles hard and loses by one point to a drop goal in the dying seconds of a match be treated the same as a team who completely capitulates and loses by sixty points? I would be interested in your opinion on this. Cheers, Paul.
Posted 16:19 25th March 2013
Gary O'brien says...
Rugby League is a complex sport? There is the problem Phil - it's not! You are trying to make it into one - American football and union are foar more complex with a lot more factors. I think what Sky are doing is much too gimmicky and quite frankly I think it makes our sport look stupid.
Posted 13:57 20th March 2013
Richard Stone says...
I am a big fan of Statistics and enjoy sifting through the Stats of the Sports I enjoy...NFL American Football / Indycar / WTA Tennis etc. Stats are fine after the event but unfortunately I think its almost impossible to predict how games are going to turn out and sometimes these 'predictor' stats leave me and I'm sure many viewers cold. During NRL coverage from Australia they have gone even further with some guy giving viewers betting odds on the game about to start! I hope we are not heading down the same path. Having said all that I really enjoy listening to Phil Clarke during the games as he always has something sensible to say. (A bit like Annabel Croft with her comments on Tennis)
Posted 13:08 20th March 2013
Alfredmick Rooney says...
For those of us wishing to watch a match live and can form an opinion of what we are seeing the last thing we need are more inane comments from the commentary team. Statistics and arguments over rules are for another time or, at least, should wait to the end of the game. Please Sky get rid of this annoying exercise or lose viewers.
Posted 10:46 20th March 2013