The Easter fixture programme usually ignites the debate about whether two matches in four days is good for the game.
Some think that it's cruel on the players and provides a lower quality spectacle for the supporters, whilst others view it as a test of mental strength and a challenge to be tackled head on.
It's a chance for a coach to rotate his squad and attempt to gain the best performance by using 25+ players in rounds nine and 10.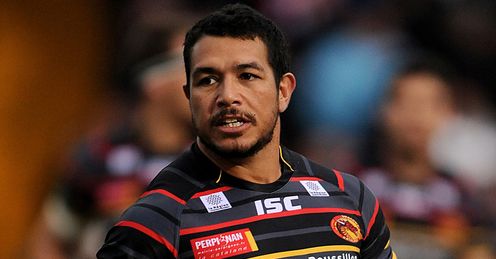 In simple terms, the debate boils down to this: do we (i.e., players, coaches and supporters) want the season to start one week earlier than it currently does or do we want one less game in the season?
If the answer is the latter, then the players and coaches need to realise that they'll have to take about a four per cent pay cut. It would be interesting to hear the results of a poll if all of the players in the first team squads at all 14 clubs voted. We only tend to hear from coaches at this time of year.
I'd bring most of my second-choice players to the UK for games during the season, so the ones left in France have the time to rest and prepare for the next week's home game.
Phil Clarke
Quotes of the week
It would be a radical change to rugby league in this country if we altered the traditional Easter programme - but I want to suggest an even more extreme approach.
We constantly hear about the effects of the trip for teams to the South of France to play against the Catalans Dragons.
People make reference to the fact that they've had an early start, long bus trips, delays at the airports etc etc and that it's meant that they've had very little time to train or practice in the week after they've been to Perpignan.
Disadvatnage
I've read how it has taken four days for a UK-based team to get there and back because the flight times weren't convenient and they're only left with one day to prepare for their next home game.
Here at Sky we have even been guilty of it when we say that such a team have had a difficult week "as they had to play down in the South of France just last Saturday".
Well how about you see it from the other side. Imagine for a minute that you're French and the Catalans Dragons are your favourite team. They have to do this every other week. That has to be a disadvantage to the other teams.
So here's where I'm going to suggest something that seems a contradiction to everything I've ever heard or believed about sport before: the Dragons just try to put all of their effort into winning their home games.
This gets them into the play-offs, and then they have a massive effort for four weeks when they know that they have to play well and win away from home but have all of their best players fit and fresh for this challenge.
I'd bring most of my second-choice players to the UK for games during the season, young French lads who are bursting with enthusiasm, with one or two of my main stars who travel on a rotational basis.
The ones left in France have the time to rest and prepare for the next week's home game. In some ways it seems wrong, but it's perhaps the best chance that the Dragons have of winning the competition.
Proof
It seems to go against the spirit of the sport, and the game's administrators might not like it, but the play-off system means that finishing first no longer counts as much.
The performances by Leeds Rhinos during the last two years at play-off time are proof that you only need a perfect month to win the big prize.
I realise that they might not win every home game, but it usually takes something special to beat them (e.g., Leeds effort last Monday). Nor will they lose every away game.
Somebody said to me recently that the Dragons are the most-travelled rugby league team in the world.
I wasn't sure when I thought about the air miles that the New Zealand Warriors picked up over the course of the season.
But when you look in detail, you realise that the door to door (or bed to bed) travel time is longer for the Dragons due to the difficulty of flying from point to point. Direct connections to places where the games are played are much easier for the Warriors.
So, what do you think? Should it be allowed? Does it damage the reputation of the sport? Can you see it working?
Comments (8)
Pete Stewart says...
Phil, after Brian McDermott's recent comments that Catalan get awarded more penalties than any other team, I was wondering if all your stats confirm this? He has obviously looked into it him self, and if so why do you think this is?
Posted 10:54 5th April 2013
Chris Lewis says...
Why don't all teams chip in and buy a plane. Each week it will either take english teams to france or Catalans to England. Cost will be down bacause no one will be making a profit from the trips plus delays would be minimised because it would be a private flight. To offset the costs the teams could also sell seats to fans which means away support would also increase putting money back into the clubs. As for the Easter weekend I don't think it need changing it's two matches in a season that don't make that much of difference come September. The issue will arise if SKY start asking for Monday night matches again as this could end up with Easter weekend type fixtures (matches only 5 days apart) happening 3 or 4 times in a season for some clubs.
Posted 14:21 4th April 2013
Mark James says...
I don't know were phil is coming from with this point. In the NRL the melbourne storm travel 800km to sydney, 1500km to brisbane and 2000km to townsville. All big journeys and they beat everyone in the NRL.
Posted 13:48 4th April 2013
James Mitchell says...
If you do that then you're completely undermining the regular season. In a few years when Catalan grow and start to develop good youngsters this may but possible but for now they'd get beaten heavily most weeks, it wouldn't be giving fans value for money. Although I get where you are coming from.
Posted 15:28 3rd April 2013
John Wards says...
I think this highlights the fundamental problem - too many places for play-offs. Top 8 means that a team in bottom half and a team at mid-point make the play-offs. This means for the top teams that they can cruise in some games. Just like being suggested here for Catalan. Fewer places like only the top 4 for the play-offs or at worst top 5. Then each is important to put out strongest team available. Also what respect to fans if teams only focus on half the games as suggested for Catalan. Does that mean when they play away we fans get heavily reduced prices. Same applies to any team that can decide not to take a game as seriously as possible. It short changes the fans and I think I would consider a lot of games. If coaches become too choosy, then I'll be even more choosy where my hard earned cash goes.
Posted 15:08 3rd April 2013
David Lea says...
Thank you Phil for stating what i said at the end of last season." you only need a perfect month to win the big prize" What a lousy way to become champions of anything. We dont have the strength to have a top 8, most of the time 8th place has lost the same amount of games as they have won. If this play off rubbish is here to stay then revert back to the original form were the top 2 actually DO have an advantage. I dont expect this to get published as Sky dont seem to like negativity on what THEY decide should be but i hope you read this and honestley tell me that you believe being good for a month warrants a team to be Champions of anything and no i dont care what they do in Australia
Posted 14:44 3rd April 2013
James Turner says...
I would rather see all teams play with a full strength team in each game, if the travelling is such an issue for Catalans would it not be better that they play their games in the UK batches of 3 rather than each week, then they can take a first team squad to UK based games without the issue of travel fatigue
Posted 13:34 3rd April 2013
Clare Evans says...
The easter weekend fixtures have always been a staple in this ever changing sport. Even before the super league existed (yes sky, there was rugby league before the american style super league was forced upon everyone!!) It has always been a weekend to look forward to. I understand why it is a pain for players and coaches but it has happened for a very long time so shouldn't everyone be used to it by now and not complain year after year? With regards to the dreaded trip to Catalan, why? Why do we even need a french team in. It is just a pain, stupidly expensive for away fans and teams to get to. Why can't France have their own league and develop the sport there. Surely this isn't developing the game of rugby league. How much would each club have saved last year if they hadn't had to travel to France, likewise how much would Catalan save without their constant trips to the UK. This money could be better spent on developing their team and keeping them financially stable in France.
Posted 13:30 3rd April 2013