It appears as though it's not just me who is concerned by the state of the game at present.
Opinion polls across a variety of sites on the internet indicate a desire for change. The column that I wrote last week about the state of Super League has provoked much debate and a range of topics are cited as the cause of the problems.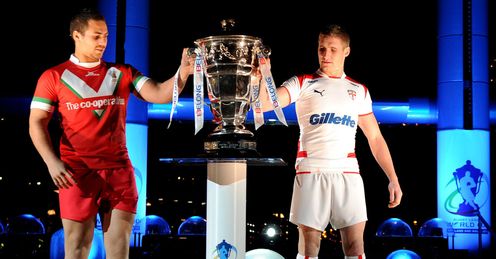 Some blame the recession; a few cite poor leadership, others the salary cap, whilst the removal of promotion and relegation on an annual basis is viewed by the vast majority to be the biggest problem.
I shared a train journey with Jon Wilkin last year when his team, St Helens, were going through a bad patch. He reminded me of the old saying that "You're never as bad as you think you are, nor as good as you might want to believe, when you're winning games and top of the table". Well, to a certain extent the game is going through a bad run. We can turn it around but like any rugby team, there might have to be some changes and there's definitely going to be some hard work.
Well, to a certain extent the game is going through a bad run. We can turn it around but like any rugby team, there might have to be some changes and there's definitely going to be some hard work.
Phil Clarke
Quotes of the week
It's impossible for me to comment with much detail without knowledge of the recent history or facts. I'm not aware of the income that rugby league has had over the last five years, or how it's spent that money.
I can't see how the salary cap has been a problem. The owner of Salford has the opportunity to spend as much as the other teams in Super League and it will be an exciting time for the Reds supporters now that they've appointed a coach and are working their way up from the bottom.
Salary cap
Over the last five years the salary cap increases have basically kept pace with inflation. The game has introduced such things like long service allowance (for players who have spent such a period of time at the same club), club trained allowance (designed to encourage players to develop their own talent) and an elite training squad incentive (to reward clubs who have played in the England squad) but they've never forced clubs to overspend nor prevented them from spending the same as the big clubs.
We have reached a situation where the Top 30 players in a club can be paid £1.925m per year.
If the salary cap was brought in to prevent clubs from over spending and to evenly spread the talent of players it doesn't seem to be working. It would be interesting to hear why it hasn't. There have been several clubs who have spent as much as Warrington, Leeds, Wigan and St Helens and haven't made a Grand Final.
The license system is one which I agree with in principle. It makes sense but it hasn't worked. Why not is the question we all want to know? Bringing back promotion and relegation won't fix the problems. I suppose that you could say that you should only have a license system if the central body has some power. Sadly, this doesn't seem to be the case. An absence of promotion/relegation hasn't stopped the NRL from growing in popularity, nor has it held the NFL back for the last 30 years.
Development
Player development is another important piece in the jigsaw puzzle of our sport. The self-inflicted wound of dual registration is an example of this point. The Director of Performance and Coaching at the RFL recommended one plan which was rejected by the clubs and we now find ourselves scrambling around in damage limitation. It's hard for the game to go forwards with backwards moves like this.
I am intelligent enough to know that it's not just about the top level of the game. We had a period during which the sport received significant funding from Sport England to increase participation. All of that has now changed and it would be very interesting to see just how effective we were at growing the game. This year offers us the chance to attract some new followers when the World Cup takes place in England and Wales. Let's hope there is a plan in place to capitalise on the opportunity. If we stand still for the next decade we might be overtaken by others who we'll never catch.
As I said earlier, your glass can be half empty or half full whichever way you look at it. Whichever view you take, we need someone to start filling the rugby league one up soon.
Comments (8)
Graham Cox says...
If the supporters, clubs and players are asking for two leagues of 10 teams, (SL1 and 2), then can I ask your followers who they would select to be in their top tier of 10? Would this be based on performances on the field? Financial viability, the club's supporter base or their facilities at the stadium? Would London still be protected from the lower division? and would the Sky money go directly to the top 10 in order to increase the gap between the two tiers further.? What are your thoughts?
Posted 12:33 30th April 2013
David Lea says...
Phil, you say that this year gives us the chance to attract new followers when the World cups takes place in England and Wales. Time and time again i have mentioned this but once again where is the advertisement for the Rugby League World Cup? surely to get new followers to the game we need to advertise what an amazing game we have played by amazing athletes. No one outside the game knows there is a world cup about to be staged.
Posted 13:09 18th April 2013
Tony Shaw says...
Everything that Rugby League is half hearted framing the future is a joke. Super League played in great stadiums like wakefield castleford hull kr, london no home no fans even the champions play in a 1950s stadium with one decent stand. Friday night rugby fantastic if you live within 5 miles of your club otherwise why would you venture onto the traffic jams of the m6 m62 m61 0r the a1m. Promotion of clubs or players non_exisitant. If England have a bad world cup then the rah rahs win theirs then rugby League as a top level professional sport will be finished. Will carling de-cried the old farts of Twickenham but i wish they where running rugby league then we would stand a chance they are selling a vastly inferior game and filling stadiums all over the country, can we get them to Red Hall URGENT
Posted 11:35 18th April 2013
Paul Thwaites says...
Hi Phil, as I have already stated the best way to save superleague is to have a competition with the top 6 in the play-off's with a point system the same as rugby union. This would gurantee entertainment all round! The play off system as it stands is ridiculous, the points system unforgiving. This would solve both.
Posted 21:48 17th April 2013
Ste Mellors says...
Hi Phil, What are your thoughts on the following? Two tier Super League of ten teams each, with P&R. Winner of league goes straight to Play off Final, three others compete for other place. Retain the license system for the two tiers. A new cup comp introduced similar to the FA Vase for lower league teams with the final to be played immediately before the challenge cup final. Reintroduce the reserves but with stipulations such as only 3 over 23 year olds can play per game. Home grown players - only 50% of wage counts towards cap. One "star" player doesn¿t count towards cap. GB Tour every 4 years. Raise profile of floodlit 9's comp (sky coverage, party atmosphere, different locations etc) 3 best SL V 3 best NRL play at a single venue (Man city?) on one day for right to declare best league?
Posted 11:55 17th April 2013
Martin Harvey says...
The Coach Education structure in Rugby League (grass roots) is one of the strongest of all the sports in the UK. The fundamental programme of skilled-based provision developing balance, coordination & agility at the level one stage is unsurpassed. This will bring through multi-talented youngsters with very strong fundamental movements to handle what the modern game demands. However, the issue is with the professional game. There isn't enough quality players around to sustain so many SL teams. I suggest 20 franchise teams (10 in Prem & 10 in Div1) who have a 3-5 year license for teams outside the 20 to get their longterm house in order and apply. From this 2 league format there should be a 6 team play-off in both Divs and 2up/2down for relegation/promotion. This will increase interest in the top division, but not totally cutting someone off if you're relegated. The Challenge Cup should be moved back to May & therefore allowing families time to save/afford supporting both Wembley and Old Trafford. The reduced clubs allows for a 3-match series between England V Exiles sometime in the mid-season. Serious thought also needs to be given to a 4v4 World Club Challenge at the end of the year! Internationally?... It should work on a 4-year rota - (1) World Cup, (2) GB tour of Australia/NZ, (3) Tri-nations, (4) Australia Tour of Europe (Play: France, SL Champs & 3 Tests against England). On the 2nd 4-year rotation New Zealand will be the touring team to Europe. This a very simple vision/plan. Why aren't the RFL thinking along these lines? And if they are... Why haven't we heard about it?
Posted 11:47 17th April 2013
Jeff Rolland says...
One reason why the licence system hasn't worked is that there is simply too little talent for 14 teams to function at the top level. It should be cut back to 12 at most (preferably 10). Teams play each other home and away with no additional fixtures in the regular season. That way, our top players have intense, exciting competition every week, which should help prepare them for international RL. Maybe we might then be able to compete with the Aussies
Posted 23:12 16th April 2013
Andrew Plummer says...
Phil, the salary cap not working can be explained by looking at the fundamental assumption it makes, that a player will always play for the club that offers him the most money. This is clearly not the case. I can't see any top player moving from Leeds for example to Salford for just a bit more money. It would need to be a huge chunk more than the players market value for them to move.
Posted 17:53 16th April 2013