Throughout the late 80s and early 90s the game of rugby league in this country was dominated by the most powerful team perhaps ever seen over here.
Wigan won most of the trophies and dominated all of the headlines. Many people have said it was because they were the first team to go 'full time'. Their players had the luxury of training during the day whilst most of their peers had to get by with evening sessions after a day at 'real work'. It wasn't long though before Leeds, St Helens and others had moved down this path and by the mid-90s every team trained as full-time professionals.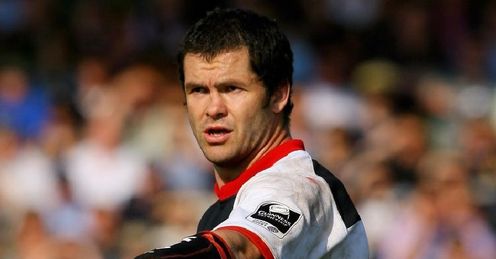 For some time now I've wondered whether this is the best thing for the sport or the individual player. Unlike football the average earnings of rugby league players will not provide them with enough money to live off and most of them hit the wall of panic as they approach retirement. I'm not sure that the clubs can even afford to do this, it seems as though most of them are losing money. Is a return to a 'part-time' scenario the best for both parties? Would the standard necessarily drop?
Not only has it provided a very important balance that any sportsman or woman needs, it has also helped him in the problem solving of attack and defence in elite rugby union.
Phil Clarke
Quotes of the week
Well, before you say that it can't be done in modern-day professional rugby, let me point out what has recently been achieved by a rugby player in the other code. Jamie Roberts is a Welsh rugby union player who has been an international player for over five years. He was good enough to be selected for the British and Irish Lions Tour in 2009 and has just been selected to go to Australia as a Lion in June; he is respected throughout the world as one of the best players in his position.
Roberts combined his progress as a rugby player with his studies at Cardiff University where it has taken him eight years of study, hard work, revision and dedication to become qualified as a Medical Doctor. As someone who managed to combine a Sports Science degree from Liverpool University (much, much easier than a degree in medicine I know), I can appreciate just how tough it must have been for Jamie at times. But it was interesting to read that he's felt that the study also helped his rugby career. Not only has it provided a very important balance that any sportsman or woman needs, it has also helped him in the problem solving of attack and defence in elite rugby union.
Spare time
He's not the only rugby player proving that this is possible. Jamie Peacock and Kevin Sinfield have also used their spare time effectively to earn degrees and are currently in the process of studying for their Masters Degree. If the best players are able to do it then why aren't the rest? The fitness and skill level of Peacock and Sinfield haven't been affected by their time spent studying.
I appreciate that not every player wants to study in their spare time. Some are already ahead of me here and working for themselves or other small companies on a part-time basis. They tend to be the smart ones who can look ten years into the future and see what life might be like for them and their families.
In the early 90s, Andy Farrell served an apprenticeship as a joiner at the same time as he progressed from Wigan's 'A' team into their first team. He would turn up at the club and train before he went to work, then return in the early evening to do some more. It was very tough for him, I know; I saw what he had to go through, but it didn't stop him becoming one of the best players in this country. If you asked him now, he might say that it gave him the mental toughness to be a success.
It's roughly 20 years since the game went 'full time' (I hate the saying, but you know what I mean). Is it time for a re-think?
Comments (6)
Andrew Morris says...
RL needs to move with the times, and look at larger corporate sponsors and investors, too long have they languished with the history and been faithful when this isn't reciprocated. Football has started to make the changes for the future and unless RL wants to become a distant memory it needs to take note; and / or linking up with college's and university's to offer courses tailored in business management, marketing, finance et al. These can then be utilised while training and playing within some role in the club and upon retirement taken up on a full time basis. Burnley Football Club is a good example of this, linking up with the local college and offering courses to students in the youth team, keeping local talent and attracting one's from further afield. Players need to have something to fall back on at any stage, as with all sport, the necessity to earn vast amounts of money in a short playing career is seen as necessity. RL is loosing sponsors and players left, right and centre and needs to become a comercially viable market to be able to perform.
Posted 15:00 9th May 2013
Jeff Rolland says...
Call me an old cynic, but is this preparing us for the inevitable? Super League hasn't got a sponsor, a number of its clubs are having financial problems, its London franchise is in retreat and its major broadcast partner seems to be losing interest in favour of picking up a pretty meaningless rugby union tournament. And the consequences of going into a part-time environment? Firstly, even less chance of beating the Aussies than we have now. Secondly, the player drain to the NRL and rugby union becomes a mass exodus. Fittingly, the picture of Andy Farrell accompanying the article shows him in a Saracens jersey.
Posted 19:46 2nd May 2013
Mark James says...
In the American football players play in college teams for 4 years were they develop thier game and get an education at the same time. Maybe the RFL and Superleague clubs should look at some kind of patnership with colleges and universities were young players can have an education so the have careers to go into when they retire or fail to make the grade as Rugbyleague players.
Posted 13:12 1st May 2013
Paul Thwaites says...
Phil I can't see what point you are trying to make. If players are allowed to have jobs, which you state they are then it is simply a matter of needs must as the devil drives. If a player needs money then they should have a part time job. If they feel they don't then they simply shouldn't get one. I suppose a complication comes if the job is an overly physical one, hindering their playing abilities come match day. As a bit of light fun here are some of the part-time jobs I can see some of the superleague players doing: Jamie Peacock: Traffic Warden (who would argue with him) Danny Maguire: Politician (the best side stepper ever) James Roby: Hooker (he wouldn't get much though) James Graham: Traffic Light (stuck on amber) Paul Wellens: Snooker referee (always picks up the balls) Steve Menzies: Help the Aged Patron Jonny Lomax: Childcare Salesman (good at selling dummies) Barry & Terry: The back and front of a pantomime horse (not decided who is back or front yet. Lets see how they do on their predictions) Stevo: Politically Correct Amabassador Eddie: Dinnerlady Hope you enjoy!
Posted 00:02 1st May 2013
Paul Smith says...
Refs could go part time cos going full time has not improved them at all and with the saving in wages maybe that way we could try 2 refs in the middle
Posted 20:25 30th April 2013
Lee Kelly says...
WOW phil clark carrys massive weight with his opinions and thoughts in RL. This latest article is shocking another nail in RL coffin, And whats more worrying he is dead right. Sorry to say it but rugby league in UK is in massive trouble with only a handful of quality games shown on sky and big stars leaving for oz and union i I cant see a turning point the game is withering away.
Posted 20:23 30th April 2013