Well, was that really Magic? I suppose it depends on what you are looking for...
If you tuned in or turned up for all seven games then you would have seen 66 tries.
Some of these were outstanding and ones that you'll remember for the rest of your life - like the effort by Kallum Watkins to ground the ball as he was thrown out of play or a similar one from Kirk Dixon for Castleford as he managed to squeeze the ball inside the corner post.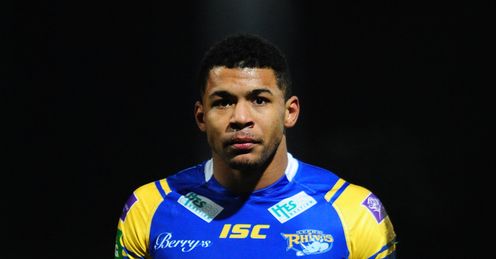 Three of the matches provided drama that kept your attention until the final hooter. Salford's clash with Widnes was one of the best in my opinion with both sides producing some of their finest efforts of the year. It was the first time this season that the Reds have made over 1,500m in a match and it was literally end-to end stuff.
The Rhinos game against the Warriors produced perhaps the most physically intense match and even had the late drama that we have come to expect from these two great clubs. I think that late Danny McGuire try might even have been awarded had it not been for the late incident in the Hull v Hull KR game. It was such a shame for the Rovers after one of the bravest efforts of the season. Still, both decisions will add to the spice when the teams meet again.
I managed to watch some of the England rugby union match at Twickenham against the Barbarians and felt saddened that there were twice as many people watching a 'friendly' game as we had for our Magic Show.
Phil Clarke
Quotes of the week
Much has been said about the decisions made by the officials. However that is not really what has me most fascinated this week. It was something off the field I felt most concerned by.
Decline in numbers
The official attendance figures for the first day was 30,793. Day two had slightly more, even though there was one game less, (31,249). I'm not sure it's correct to do it but we've tended to add the two together and announce an official aggregate crowd for the previous Magic Weekends since they started in 2007.
Just to remind you, here are the previous official figures:
2007, Cardiff: 58, 831
2008, Cardiff: 63, 144
2009, Edinburgh: 59,749
2010, Edinburgh: 52,043
2011, Cardiff (Feb): 60,214
2012, Manchester:63,716
2013, Manchester: 62,042
The first four events were held on a weekend at the start of May until it was decided to launch the season with the Magic concept in 2011. For the last two years we have pushed the event back a few weeks to the end of May and have been fortunate to have almost perfect weather for two consecutive years in Manchester.
So how do we explain the fall in numbers? I said after the last game on Sunday that the games had been enjoyable, entertaining and of a higher standard than we get during an average weekly round. When I looked at all of the stats from the games, many of the teams had visibly risen for the occasion.
The event is its seventh year and in theory has a greater public awareness that it would have had five years ago. There appeared to be as much, if not more, entertainment outside the ground than in previous seasons, too. I walked all around the Fan Zone as they were setting everything up on Saturday morning and it looked good to me.
The people I saw over the weekend had few complaints (other than the video referee!). So should we be satisfied with that crowd?
I seem to remember that the original concept was to provide a weekend away for supporters, adding another 'Big Event' to the rugby league calendar. People tell me that Manchester is the best place for it now, but that feels like we have hit "third time lucky" rather than because of a smart plan seven years ago. It would be fascinating to know if it is the same 30,000 people who have been going for the last seven years.
Untapped areas
Most Super League clubs have an active Community Department who have experience in visiting their local schools. Would it have been practical and beneficial to task each of these with recruiting some temporary supporters from a different area around the Manchester region? There must be dozens and dozens of schools within a 30 minute radius of the Etihad Stadium whose pupils have never seen a game of rugby league.
Perhaps I'm a dreamer and should listen to some marketing experts but was this not a chance to inspire, interest and motivate a new supporter to the game? We have taken the game to a new area and haven't even knocked on the locals' doors to see if they want to come and watch.
I managed to watch some of the England rugby union match at Twickenham against the Barbarians and felt saddened that there were twice as many people watching a 'friendly' game as we had for our Magic Show.
After trying the Magic concept in three different locations we seem to be getting the same number of people coming to them. At a period in the game when we are talking about restructuring the competition we need to take a serious look at whether the magic weekend does have any magic in it and whether it deserves to be repeated. Would these games played on a home basis have attracted the same amount of people too them or more?
I would love to hear your views and comments on this, whether you attended the Magic Weekend or not.
Comments (16)
Andrew Dwyer says...
I attended this years magic weekend. The concept is fantastic- all teams and supporters over 2 days. However, the lack of information with regards to taking own food and drinks, (which I can do at my local stadium in widnes), needs to be addressed. I too turned up with 3 children for the full day, made it a day out per sa, mcdonalds on the way and a picnic hamper for the rest of the day, again only to be told that food and drink cant be taken inside!! Rugby league is a fans game, no fans no gate receipts, no money, no wages, no players, no rugby league!! We are northerners and we are working class people being ripped off by people so out of touch with reality! And the new proposed change to structure - don't get me started!! Anyway, better information promotions and pricing needed.
Posted 11:33 20th June 2013
Don Elwell says...
I've only attended the last two Magic Weekends in sunny Manchester and loved them both. Each event has been successful and on a personal note, I watched more live games this year than I had previously. However it was at an alarming cost for food and drinks all day. Having said that, credit should be given to the fans who make the day so enjoyable! Some of the most enjoyable parts of each event have been the light-hearted rivalry, banter, singing and general fooling around between high spirited fans. This year the Fanzone was 'buzzing', with each and every club being the subject of light-hearted teasing! Not forgetting the impromptu dancing/partying by Warrington Fans in the concourse after the game. It is a shame that the Stadium didn't look full, there was a good atmosphere, but it seems that the party was really happening outside!
Posted 12:41 6th June 2013
Phil Andaluz says...
Cardiff was great. The stadium is next to the city centre bars, clubs and restaurants; great atmosphere from Friday night until the hangover breakfast in Wetherspoons on Monday morning. Even the campsites for the May events were buzzing, BBQ's and rugby sevens etc.. Edinburgh and Manch city centres are so far away from their grounds that hardly anyone was there for the craic. A weekend away in Eastlands, no thanks!
Posted 17:11 5th June 2013
Steve Ennis says...
HI Phil, The concept of the Magic Weekend is fantastic! I believe there is a few problems though. Firstly I don't believe it is marketed anywhere near well enough. This event is unique and deserves far more recognision than it gets currently. I also believe that holdig the event in the North of England, while convenient for all the fans, takes away the carnival atmosphere which was present at places like Cardiff. People who attended, the event at Cardiff went for the weekend and made a weekend break of it. The fan zone is keeping people out of the ground depleting the number of people watching the games and making any viewers watching at home wondering what all the fuss is about and making it less appealling to prospective new fans of the game. The entertainment needs to be kept in the ground. Furthermore, the fans need to get behind the game as a whole and show some support by getting in the ground and watching games as a neutral. Finally, I am very disappointed to hear that next years Magic Weekend will not be held on a bank holiday. Anyone travelling like myself will have to take Monday of work. This is guaranteed to have an adverse impact on ticket sales? Why has this happened?
Posted 13:57 5th June 2013
Darren Wrudd says...
Hello Phil, I think that there is a trend here and I have spoken to dozens of people who have stated they would not attend again. The food and drinks issue is huge. Getting people to discard drinks bottles and selling the exact same pop bottles back at extortionate prices is a joke. Dreadful quality food at ridiculous prices. I feel that this is part of the culture of the RFL and will haunt them as time goes on. Too often do we hear of problems with events which revolve around poor treatment of your own supporters of the game and nothing is publically done to address the issues. Just an odd flippant comment from Mike Stevenson or the like to make a joke of it and make the viewer feel that they are a minority and should accept it. The magic concept, I think, is huge for our game and a great day out. But unless the RFL starts to treat the supporters in a fair way, then I fear it will dwindle in years to come as people get sick of being ripped off and ignored. You must realise that bad publicity from fans to one another is hugely damaging and impossible to counteract with a few cheap tickets. Instead of the RFL blaming the stadium, and the stadium blaming the RFL, a positive and public stand should be taken to sort the issue and apologise to the fans affected. But hey, we are just the fans, what does it matter if we are insulted and treated like fools, and here lies the problem. There are a few simple ways to promote our game to a wider, more appreciative audience and grow the game to fill stadiums. But we need someone at the RFL to start listening or make way for someone who will.
Posted 12:53 5th June 2013
Maynard Mortimer says...
i agree about the food and drink, it was nightmare been told to eat the food before you go in and then when i got in at the right turnstile i had to walk around the inside to find my seat went through one of double doors on to the next set where i met mr jobsworth . sorry you cant go through here you have to go out again and re enter further down, at the exit i was asked why i had to go out then to go over to a head steward and explain it all over again and then get stamped and walk around to the turnstile again to re enter it was as nightmare . why couldn't we take food into a stadium its a long day all i can think is that they think you will be forced to buy their expensive junk food as you are a captive audience
Posted 17:06 1st June 2013
Ian Silver says...
Hi Phil why not play the challenge cup down to the last two for the championship and lower leagues then the last two join with the fourteen S.L. clubs and play this as the magic weekend .(There would have to be some negotiating with the BBC)With a bit more to play for it should attract a fair bit of interest.I'm not suggesting playing it down to the last two just eight games.
Posted 10:03 31st May 2013
Chris Johnson says...
As a Man City fan, I love the magic weekend being at The Etihad. Im very keen on super league and love the concept of the weekend as I can't make it to regular SL games. I went on the Sunday this year and had a great time. Being a City season ticket holder, I refuse to buy any food/drink at City due to the stupid prices. The stewards at the ground are a joke and always have been, but I think the RFL should come out and clarify before the weekend whether or not you are allowed to take refreshments in with you. Considering how long the fans are in the ground for, I think food and drink should be allowed in. Personally, I'd love to see a Championship game on one of the 2 days so that there are 4 games on each day to make it better value for money. I'd also prefer a bigger game on first each day as the ground is empty for the London v Catalan game. This would get the atmosphere going early on in the day, and would mean that more people see each game.
Posted 17:36 30th May 2013
Elliot Redmond says...
Firstly, I have to say the magic weekend is a fantastic concept, great for the fans and Manchester is a brilliant setting. Last week I read a press release suggesting 65,000 tickets had been sold for the weekend- as we all know 65,000 didn't attend. I feel personally the marketing campaign was less visible this year and I attend super league games weekly, therefore it doesn't surprise me that we appeared to fail in attracting 'new' fans. Maybe the RFL has a lesser marketing budget this year due to the World cup? The Magic Weekend has the potential to be huge we just need to make a few tweaks. I would urge everyone who hasn't been yet to go next year because if you don't you are missing out! If we ourselves can't support our game how can we expect others to support it?
Posted 13:57 30th May 2013
Chris Smallwood says...
It is good to see sensible and constructive comments. I particularly like the ideas from Maggie H. I would agree that involving the local community is a good idea, certainly leave it where it is for now, in terms of venue. I don't think that sticking RL on sky helps, I would suggest sharing the coverage with BBC. Show games alternately on each channel (exclusive) with Sky having the first call.
Posted 18:15 29th May 2013
Gail Hatton says...
As a family we love the Magic Weekend, however this year, as last we took along our own picnic. On arrival at the ground were forced to throw away approx £30 worth of food because some jobsworth on the gate would not let us in with it. Once inside we were forced to spend approx £30.00 on food for the kids and ourselves. the RFL should let fans know via their clubs whether food can be taken into the ground as this adds yet more money onto the cost.
Posted 17:11 29th May 2013
Louise Buchanan says...
We were at the Etihad for Magic weekend. We stayed in Manchester at a hotel and we really enjoyed it. Although there is little to do outside the ground we went to watch rugby. Was disappointed that the mascots were not more involved too!! The only down side was the attitude of the Etihad staff at entrances. Some allowed you to take food in (a necessity when you consider the length of time we were there, the poor choice of food (which ran out on day 2 was extortionately expensive). Two full days buying poor standard unhealthy food from the Etihad coupd set you back a lot of money! Some even took bottles of soft drinks off us and one said our 750 ml bottles of water were too big and wanted to confiscate them!! All in all we had a great time even if the time between matches could have been much better! We will be there next year!
Posted 15:56 29th May 2013
Martin Aspey says...
I'd be interested to know how many unique tickets were bought for each event since 2007. In other words count the wekend tickets as 1 ticket instead of 2 and compare the numbers. Since the move to Manchester I no longer go for the weekend and just travel in on the day my team is playing. This is better for me as I don't have to shell out for a hotel. If other people are like me, then you may find that the number of fans attending Magic weekend is increasing, they just aren't attending both days.
Posted 15:35 29th May 2013
Mike Baines says...
Phil, the price of refreshments was incredibly high! During a Manchester City game you can buy a pint for £3.50, yet during the Magic weekend the same drink cost £4.20? We complained at the ground to staff in relation to the unfair pricing, and were told it was down the the RFL. I made contact with the RFL on Tuesday and was told it was down to Man City? It was sad that fans who wanted to enjoy a drink while taking in the rugby, saw it as a cheaper alternative to leave the ground and have a drink in the nearby pubs because the pricing in the ground was so high! We should be promoting our game, having people leaving the event talking about the great product that is Rugby League, it's players and supporters, not how were ripped of for our drinks! Regards Mike
Posted 14:56 29th May 2013
Patrick Atkins says...
A couple of points. 1. Cost - not only for ticket but travel. This is addition to my season ticket. (1 adult 2 children family season tkt at Warrington £301) day out at magic big dent in finances. 2. Clashes with the Chanmpions league final 3. Long day to entertain kids. 4. Bank holiday weekend/ half term - a holiday or rugby! 5. As a sports fan the choice to watch was fantastic at the weekend - Test match/grand prix/rugby league/rugby union/ Horse racing/Champions league or go to rugby!!! I do enjoy rugby but the attendance & atmosphere also adds & i much prefer to watch in a full stadium not a half empty one. Sorry. i did enjoy reading your blog
Posted 14:33 29th May 2013
Maggie Hilton says...
Hi Phil Personally, I believe that in the economic climate we would have done well to increase numbers. I do however feel that we have now got over the natural objection stage of any change, and moved from a general negative to a more positive attitude towards the concept. We may have tried to run before we could walk, and wouldn't it have been brilliant to take the weekend to farther afield and consequently increase fan bases and the game itself spread and strengthened. Instead we had to rethink and protect a great concept rather than lose it. Now I see an opportunity to build on what we have achieved. I would like to see the weekend expanded to include the Championship(s) games, and have a real festival feel to it. As the Etihad expands, we could have three games at a time on the go. A 'centre court' of the SL fixture, a 'court 1' with a CH game on, and other pitches with tag, wheelchair, womens, school etc etc. Get all the amatuer clubs involved, hold coaching schools, trade stalls, picnic areas, the list is endless Once it's seen as a brilliant event , and a sponsors magnet, we could then move it to other places
Posted 14:01 29th May 2013