At the start of the season I picked my Super League Dream. Well, I did have the help of the Royal Mail postman who delivers the post to the office, he knows much more than me.
It's never an easy task, and I suppose there's no right or wrong, but I'm looking for your help now.
We've got just over a week before England coach Steve McNamara has to pick a team to play against the Exiles in what will be his first chance to look at the players that might make up his Dream Team. It won't be the team that he plays in the opening game of the World Cup; I'd guess that some of the players that are eligible Down Under will make it into the side for that.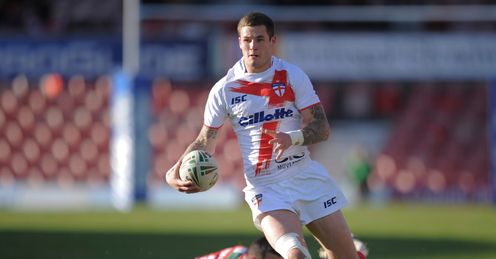 It's also possible that players like Gareth Hock, Tom Briscoe and Jon Wilkin will play that well in the last 10 Super League games of the season that they'll force their way back into contention.
There are some other players who are unavailable at present due to injury like Michael McIllorum, Danny Tickle, Danny McGuire and Kallum Watkins. It's hopeful that some of these guys will be fit by then, but it's also highly likely that others will be injured.
I am fascinated to know why Danny Brough didn't make the Elite Training Squad earlier in the season; he offers competition for places in the half backs.
Phil
Quotes of the week
McNamara has 20 players in his squad for next Friday's game at Warrington and I'd guess that it will be a highly motivated performance from players wanting to book a place in this year's World Cup side. We've got good competition for places, which is the ideal scenario, but we don't have much 'game time' for those players to become a team.
For that reason, I'd imagine that McNamara wants to put a side as close as possible to the one that he believes can win the World Cup. The four key positions of fullback, stand-off, scrum-half and hooker need time together and the ones picked for this game would be the favourites for later in the year. From the list of 20 players available, this would be my team:
1. Sam Tomkins
2. Josh Charnley
3. Leroy Cudjoe
4. ????
5. Ryan Hall
6. Kevin Sinfield
7. Rangi Chase
8. Lee Mossop
9. James Roby
10. Chris Hill
11. Liam Farrell
12. Gareth Ellis
13. Sean O'Loughlin
14. Rob Burrow
15. Eorl Crabtree
16. Jamie Jones-Buchanan
17. Ben Westwood.
I'm stuck with the left centre. Brett Ferres has just played two games recently as a centre, but most of his time this year he has been as a second row. Is there any difference? Well I think that there is at international level. Zak Hardaker is the other option, but he plays as a full back now and was a winger when he played at Featherstone.
Continuity the key
I've left out Morley as one of the props - Hill and Mossop are my two favourites, and I like the way that Big Eorl has played this season. Richard Myler didn't make my team because I'm a believer in continuity and think that Sinfield and Chase need to play together as much as possible to increase the team's chance of winning. They have been the ones that Steve has selected over the last couple of years. I know that both Roby and Ellis haven't played much recently, and might not be in the best form or condition, but I think that it's 'game time' that these players need, more than winning. Don't get me wrong, winning is the currency of professional sport, but for me we need these players to become a Team, and that's hard to do if they don't play together.
I am fascinated to know why Danny Brough didn't make the Elite Training Squad earlier in the season; he offers competition for places in the half backs. It's quite possible that Sinfield or Chase might be injured at the end of the season, and Brough would've been a great replacement, even if you hadn't picked him ahead of the other two already.
So, assuming that everyone is fit and available at the end of the year, who would you select for England's opening game?
Comments (6)
Tony Townend says...
Atkins is so obvious to me if were going on form, as was Brough, however if we view continuity as being more important than form then why not pick a squad at the start of the year and then fit your systems and structures around your squad, not the right way in my opinion, but it is one way.. One thing for sure is there is no point saying you pick on form and then not doing, as is currently the case..
Posted 10:22 12th June 2013
Phil Highcock says...
I personally would like to have seen a side full of young up and coming players give them a chance to experience international rugby ,the likes of hardaker, Percival, whitehead probably Houghton at 9 although not a young player directs hull round the field consistently, let's face facts we could probably name 18 players capable of beating the aussies but one or two missing and were goosed we need to get the seriously talented youngsters bled sooner rather than later the more internationals for these the better.
Posted 14:02 9th June 2013
Dan Mellor says...
Would love to know Clarkes views on Ryan Atkins not being named in the squad.
Posted 13:52 7th June 2013
Don Elwell says...
A good squad, but I'm still unsure about Rangi Chase. There have been flashes of genius but is he a 'team player'? Would he still be interested in playing for England if there is a move to the NRL on offer? Left Centre is easy.....Ryan Atkins!
Posted 10:48 7th June 2013
Steve Mellors says...
Preferred Team V Exiles World Cup Team 1. Tomkins 1. Tomkins 2. Lineham 2. Charnley 3.Cudjoe 3. Reed 4. Crooks 4. Watkins 5. Lineham 5. Hall 6. Chase 6. Chase 7. Brough 7. Brough 8. Mossop 8. S Burgess 9. Lunt 9. Mclllorum 10. Whamsley 10. Graham 11. Farrell 11. Hock 12. Ferres 12. Ellis 13. O'Loughlin 13. O'Loughlin 14. Roby 14. Roby 15. Ferres 15. G Burgess 16. Hill 16. Morley 17. Crabtree 17. Farrell
Posted 09:50 7th June 2013
David Lea says...
What is it with your constantly wanting the KIWI Rangi Chase in the team and Sinfield at stand off. Why play them as much as you can? Burrows is a far better scrum half who can also be moved to hooker if needed and for the World cup it really should be Gareth Widdop he is the form English stand off at the moment.. Our game is in a bad state if we have a loose forward is the best stand off we have and we our best scrum half is a kiwi. What about Yearman or Goulding for left centre?
Posted 14:58 6th June 2013