There is a cliché in the commentary box that says that 'form' at this time of the season is the most important thing to make the play-offs. But is it?
Does it really make any difference if your team wins in the last three rounds of Super League or is it all about having your best players fit, healthy and happy at this time of the year?
Everyone knows that Leeds have won the Grand Final for the last two seasons from fifth spot, but what was their form like going into the play-offs? Last year they lost round 25 in France and again in round 27 when the Huddersfield Giants almost scored 50 points. Very few of the Rhino supporters who witnessed that defeat left the ground thinking that in four weeks' time they'd be driving home from Old Trafford as the Super League Champions.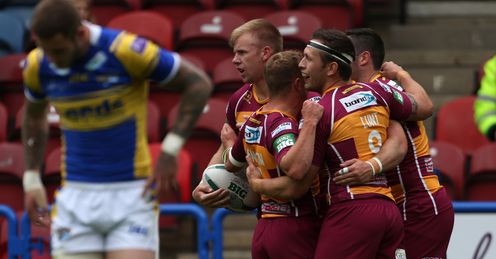 In 2011 they even lost to the London Broncos in round 25. They were 20-0 down at half-time before restoring some credibility in the second half. They did win their last two Super League games against Wakefield and the Giants, but it wasn't a convincing end to the season. You didn't think that they were playing like a Champion team. In 2010, Wigan were crowned champions but they had lost to Leeds in the last regular season game, but did look more convincing.
First and foremost, having your best players fit and available for selection is the most important thing. An injury or suspension to one of your key men can derail the whole years' work.
Phil Clarke
Quotes of the week
If you were to look at the losers in last year's Grand Final, Warrington, you could point out that they finished 2012 with three strong wins, but that didn't seem to do them much good as they lost in the first week of the play-offs to St Helens.
Key factors
As I looked through the results of the last three rounds for the last three seasons I failed to find any significant pattern. So what is important?
First and foremost, having your best players fit and available for selection is the most important thing. An injury or suspension to one of your key men can derail the whole year's work. Some squads are more able to cope with this, and the Wolves look the best here. Even without their first choice scrum-half and stand-off, they still look capable of walking out at Old Trafford. That's not the case for every team.
The ability to win away from home is also important. Leeds have demonstrated this quality and it's an immeasurable asset that they have.
I also think that experience has been the difference in the last two years. It's another over-used cliché that is hard to explain. You could say that it's about knowing what is needed in the pressure games. I'm not talking about passes, tackles, kicks or offloads, more about the mental toughness to push on through the pain. After 40 weeks of pushing yourself physically and mentally, who has the desire and determination to go even harder and endure even more pain?
I often hear coaches and their staff talk about periodisation. They attempt to plan their season so that their players are peaking at the play-offs but that is not easy.They may reduce the workload at training, but getting your players to play at their best isn't as simple as something like a runner preparing for a 10,000 metre race. I have concluded that it's the players with a point to prove that have the advantage. For the last two years that team have been Leeds. There's a powerful motivation to being told that you 'cannot do it'. Nobody, myself included, believed that Leeds could win the Grand Final from fifth spot.
So who has the biggest point to prove this season? Warrington, perhaps, after losing last season? Or St Helens after the season that they've had? Possibly Wigan after the disappointment of 2012 when they finished the regular season on top or the Catalan Dragons who feel that they have been treated unfairly by referees and the disciplinary committees?
I've left the most obvious for last. Huddersfield Giants are the ones who are tired of being told that they' choke' in pressure games.
Their supporters say that I never praise them or say anything positive about them. Well, here goes - they have got no chance in the play-offs! Prove me wrong!
Comments (3)
Graham Taylor says...
You are right Phil you never give us any credit. I just hope we do not get Bentham in the play offs. He has the "Man Utd" syndrome. Always gives the big team the benefit of the doubt. If boots an all was more than a talking shop. Maybe they could do an investigation into the salary cap. How the big 4 can afford all those internationals, where as the Giants still spend the same, up to the maximum, but have no where near the senior internationals of the other teams. Maybe they are all "Consultants" in there spare time. Sad Graham. Giants supporter.
Posted 14:37 17th August 2013
Tony Townend says...
Maybe a touch hard on yourself there... but i do agree, Its not only you they need to prove wrong... its the wider Rugby League Public, and probably a sizable majority of their own fans... however this is a very Different Giants side to previous years and if they get the rub of the Green, a fair shot of the 50/50 calls and stay injury free... they can not only get to the GF but i believe can win it, along with maybe only 3 other clubs... definitely all to play for ! #coyg
Posted 12:05 15th August 2013
Don Elwell says...
Let's be honest about this, the Play Offs are just an end of season knock out competition, that has the big prize of a Grand Final Victory and the inappropriate title of Superleague Champions. All of the hard work is done during the weekly rounds. We need to properly recognise and reward the League Leaders at the end of the season.
Posted 11:21 15th August 2013