If you're lucky, you'll get to meet ten great people in your lifetime. Not just ones that impress you momentarily, but people who earn your respect by what they do over a longer time frame.
Sadly, one of my ten died this week and I want to tell you a little bit about the role he played in rugby league in this country.
Most of you will have never heard of him, let alone had the pleasure of meeting him, but if you've followed the game in this country for the last 40 years or so then you'll have seen the results of his selfless effort over many years.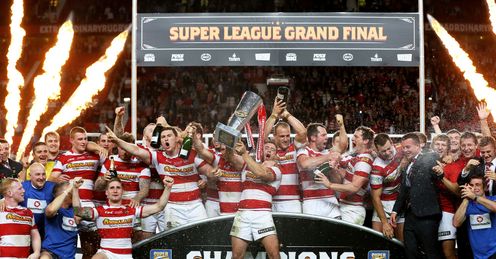 His name was Ray Unsworth and he spent most of his working life as a school teacher in the Wigan area.
Throughout the 60s and 70s he was one of the teachers who spent hours and hours of his spare time organising, coaching, refereeing and promoting rugby league throughout the schools of Wigan.
He was the leader and brains behind a small group of teachers who would eventually help Wigan to win the World Club Challenge three times in a ten-year period between 1987–1994.
He was the Chairman of the English Schools Rugby League Association for over 30 years and had a hand in the development of so many of the best players in the game.
His honesty, integrity, work ethic and attitude to life had a positive influence on so many people who did not go on to be professional players, but, more importantly, people who their schools and teachers were proud of.
Prior to the 1990s most junior rugby league took place in the school, not in the community clubs like today. Professional clubs didn't have the links that they do now with the community game and it was the schools town teams which were often the stepping stones for the most talented young players. Wigan schools were usually one of the strongest teams, and much of this was due to the culture and environment that Ray set as the Chairman.
I'll never forget the schoolboy's trip to play at Wembley in 1982 as the curtain raiser to the Widnes v Hull final. I was fortunate to return with the Wigan first team and also with Great Britain in the 1990s but can honestly say that the professionalism (I hate to use the word, but you know what I mean here) was as high for the Wigan schools set up as it was the either of the big teams.
Brains trust
Ray set the tone for the other school teachers who became the coaches of the teams when he puts his boots away and took on more of an administrative role. He became the Chairman of English Schools Rugby League for over 30 years and provided the disciplined culture which is essential in youth sport. He also had a visionary outlook on the game and sport in general.
You might find this hard to believe, but many of the advancements in the game came from the schools teams. It was a hotbed for young coaches to experiment with moves and tactics without the fear of being sacked if their team lost the game. I often wonder how rugby league might have developed if some of these teachers had moved into coaching in the 1980s.
For a long time, the 'brains trust' of the rugby league coaches sat within the English schools rugby league coaching department. Changes within the teaching profession, allied to the investment that's been made into community and junior rugby league over the last 20 years, has seen a massive decline in the role played by English Schools Rugby League.
Some might say it's been better for the young players, others that it was inevitable with changes in education and the money from Sport England. What I do know is that the decrease in the number of male teachers in primary schools is a massive challenge for the game.
More recently the RFL have attempted a new strategy to interest and engage teachers and children at the primary level. 
We all know that most kids get their first interest in a sport between the ages of 7-11 and that the competition from other sports is now at a level never previously seen. Almost every sport and pastime is now promoting and advertising itself to kids and parents. They seem to have a bigger marketing budget than the supermarkets!
In my opinion, we've made a huge mistake over the last ten or 20 years of under-investing in primary rugby league. If I had to point the finger of blame, I would say that the RFL have really missed a trick by not focussing on this target area. However, we have just woken up to the potential available and I know that Ray was one of the thought leaders who helped to shape the direction for the future.
Foundations
The RFL now provide more tools and resource packs to help people deliver some early experiences in the best way for youngsters. Ray had used his lifetime of learning in a practical way to ensure that kids are allowed what educationalists call 'Guided Discovery'. Learn by doing it.
Back in 2009 I attended a reunion dinner in Wigan to celebrate 100 years of schools rugby league in the town. It was an incredible night and the past players in attendance were proof that the foundations of the game were built in schools rugby league.
As a youngster in the team you never really notice or appreciate the effort and time given by the volunteers who organise the matches, referee the games or even coach the teams. It was only when I sat there and listened to Ray speak about the history and success of Wigan schools rugby league that I realised what he and his colleagues had achieved.
Imagine the best public speaker in the world, sounding perhaps like Kenneth Brannagh in his speech at the start of the Olympic Games. Throw in the passion for a sport that saw him live the game every minute of every day, and then you can appreciate how Ray reflected on what had been achieved. Every single person in the room sat in silent awe of a man who has helped the game of rugby league more than most will ever know.
Sat all around me were some of the players who had represented Wigan against Manly, Penrith and the Brisbane Broncos when the club had been crowned World Club Champions.
The media reported that the coaches of those teams were from Australia or New Zealand (Lowe, Monie and West) but the real coaches who shaped and influenced these players were the teachers of the town teams, headed up by Ray Unsworth.
Thank you Ray. R.I.P.
Comments (32)
John Evans says...
Echoing the other comments , Ray was old school yet an innovator.I met Ray as a number of people did via Coach Education and he is probably the best presenter of Rugby League information that i have ever seen.A great help to me during my coaching career and a great sounding board for ideas.RIP Ray.
Posted 17:14 4th April 2014
Alan Green says...
Great tribute to a Great man. He along with numerous other schools teachers worked passionately and professionally to develop young people, not just to play rugby league but to develop themselves as a whole; skills taught to them through the vehicle of rugby league (the greatest sport in the world) would serve them well, in whatever profession they chose to do in life. i would just like to add, that the last time GB won the RL world cup, was when rugby league was played throughout the schools set up, which may or may not be a coincidence?
Posted 15:32 4th April 2014
Joseph Fitzsimmons says...
sad day for are great game of rugby league with passing of ray in the early years he give us help when we set up wigan st judes a r l f c club for many years he did the M C at the clubs dinners he starting teaching in the 60s at st joseph and then went on to st judes he was proud of is parish links to st joseph and st judes RIP RAY
Posted 14:55 4th April 2014
Joseph Fitzsimmons says...
sad day for are great game of rugby league with passing of ray in the early years he give us help when we set up wigan st judes a r l f c club for many years he did the M C at the clubs dinners he starting teaching in the 60s at st joseph and then went on to st judes he was proud of is parish links to st joseph and st judes RIP RAY
Posted 14:52 4th April 2014
David Gent says...
Ray's contribution to English Schools Rugby League was always of the highest standard and he always thought of the child as the player first. He was a tremendous person and thanks Phil for such a great tribute to the man. He will very much be missed but he has touched so many lives with his positive contributions that his legacy will carry on
Posted 12:24 4th April 2014
John Griffin says...
Ray Unsworth was an absolute gem of a man, highly respected by everyone who had the fortune to know him, including many pupils and fellow teachers from the Wigan area. No-one has done more to further the cause of Schools Rugby League over more than 50 years of dedicated service, and those who followed in his footsteps have been very privileged to have worked with him and have done our best to carry on his dedicated work. He was a true giant of Schools RL and will be remembered with great affection. Our condolences to his family. RIP Ray. John Griffin, current Chairman of Wigan & Leigh Schools RL.
Posted 10:37 4th April 2014
Martin King says...
Phil is a passionate and articulate ambassador for our great family game, a sport which binds communities together, and how wonderful that Phil can express the worth of a relatively unknown grassroots leader who achieved so much for rugby league, and youth in general . Ray was a gentleman to all he met . Condolences to his family(including brother George, our kit man),R.I.P.
Posted 06:21 4th April 2014
Chris Ratchford says...
This Gentleman was A legend in Wigan. I was taught by him at school,and i cant say anything more than what Phil s wrote,Only this is a sad sad day for Rugby League.
Posted 23:21 3rd April 2014
Dave Preston says...
Fantastic Tribute to a Giant amongst men RIP and condolences to his family.
Posted 23:04 3rd April 2014
Jimmy Nicholson says...
Very sad news ray taught me at the old st Josephs in 1962 and lived and breathed rugby league together with Dennis Mac Hugh arguedly made the club what is is today R.I.P. ray
Posted 22:11 3rd April 2014
Bernard Stapleton says...
Great article. What Ray has done for all those schoolboys is immeasurable. I met him when I took a team of youngsters from St Teresa's, Upholland, to compete in the Wigan League. My star player was Paul Unsworth, Ray's nephew.
Posted 21:11 3rd April 2014
Wayne Okell says...
A sad loss to the world in general, I played for Ray and coached alongside him with Great Britain Armed Forces, he was a superb character, colourful and charismatic; and steeped in the finest traditions of the greatest game. He made a massive contribution to Rugby League in the Armed Forces and I am proud to say a very good friend. You will be sadly missed. Regards, WO1 Wayne Okell
Posted 19:21 3rd April 2014
Angela Lea says...
R.I.P Uncle Ray luv your niece Angela xxxx
Posted 19:08 3rd April 2014
John Taylor says...
A very good and respectul piece about a great man in the game. Bless him. JT
Posted 19:01 3rd April 2014
George Taylor says...
Great man, fantastic sense of humour, outstanding knowledge of the Great Game and a pleasure to have worked with! Big loss to all who knew him. RIP Ray!
Posted 18:27 3rd April 2014
Lyndsey Edwards says...
I had the privilege in not only meeting Ray but spending many occasions laughing and joking with him whilst he coached at Wigan. He was such a lovely gent who helped many of the younger players achieve there goals at Wigan. It's such sad news to hear he has passed away and he will truly b missed. May u rest in peace Uncle Ray x
Posted 17:39 3rd April 2014
Craig Rodgers says...
Excellent article. I alongside many others had the pleasure of playing for Ray at Wigan St Patricks. His knowledge, enthusiasm and man management made him stand out and become a firm favourite. RIP Ray
Posted 15:15 3rd April 2014
Bill Mcconville says...
We'll said Phil. May Ray rest in peace
Posted 15:13 3rd April 2014
Albert Potts says...
Ray was also an astute politician in the game and did much to strengthen relationships between English and French schools, touring one year and hosting the French visits to England. Sorry for his loss. RIP
Posted 15:09 3rd April 2014
Nick Dey says...
Dreadfully sad news... RIP Ray Unsworth. My coach at Wigan St. Pat's U17's all those years ago (and what a squad we had - I think we only lost one game in 2 seasons?) Generous, patient, skilled, innovative, deeply knowledgeable and a great communicator. He certainly knew how to get the best out of our motley crew - you always felt you could be a little bit better at everything. Ray must have coached dozens upon dozens of RL greats. Such a great thinker, tactician, strategist and adaptor. He transformed so many. I'll never forget the day I got a couple of lucky interception try's in some 1/4 final. Ray invited me into an empty dressing room, shook my hand and simply said 'thank you.' The first time an adult had ever spoken to me like this... my motivation to be better simply skyrocketed. Let's add inspirational teacher to the list of his achievements too. It always gave me a thrill to see him sitting in the dug-out at a Wigan Warriors match - my old coach now working with the finest players in the greatest game! My thoughts are with his family and those who knew him the best. Ray - the legend. Nick Dey
Posted 13:21 3rd April 2014