Two weeks ago I wrote an article on this website about the current state of the Challenge Cup. It caused a bit of a stir and was not very well received by the Hunslet supporters in general.
Read Phil's views of the state of the Challenge Cup here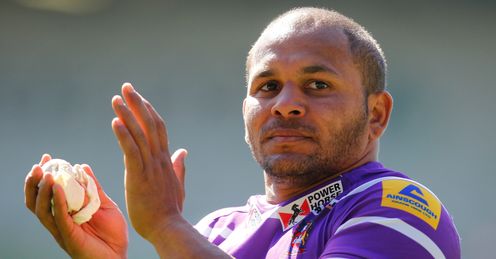 Their Chairman, Neil Hampshire, wrote to say that the fixture would prove to be a cash windfall for the club and that I was disrespecting the 100 year history of the competition.
Some said that I was in danger of denying rugby league a chance to see the David versus Goliath sporting contests which are so popular all over the world.
There was an interesting comment by one man who felt that change was needed and that Super League clubs should be forced to play without their overseas players to make the contest a more even one.
It is sometimes embarrassing how often we change things in rugby league, but I have thought about the future of the Challenge Cup for some years now and the direction it should take.
Phil Clarke
Quotes of the week
Let me say that I am not a fan of change in sport. I like tradition, and it is sometimes embarrassing how often we change things in rugby league.
However, I have thought about the future of the Challenge Cup for some years now and the direction it should take. It is a special day in the rugby league calendar and I want to see it grow and prosper.
But the opening 20 minutes of the game played between Wigan and Hunslet proved my point that the part-time players are not able to cope with the speed and strength of the full time professionals. The Warriors scored seven tries in the first 13 sets of possession.
The draw for the quarter-finals could have pitched Leigh against Keighley which would obviously have put one of them into the semi-final. Much as I admire both clubs and wish them well, I do not think that the game would have benefitted from one of them trying to take on say Leeds say in a semi-final.
I think that this type of contest and exposure may have been detrimental to the game, much as it might have helped in the short term with cash flow at the two smaller clubs.
A Cup for all?
I think that we have reached a stage when the divide in the sport means that we need to have a separate cup or cups. I appreciate that this idea needs some consultation but I would like to suggest that we have a Challenge Cup Finals day/weekend at Wembley in the future.
I think that we need to offer the smaller clubs a real chance to play at Wembley by organising a knock-out cup that gives each level of the game a chance to make it to the big stage.
How about a final for the best two teams from the Community Game, one for the best two part-time teams and one for the Top 16 Teams in the country? The greatest thing about the Challenge Cup is that it brings the whole game together, let's do that even more.
I made contact with the Chairman of Hunslet this week and debated the subject at length. I listened to his experiences of the game against Wigan and the path that the club is on these days.
I wish them well as they seem to be developing a club on some sound business principles and I hope that they continue to contribute to the game, rather than take from it as some part-time clubs have done in the past.
However, he also accepted some of the points that I made and felt that the chance for Hunslet to go to Wembley and play there again would be a very exciting and uplifting for the club.
We have had and still do have finals days in rugby league when more than two teams provide the entertainment. The concept of double-headers seems successful in rugby union.
Can someone out there please work out a way of making it work for the Challenge Cup?
Comments (7)
Donald Hepworth says...
It's ok for super league. To be seeded, so they do not have to Play the lower clubs. but remember the challenge cup Belongs to rugby league???? Not super league so why not let super league have there own trophy called what ever they want. And then let all the other clubs play for the challenge cup at wembley, A RUGBY LEAGUE FAN
Posted 20:57 9th May 2014
David Plange says...
Absolutely agree with Phil in that it, other than for finances, it does no good whatsoever to pitch semi professional players against full time professionals in a contact sport. In this day and age, major upsets do not and will not take place and heavy defeats can actually be detrimental to young stars making their way in the game with possibly a lesser club. In days past, there was a more level playing field but such is the gulf, mainly due to the training regimes which reflects in the strength and fitness levels, that David beating Goliath instances, simply dont happen. I do however feel that there needs to be some kind of pathway for the smaller clubs who excel, to be able to display their talents to a larger audience whether that be in league or in a cup competition.
Posted 15:04 9th May 2014
Neil Emmerson says...
I agree with a lot of what Phil has to say, I'm sure his comments were not aimed at trying to belittle Hunslet as a club in anyway. I would also agree it is a cash windfall for teams like Hunslet to go to teams like Wigan in the Challenge Cup. However on the flip side, how many Wigan fans want to turn up and pay to watch their team play Hunslet? They would and quite rightly should expect their team to run up a big points total playing against teams from the lower divisions, so why spend their money on a fixture like this when they could save it for a Super League game a week later? I love the history of the Challenge Cup but sadly it isn't like football which springs up the odd surprise when a lower league club goes on an amazing cup run. Something does need to be done, it's just what that is the problem.
Posted 14:33 9th May 2014
Paul Thwaites says...
I agree with you Phil. However what the Challenge Cup in it's existing format provides is the opportunity for Superleague clubs to play inexperienced youngsters and for lower division teams to test themselves against a Superleague club. One sided games are no fun to watch though and the risk of serious injury is increased. What I would like to see is a pre-cup tournament to decide which, say two teams progress to join the Superleague clubs.
Posted 18:15 8th May 2014
Don Elwell says...
I think a key point has been missed, even though Phil has alluded to it. It is the 'chance' of getting to Wembley' which the club will find uplifting and exciting. Throughout its history Rugby League has always had dominant teams, from the Huddersfield Allstar team back in early 1900s to Wigan in the late 1900s. Even the most positive person from a non-superleague club, would not expect to get to Wembley. Most teams will want to get as far as they can, even if that means they risk getting thumped by a top team along the way. It will just add to the thrill of the ride. However it is the big clubs that bring in the crowds, so to bring back the magic, I would bring the superleague clubs in at an earlier round, adding thousands to the gates. Let them use the early rounds to blood their squad members or risk being knocked out by a lesser team. In realistic terms the majority of Cup Finals will be competed by Superleague teams, so lets make them work for the privilege, by playing the lesser teams in community grounds and get away from just another 4 round competition for the big teams like the playoffs.
Posted 12:51 8th May 2014
John Collins says...
I tend to agree. The problem with rugby league in general now seems to be the momentum has been lost from when super league first started out in 96. A lot of what has contributed to this are the mismatches we have in not only the challenge cup but super league itself. We now see the teams that make the competition less "northern" faltering, and it is looking increasingly likely London will drop out of the elite competition in September. Sadly the manufactured nature of the comp in England lags dramatically behind the aussie comp, and will do while clubs continue to go down the road of financial destruction. Super League needs new life breathing into it, perhaps following the NFL draft system. The reintroduction of promotion and relegation will further add to the demise with clubs such as London / Catalan unable to sustain themselves if they drop out of SL. I'm afraid i see a sorry end to what started out as a real buzz when SL was launched in 95.
Posted 16:10 7th May 2014
Daniel Godlement says...
Completely agree, Phill. No one likes to see extremely one sided games and that is exactly what the challenge cup offers.
Posted 15:50 7th May 2014