Was that Magic for you?
It certainly looked like it from where I was sat. I've been to many different sporting events all around the world, at a variety of venues, but don't remember seeing people of all ages have such a good time as they did last weekend. Nobody wanted to go home when the action stopped and I understand why.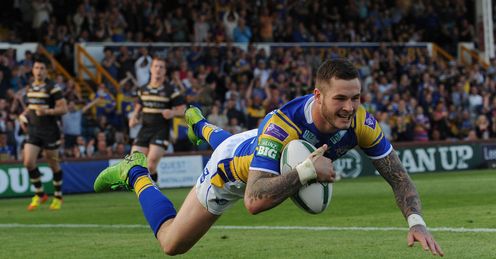 We had some players sent off, others carried off and yet nobody nodded off even though they'd been sat in the sun all day. It felt like a street party or carnival in between the games and I wanted to thank the people who had worked so hard to pull it together. Well done.
The game of the round was between Leeds and Wigan, it had everything that you want. The 'try of the weekend' went to Rhys Hanbury after his teammate McGrath Leuluai had knocked himself out in a tackle and forced the ball free. The fullback didn't check to see if he was still alive but picked up the ball and ran 95 metres to score what you could say was the difference between the two teams at the end of the match.
This team is made up of a combination of players from eight different clubs in the First Utility Super League and all 13 have had very strong starts to the season.
Phil Clarke
Quotes of the week
My favourite piece of skill, the best magic trick in the whole 560 minute show was a pass thrown by Kevin Brown to set up a try for his left winger Jack Owen. Great players make things look easy and it appeared effortless to the Widnes standoff.
So at the halfway stage we have a top eight that very few would have predicted in January. The Tigers are the most improved and the Vikings have given themselves a chance of appearing in the play-offs with eight wins from 12 games, but who have been the best players?
Super standouts
I realise that selecting the top performers is a subjective view, it requires a combination of art and science and there is no wrong or right, but I've chosen to use the Opta Index to select my Team of the Season so far. This is the evidence based approach that you might not agree with, but one I strongly support.
Every action in the match is rewarded with a points value depending on the relative importance of the action. So for example, a try scores more points than a tackle but a player loses points for a missed tackle. The points are then weighted against the score at the time when the action took place (higher points if the score is close) the time in the match and the position on the pitch where it took place. The player is then given his score for the match by adding up all his actions while he was on the field.
Based on a minimum of at least seven Super League appearance so far in 2014, here are the best players in the competition using the Opta scoring system.
1. Zak Hardaker 725
2. Ryan Hall 623
3. Kallum Watkins 570
4. Michael Shenton 535
5. Justin Carney 590
6. Kevin Brown 558
7. Danny McGuire 548
8. Jamie Peacock 611
9. James Roby 795
10. Chris Hill 570
11. Liam Farrell 673
12. Elliott Whitehead 616
13. Joe Westerman 577.
I have spoken highly about how well Sean O'Loughlin has played this season but he only appeared in five Super League matches so he didn't qualify under my criteria.
There was another Wigan player who went very close to selection in the back row. John Bateman has looked a great recruitment decision and even showed his versatility by playing as a centre in the Good Friday victory at St Helens. If he continues his consistent performances I think he'll possibly make the Opta Team of the Year by the time that we get to September.
This team is made up of a combination of players from eight different clubs in the First Utility Super League and all 13 have had very strong starts to the season.
However, I am genuinely interested to hear if you think that a player at your favourite club should be in this team ahead of the men I've gone with.
Remember, he needs to have played in at least seven of the 13 rounds so far.
Comments (7)
Josh Ambrose says...
Mike McMeeken should definitely be in there has played some amazing rugby this year at London Broncos and could be a future England star. 100% would pick
Posted 12:59 22nd May 2014
Paul Asquith says...
What about daryl clark,all we get is James roby rammed down our throats.don't forget clark isn,t on the field 80mins like roby,how many tackles and tackle busts did clark make to time spent on field compared too roby.don't forget this is coming from the same person that tipped wakefield to beat cas and Salford to win the league
Posted 12:21 22nd May 2014
Rhino Rhino says...
What's really interesting to see is how many of them are English !
Posted 12:20 22nd May 2014
R Major says...
Travis Burns should be in there, this season he has been immense!
Posted 07:26 22nd May 2014
Tony Booth says...
I think the one key highlight that you Phil may have missed in this article that is good for the Super League and our international game is that 12 out of the 13 in that list (the exception being Justin Carney) are all English players and eligibly for England (peacock excluded - retired)/ Maybe Steve Mac should look to shake things up a little bit as that back 5 look very potent and switching Carney for Makinson would provide excitement when up against the Aussies and Kiwis in the Autumn 4 Nations.
Posted 13:56 21st May 2014
Jamie Allen says...
Mark Sneyd at 7 would be the only change for me after a very impressive start when nobody thought he was capable to do so
Posted 13:25 21st May 2014
David Jagger says...
Makinson over Carney, Walsh over McGuire, and don't really get Westerman's selection, would go with Ablett over him.
Posted 13:05 21st May 2014