Manny Pacquiao faced Joshua Clottey for the WBO welterweight belt this past weekend at the Cowboys Stadium in Arlington, Texas.
Almost 51,000 fans turned up for "The Event" that was the first fight to be staged there since the stadium opened in May 2009.
Originally it was thought that Pacquiao would face Floyd Mayweather Jnr but Mayweather called for Olympic-style drug testing to take place. Negotiations fell apart when Pacquiao wouldn't succumb to the random blood testing necessary to satisfy Mayweather, and Clottey stepped in.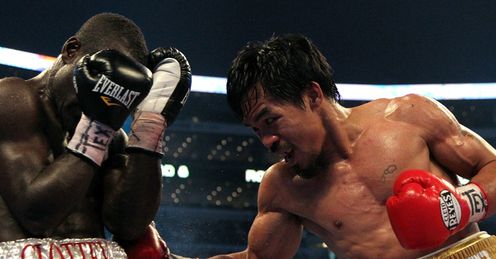 As a fighter who has done Olympic-style testing in the past, I see no harm in it. I am as afraid of needles as I'm sure Pacquiao is. There is very little blood taken and it never affected me or my performance.
Since blood testing reveals a lot more than the typical urine test that is required by commissions, maybe it's not a bad idea to level the playing field of fighters that are already or are contemplating the despicable act of cheating, not that there is any suggestion at all the Filipino is among them.
Clottey's corner asked him to take chances but he did the opposite. He kept the same pattern - hands held high, blocking shots and coming back with one or two punches.
Wayne McCullough
Quotes of the week
Pacquiao debuted as a pro in the 106lb weight division at the young age of 16 back in 1995. Clottey was 18-years-old but he began his career at 139lbs showing that, going into the fight, he was at more of a natural weight than Pacquiao.
Clottey was a former welterweight champion and Pacquiao was a five-weight champion who picked up his first belt at flyweight.
Clottey had three losses on his record, the most recent a defeat to Miguel Cotto in a close fight, the others to champions Carlos Baldomir by DQ and Antonio Margarito.
Anticlimax
The Pacman v The Grand Master fight didn't really live up to expectations and I'm sure the crowd was not happy. Clottey had never been stopped and from the opening bell it was clear that it probably wasn't going to happen in this fight either.
The Ghanaian held his hands up high and kept his elbows tight to his body, blocking the bunches of punches Pacquiao was throwing. Few punches were landing in the first few rounds but the output from the Filipino was at least four to one.
Pacquiao reportedly threw around 1,200 punches and landed only about 250 of those compared to Clottey landing just over 100 of his roughly 400 shots.
After three rounds, Pacquiao started to give angles and bang hard shots to Clottey's sides along with sneaky shots to his face. Some hard shots landed but not enough to do any damage. Clottey landed quick left uppercuts and left jabs to his opponent's face that looked like they had little effect but he threw no combinations - something he desperately needed.
About three quarters of the way through the fight Clottey's corner asked him to take chances but he did the opposite. He kept the same pattern - hands held high, blocking shots and coming back with one or two punches. Was it Pacquiao's power that kept him from taking a risk or did he settle for going the distance?
Pacquiao threw hard body shots and accurate headshots but not too many of either landed. Clottey landed few shots but when he did it seemed that they were harder than Pacquiao's. The damage showed on his face and at the end of the fight Pacquiao had two swollen eyes.
Generous
It was a shutout for Pacquiao on one of the scorecards and he won 11 rounds on the other two. Clottey may have won one round but you would have to be very generous to give him that as Pacquiao worked and worked to break him down.
It wasn't a good fight but it was a dominant performance by Pacquiao. Not as strong a win as his victories over Miguel Cotto, Oscar de la Hoya or Ricky Hatton but Clottey wasn't willing to take the chance to win or get knocked out.
Pacquiao deserves credit for trying for a KO. Clottey doesn't deserve another shot at a belt until he earns it. Hopefully the winner of Mayweather v Shane Mosley will be next on Pacquiao's hit list.
Comments (9)
Callum Christie says...
I think this article is overly critical of the fight. I thouroughly enjoyed the whole fight . Granted Clottey should have tried to make more chances , but the truth is even when he tried so much as a jab he was severly punished for it. It was obviously team pacquiaos plan to not let Clottey impose his natural size advantage , if you watch the fight again every time clottey tries to jab he his hit with a gut shot to make him think again and then hit with four five punch combos which regularly got through. It was not a competitive fight , but we are watching a master at work who will probably only have one or two more fights before pursiung his career in politics full time , so we should enjoy while we can.
Posted 16:20 17th March 2010
Mohamed Loc says...
what a rubbish undercard it was indeed top rank shud hav put gamboa and lopez on the undercard as for the fight what a bore it was. clottey shud never get another chance coz he always fails. i cant wait for the mosley mayweather fight
Posted 13:24 17th March 2010
Thomas Bigt morris says...
Wayne you are a great warrior and a better friend well with that said good story but i still belivie clotty took a dive and manny didnt have his usual mystery concutiuon as his conditioning coach would say he seemed powerless and gased during the last 4 rounds hes lucky the clotty that fight margitio didnt show up.............
Posted 22:22 16th March 2010
Matt D says...
i know its only opinions, but after watching the fight on saturday it only made it even more easier to pick a winner between pac and mayweather, hands down, mayweather! any day of the week. i second alvin's point! how often pac left himself open is beyond me, mayweather will pick him off all night, he was gettin frustrated and he was getting hit by clottey, whith mayweathers speed, he will catch him all night and WILL knock him out, its so easy to see please, boxing fans know who the winner will be, and then people will jump off the pacquio bandwagaon once and for all once mayweather has finished with him, i just hope i decent odds for mayweather (although i know i wont, coz he'll be favourite)
Posted 17:59 16th March 2010
Jofox 58 . says...
Come on folks keep on dreaming. They day Kentucky Floyd Chicken faces Manny in the ring that will be his and your worst nightmare.
Posted 10:38 16th March 2010
Michael Williams says...
"Manny Pacquiao was honoured as the fighter of the decade by the Boxing Writer's Association of America today, along with matching Muhammad Ali and Evander Holyfield by winning his third fighter of the year award". This alone will make PBF use his dollars to wipe his tears / QQ
Posted 04:06 16th March 2010
Adam Whiteley says...
why floyd mayweather is still regarded the best p4p fighter is completely beyond me. all this rubbish is based on 2 fights he's had in the last 2 and a half years, and one of them was against someone he was over weight for, and at least 3 natural weight divisions above in marquez, and dont get me started on "manny struggled with marque" nonsense. that was 2 years ago, look at how far appart there careers have gone now, marquez is not a seasond welter or light welter like manny is now, so to say manny will loose to floyd based on what mayweather did to marquez is just ridiculous, marques does not have the welterweight experience like manny does. and since mayweathers last fight in sept 09 all he's talked about is money, and no one is a big enough attraction for him to fight, while pacquiao has faught twice since then, against naturally bigger and highly regarded fighters, and he's completely blitzed them. and i love it when poeple say mayweather makes great fighters look ordinary, well look what pacquiao does, makes a lot bigger and much more natural welters than himself look like out right ammetures!
Posted 19:29 15th March 2010
Pete Morrell says...
I agree with you Wayne, i still can't believe i stayed up until 5:30am watching this! Even the under cards were poor, seeing Castillo quitting to Gomez was much worse than the torture of watching Manny punch Clottey's gloves for 12 rounds! What a shame such a great fighter was reduced to quitting to a journeyman fighter such as Gomez. Who i only know because he was on the contender and got taught a lesson by Cotto.
Posted 12:46 15th March 2010
Alvin Walker says...
If people think work-rate alone is going to beat PBF then dream on. If Clottey who is rather one dimensional can land cleanly and relatively easily what will Mayweather's rapier like attacks do? Manny is super fast and throws shot in abundance however he is often off balance and this is were Mayweather will capitolize. After watching the fight on Sunday morning I am 100% certain PBF will dismantle Manny.
Posted 09:39 15th March 2010