Neither Carl Froch nor Glen Johnson had home advantage this weekend for their fight in New Jersey. Although Johnson lives in Florida he was born in Jamaica. Froch had some fans but Johnson had the biggest support in the crowd of less than 3,000.
Johnson got to the semi-finals of the Super Six middleweight tournament by knocking out Allan Green in November 2010. Both he and Green were newcomers to the tournament when Mikkel Kessler and Jermain Taylor had to pull out with Green and Johnson coming in as their replacements.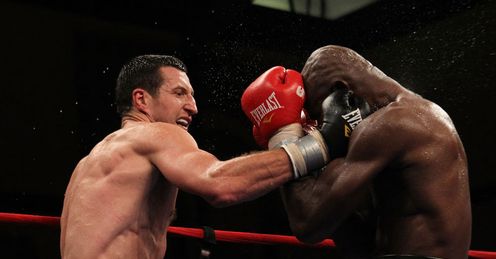 Froch got to the semi-finals by defeating Andre Dirrell in stage one and Arthur Abraham in stage three. He lost to Mikkel Kessler in the second stage but had four points from his two wins allowing him to continue.
The fight this past weekend was for the WBC belt which Froch won against Abraham. His sole loss was to Kessler whereas Johnson had 14 losses (albeit mostly close or controversial decisions) out of his 67 fights but he is also a former champion. His only stoppage loss came in the 11th round of his fight with Bernard Hopkins in July 1997.
When faced with a granite chinned fighter like Johnson, who marches forward, Froch showed that he can box well while retreating, stay calm enough to take a good shot and throw punches back to win a fight.
Wayne McCullough
Quotes of the week
Was Froch going to be able to take the pressure from Johnson and would he realize that when he hits him that Johnson is going to keep on coming?
It turned out to be a good fight and a tough test for Froch.
Johnson plodded after Froch from the opening bell but was getting caught by his opponent's long left jabs. A lot of rounds were close to score and with Johnson pushing forward, while keeping his hands high to block the straight punches, he may have taken them on the scorecards.
Froch started looping long shots and took Johnson by surprise when he was able to land them. Johnson landed some hard body shots but Froch would match them with quick combinations to the body and head.
Johnson landed hard rights to Froch's head but he would get out of the way and counter back with uppercuts and jabs. By the halfway stage, Froch looked to be ahead with his more accurate shots and he was so relaxed. Johnson continued pushing forward but would miss a lot with his shots and Froch would punish him for doing so by landing bunches of punches.
Dig deep
At 42 years old, Johnson (a former light heavyweight) had his best round in the 8th when he hurt Froch with rights to the head and left hooks. Froch took them well and came back in the 10th landing four and five punch combinations to Johnson's head and body while he was moving.
Johnson tired in the 10th and the old veteran was getting hit a lot and it looked like Froch was chopping away at a tree. He showed better skills and came out in the final rounds with some good combinations to secure the final six minutes making sure he had won the fight.
Froch was awarded a majority decision on scores of 117-111, 116-112 and 114-114. He won the fight by at least four rounds but one judge must have given Johnson all the close rounds instead of scoring for punches landed.
When faced with a granite chinned fighter like Johnson, who marches forward, Froch showed that he can box well while retreating, stay calm enough to take a good shot and throw punches back to win a fight.
Up next is a unification fight with WBA champion Andre Ward in which he will have to avoid his overhand rights. He has a completely different style to Johnson, and it will be an interesting match up.
The WBC and WBA belts will be up for grabs in the final stage of this tournament to determine who will become the Super Six World Boxing Classic victor.
Comments (4)
Beverly Gosling says...
I was actually disappointed in Froch's performance against Johnson. Contrary to what most of the British boxing fans feel I do not believe that Froch will beat Andre Ward. Time will tell.
Posted 10:28 22nd June 2011
Jamie Boyle says...
Froch showed how limited he is. Like a lot of British fighters, he had it too easy early in his career. He hasn't progressed as a fighter, has no defence and is stuck in his ways. He was beaten by Kessler, got a dodgy decision against Dirrell and could have lost against Johnson with different judges. It's pointless for Sky and others British commentators to overhype our fighters. Hameed was found out at the highest level, Khan will be destroyed sooner or later, Haye hasn't earned his shot at the Klitscho's and Calzaghe only fought 2 fighters who would have destroyed him in their prime. Calzaghe should also have lost against Robin Reid who clearly beat him, only offering him a rematch when Reid was past it.
Posted 00:45 7th June 2011
Craig Collins says...
Solid performance from Froch even tho he did ship a few of Johnsons overhand rights his knees never buckled. Andre ward is very beatable with Froch,s power,and should he unify the super middle weight division people will have to say he is one of the best british boxers ever even if his critics dont agree with his low left hand style.
Posted 11:34 6th June 2011
Paul Johnson says...
Excellent summary Wayne. I thought it was good to see Carl boxing more, and fighting off the back foot for a while. He seems to like a tear up but boxing more will allow him the choice to extend his career if he wants to further down the line. I agree that, while it was not an easy fight for Carl, in the end I thought he won quite comfortably by 4 or 5 rounds. I don't know what fight Jim Watt was watching but it was obviously not the same one as me, and presumably the same fight as the Japanese judge watched!
Posted 10:51 6th June 2011