Andre Berto suffered his first loss this past April when he was beaten on points by Victor Ortiz in a thrilling championship bout.
Both guys were down twice in that fight and the winner would go forward in a mega fight with Floyd Mayweather Jnr. Ortiz got the win and a fight with Mayweather on September 17.
After losing his WBC welterweight strap to Ortiz, Berto got another chance this past weekend to pick up a world belt.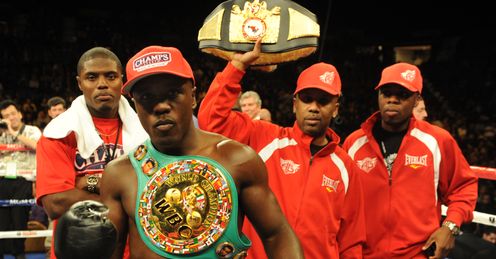 His opponent, Jan Zaveck from Slovenia, who fights out of Germany, held the IBF belt at welterweight and had defended it three times since winning his victory in December 2009. He had also avenged his only loss in his second defence again Rafal Jackiewycz who had beaten him in November 2008.
Zaveck's record was 31-1 (18 ko) but he hadn't fought any recognizable names and was practically unknown in the US. The fight took place in Biloxi, Mississiippi so Berto had some advantage. Hopefully he had taken the fight seriously and worked hard in camp because Zaveck was durable.
Berto got the win and another world title just one fight after his defeat. He looked sharp, quick and as though he was punching harder than before.
Wayne McCullough
Quotes of the week
Berto, with 27 wins and one loss was the bigger puncher of the two with 21 KO's but maybe this test would show if the Ortiz fight had taken something away from his punch resistance.
Weakest
Even though the fight was against a world champion, Zaveck is probably the weakest champ in the weight class.
Berto held the centre of the ring and was landing accurate left jabs off Zaveck's head. His hands were high and he stood pretty straight up and he was able to land some nice left and rights to Berto's head at times but Berto was always in punch range to counter back.
Berto got caught with a hard right to the head in the third but he countered with body shots and left and right hooks to Zaveck's body.
By the fourth Berto was ahead and Zaveck's first trip to the States wasn't going well as he forced Berto round after round. He did have a little success with his right in the fourth which probably won him his first round of the fight.
Berto's left jabs were setting up his right uppercuts to Zaveck's chin and his punch power looked a lot stronger than his opponents in the first four rounds.
Berto stayed close to Zaveck in the fifth catching him with uppercuts and left hooks. Zaveck suffered a cut in this round that was caused by a punch. The cut was on his right eyelid but he was also cut over his left. He went back to his stool covered in blood. His cornerman worked on the cuts but the fight was stopped. Zaveck was disappointed and although he was losing he was still in the fight.
Berto got the win and another world title just one fight after his defeat. He looked sharp, quick and as though he was punching harder than before.
He stated he wanted a rematch with Ortiz which is a fight that should happen since their fight was 'Fight of the Year' material and I think people would want to see it.