Manny Pacquiao and Juan Manuel Marquez met centre ring for the first time in May 2004.
Marquez of course made one of the greatest comebacks in boxing history after hitting the deck three times in the first round, walking away with a draw in a fight that some thought he should have won. Two judges scored the fight 115-110 for each fighter and the other 113-113.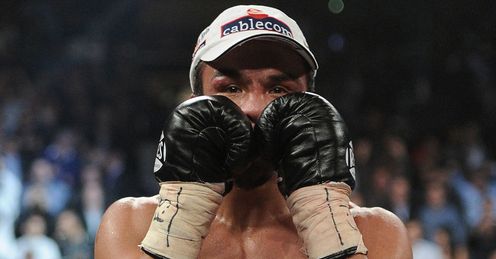 Pacquiao won a close decision in March 2008 in their second fight, with many thinking Marquez should have won that fight as well. Both fights were fought at different weights, the first at featherweight and the second at super-feather.
This time around they fought at a catchweight of 144 lbs although it was for the WBO welterweight belt. Pacquiao calls the shots and this is the weight that was decided upon.
I believe Marquez won the final two rounds because Pacquiao just couldn't seem to get close enough to land anything of significance. Marquez waited, picking his shots well and deserved to have his hand raised in victory.
Wayne McCullough
Quotes of the week
The highest weight Pacquiao has fought at to date is 145¾lbs when he defeated Joshua Clottey in March 2010, whereas Marquez has been 142lbs at his heaviest when he lost to Floyd Mayweather Jnr in September 2009.
Pacquiao has been fighting, defeating and knocking out bigger men out like Oscar de la Hoya, Miguel Cotto and Ricky Hatton. He also beat Antonio Margarito, Shane Mosley and Clottey over 12 rounds. But he began his career at 16 years old much lighter as a 106-pounder. Marquez started his career heavier than Pacquiao, as a 19-year-old super-bantamweight (122lbs).
Marquez, now 38, weighed in at 143lbs and Pacquiao, now 32, 143lbs both under the agreed weight for Saturday's MGM Grand showdown.
But this fight also ended shrouded in controversy.
It was another hard battle but Marquez was more patient countering the southpaw Pacquiao with hard rights. Pacquiao was throwing his left throughout the fight but Marquez was doing a good job avoiding it. Most of the rounds were close to score but Marquez looked as though he was controlling.
Marquez was scoring with his shots, some rights and left hooks, and he looked like he was doing very well in the fight, taking most of the rounds in the first half. In the second half I'd have given Marquez three out of six.
Countered
Referee Tony Weeks did a great job, keeping the action going. Pacquiao hadn't been in a tough fight like this since their last meeting in 2008 and while Marquez may have had his number but he can never seem to get the win.
In the seventh, Pacquiao landed a left to his opponent's chin but Marquez countered back with three or four shots.
By the eighth round, in my opinion, Pacquiao needed a KO to win. He picked up the pace landing some lefts but Marquez was still controlling even though he was facing more pressure from Pacquiao in the 9th and 10th.
He was forcing Marquez to stand toe to toe which left him get his punches off. Pacquiao may catch the judges' eye with his bunches of punches but many of his shots don't land.
Booed
Pacquiao, who at times in the fight shook his arms to try and get them going, looked flat-footed and sometimes didn't even look like he wanted to be in the ring.
I believe Marquez won the final two rounds because Pacquiao just couldn't seem to get close enough to land anything of significance. Marquez waited, picking his shots well and deserved to have his hand raised in victory.
The judges scored the fight 116-112, 115-113 and 114-114 giving Pacquiao the victory. The crowd, packed with Mexicans it must be said, did not like the decision and booed in disagreement.
I had it 115-113 for Marquez but maybe the judges are keeping the candle burning in hopes of a Mayweather v Pacquiao megafight...
Comments (8)
Callum Christie says...
How can anyone possibly score this fight to pacquiao? somebody said he won it on the last 2 rounds? pacquiao barely through a punch in the 12th another round which marquez landed the cleaner shots! Watch it again , through the whole fight pacquiao was made to miss became gun shy at the fear of getting hit and was getiing hit with clean shots in every round! It wasnt even close - i wanted pacquiao to in big time to set up the mayweather fight , but he lost this he knows it and so does his team!
Posted 12:07 15th November 2011
Ryan Watson says...
As A Brit abroad, i shared a location with 500 Filipino's watching their hero. Like with all close fights there is bound to be some difference in opinion. True the Pacman at the end of the fight looked disappointed, is that because he could taste defeat or is it that he is an entertainer and an all action fighter. Marquez has got his number hence the results in the past (i believe they are all as they should be) When scoring this fight i had the Pacman winning 115-113. It is always the case if you want to take the Champs belt you need to dazzle, in fairness Marquez did this but not enough. There is certainly a lot of politics surrounding this but i believe the right man won the fight. For me Mayweather Pacman is a dream and a very good prospect with very differing styles, i wonder how 'money' will deal with the pressure Manny put's on the defensive boxers? just remember Peeps - this is a business as well as a sport! Pacman to down Floyd in 6... if it goes to 12 Floyd all the way! lets see!
Posted 07:39 15th November 2011
Mike Stock says...
I always think that a lot of people don't understand counter punchers very well. Of course pacquiao is going to push the action, that's how a counter puncher gets to you, he either takes a shot to land two or three or makes you miss and makes you pay. Pacquiao was going forward but he was barley landing anything of note, aggression is NOT scored, effective aggression is scored. I found it extremely difficult to give manny anymore than a 2 or 3 rounds, even being biased towards pacquiao. Pacquiao didn't fight at the pace he usually does and marquez controlled the tempo all night. Pacquiao was actually gun shy because he was afraid of getting countered. Look at the highlight reel at the end, there was none of pacquiao and thats why the crowd started booing. Look at Pacquiaos face at the end, he looked like a beaten man. He was speechless at the interview and he honestly couldn't believe he won. Robbery in my opinion and it really wasn't that close, Marquez controlled the entire fight.
Posted 22:44 14th November 2011
Stephen Clements says...
easily a win for Marquez, he was by far the man with the better punches and more meaningful exchanges. I seriously think that the judges are pre- advised to ensure the manny & may weather fight happens. Feel bad for JMM.
Posted 22:19 14th November 2011
Gregg Ritchie says...
I'm gutted for Marquez as he has trained extremely hard and prepared himself meticulously for this bout against a great champion in Pacquiao. His tactics were spot on and limited the effect of pacmans dangerous left hand, this allowed Marquez in my opinion to dominate the fight. There's no doubt that pacmans work rate is impressive but I felt many of his attempted punches didn't land therefore didn't count!!! again in my opinion the judges based their decision not on this bout but on the possible mayweather V's Pacquiao bout!!!! The wrong decision for me and if I was in Jmm's shoes I'd be disappointed not only by the result but by the professionalism of the adjudicators!!!! Another excellent article by The legendary Wayne "pocket rocket" McCullough!!!!
Posted 22:18 14th November 2011
Matt W says...
i think you have got this complely wrong wayne, no chance did marquez win the last 2 rounds, thats what cost him the fight in my opinion. i think if he fought the way he fought through the fight was edging it for him but when the corner told him he was clearly winning made him coast n get lazy. He needed to put his foot down in the last two rounds n close the fight out which i think would have won it for him by a round. He boxed well but needed to do it over the last 2 or 3 rounds to secure it, i dont know how the corner could tell him that when the fight was so close. With the last 2 rounds i would have given it to him 115-113
Posted 16:46 14th November 2011
Mark Hickin says...
Pacquiao won the fight for me by being on the front foot all the time and kept the pressure on Marquez, Marquez didnt do enough to take a champions belt of him.he was on the back foot for most of the fight i had it 115-113 to Pacquiao now bring on floyd.
Posted 14:30 14th November 2011
Kris Henderson says...
DISCRACE ! the bernard hopkins decision got over turned and so should this , no one thinks manny won, not even himself. He never raised his arm at the end and looked a beaten man. i know boxing wants the MAYWEATHER V PACQUIAO fight but no one has the right to fix fights to make that happen.no wonder so many people are turning away from boxing to other sports. MARQUEZ won that fight and the last one too , its just a shame his record does not say that.
Posted 09:54 14th November 2011