Floyd Mayweather Jr finished his time behind bars at the Clark County Detention Center in Las Vegas this weekend.
During his first week inside, he asked for house arrest claiming he couldn't work out or get the proper nutritious food an athlete needs. He had been locked up for a crime he committed and no matter who he is, exceptions should not have been made. His request was denied.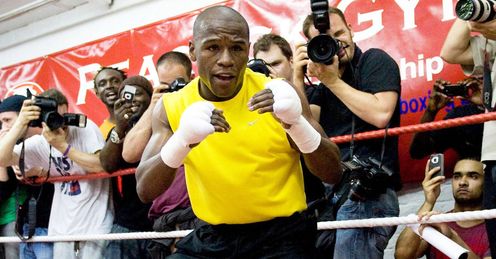 He got out early for good behaviour on Friday, August 3 just before sunrise. His body, especially his arms and shoulders looked bigger than before so he must have been doing a lot of upper body exercises.
Now that he is out what's next for the pound-for-pound king?
A few things have changed since he was locked up. Manny Pacquiao fought and lost to Timothy Bradley, although technically he was robbed. Amir Khan, who was also on Mayweather's hit list, got knocked out unexpectedly.
Image
Mayweather still has a few other issues to clear up but now that he is free he needs to get back to life and drop the macho image. He doesn't need all the bodyguards around him and having teamed up with his friend, 50 Cent, to promote his fights maybe they can finally make a deal with Pacquiao - who is scheduled to fight November 10 in Las Vegas.
He doesn't need all the bodyguards around him and having teamed up with his friend, 50 Cent, to promote his fights maybe they can finally make a deal with Pacquiao.
Wayne McCullough
Quotes of the week
This is the fight everyone wants to see. But will they ever come to an agreement over drug testing to make it a reality?
He really needs to fight before the end of the year or at least announce a big fight if he wants to show the boxing world that he really does care about fighting and not just about the money.
An easy fight, where he could pick up another belt, would be a bout with WBA champ Paulie Malignaggi which he could take right away. Or he could fight Bradley who currently holds the WBO belt.
Options
Another option would be to fight the WBC "Interim" champ Robert Guerrero which would be a good "get sharp" fight for Mayweather. Guerrero is a good fighter, but he's not at Floyd's level.
One more option would be a fight with Josesito Lopez, who recently upset Victor Ortiz. He is moving up to face Saul Alvarez at junior middleweight and Mayweather has already fought at this weight.
The options are unlimited for Mayweather so he just needs to get back into the ring. He does, however, need to apply for a boxing license since the one he was granted in May was only for one fight. It will be interesting to see where he decides to fight.
Hopefully Mayweather will be back soon where he belongs and does his best work. He has a lot of great fights and years left in him. His problem is outside the ropes. He needs to stay focused, avoid any hassle and get on with his career.
Comments (3)
Chris Warner says...
The bulk of the names you have talked about won't be considered becuase the big money isn't there and that's what drives Floyd. Don't get me wrong I wouldn't want to see any of those fights as he wins them all without getting out of first gear. I'ts Cotto or PacMan. That's all I want to see. Again he wins them both but at least they will be good fights
Posted 09:54 9th August 2012
Hiten Anand says...
I think that Mayweather must be thinking on taking on the Pacman next as he only has two or three fights left before he does retire. Pacman's loss to Bradley plays right into Mayweather's hands as he can now control who will get the bigger pay day which has been one of the stumblings blocks for this fight. I think the pacman will win the remtach with Bradley and Floyd will have a tune up fight before this fight finally happens. Both are hall of famers but the Pacman has not been the same and his performance against Mosley & Marquez showed me that he will struggle against Floyd and will lose on a points decision.
Posted 09:08 9th August 2012
Paul Johnson says...
To be honest, Pacquiao seems on the wain, although he was robbed in the last fight. If the Pacquiao fight cannot be made (let's not forget he has to win the rematch as well) then I can't see what's out there! Sergio Martinez maybe? I think i'm clutching at straws to be honest, looks like easy paydays for Floyd and not much competition.
Posted 17:52 8th August 2012