Tomasz Adamek was once the WBC light-heavyweight champ, until he lost his belt to Chad Dawson in February 2007.
After that, he moved up to cruiserweight and eventually won the IBF belt, while several fights later, he moved up to heavyweight to fight fellow Pole and former world title contender Andrew Golota.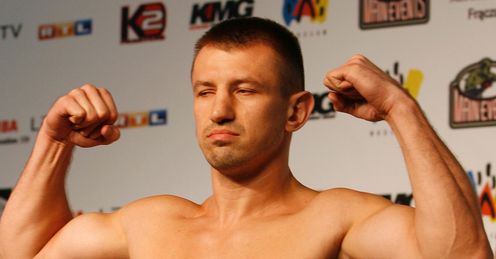 It looked like Adamek may have been too small for heavyweight but he got a fifth-round knockout against Golota, who was the bigger man but past his best.
Five wins later, he got to fight for the WBC heavyweight belt against Vitali Klitschko, but he got stopped in 10 rounds and was completely outclassed.
This past weekend, Adamek stepped into a rematch with Steve Cunningham, whom he beat in a defence of his IBF cruiserweight belt in 2008.
Adamek seems to get decisions by catching the judges' eyes, in a way that I can't see.
Wayne McCullough
Quotes of the week
That fight was very close and controversial with Adamek winning a split decision after having Cunningham down three times.
Cunningham went on to win back his belt after the Adamek loss in December 2008 but then he had back-to-back losses to Cuban Yoan Pablo Hernandez. He has had one win since then putting him in this position.
Last chance
Adamek and Cunningham were fighting for the IBF number two spot. Kubrat Pulev of Bulgaria holds the number one spot and Wladimir Klitschko is the world champion.
Adamek was number three and Cunningham 13 so it was a great opportunity for both guys as they are not getting any younger and this may have been their last chance to get a shot at the heavyweight title.
Whoever won would have to fight undefeated Bulgarian Pulev and then the winner would fight Wladimir Klitschko who, along with his brother Vitali, totally dominates this division.
The last time they fought was at cruiserweight and Cunningham was favourite, but this time Adamek was favourite in a higher weight category.
The fight took place in Bethlehem, Pennsylvania and it was shown on terrestrial TV NBC so the exposure was amazing.
Adamek weighed 223 lbs to Cunningham's 203.5 lbs. Last time Adamek was 198 lbs and Cunningham was 197, so now Adamek was now definitely the bigger man.
But one again, their rematch ended in controversy.
Slower
Adamek was awarded a split decision win when most people thought, just like the first fight, that Cunningham should have gotten his hand raised.
The fight was originally announced as a draw but corrected to give Adamek the win. Adamek was the slower man and Cunningham was clearly landing cleaning shots.
Cunningham moved well and got his jabs working and landing well. Adamek, meanwhile, was the aggressor and did have some success but he wasn't landing more shots.
Maybe the judges gave it to Adamek for his aggression. He seems to get decisions by catching the judges' eyes, in a way that I can't see.
Will Adamek give Cunningham the deserved rematch right away or make him wait?
Adamek is now slated to fight Pulev next with the winner fighting Wladimir Klitschko for the title. If Adamek was realistic he would give Cunningham the straight rematch instead.
Comments (1)
Scott Mcfadden says...
He won't give Cunningham a rematch. Adamek has always had trouble with fast movers whereas he thrives against brawlers. He will fight Pulev in a close battle and I give that fight 60/40 for Adamek. Pulev does not have the experience yet but he is skillful and has the weight to trouble Adamek. This will be a good fight to watch as opposed to a Cunningham rematch. Cunningham will use his speed and run around the ring. The Pulev/Adamek fight will be a proper fight. Adamek will need to lose a few pounds and apply the same tactics he used against the bigger Arreola. I felt the Adamek/Cunningham fight was close and debating the winner is now past tense. The Pulev/Adamek fight is what fans want to see. Cunningham should stay in cruiserweight because watching him run around the ring at heavy is boring to say the least. Regardless of who wins, neither Pulev or Adamek will trouble Wlad. Adamek is looking at one last big pay day much like David Haye is. Only difference, Adamek deserves it more.
Posted 15:55 2nd January 2013