People will argue that after splashing £20m on Fernando Torres this summer the pressure is on Rafa Benitez to deliver the title to Liverpool.
But it's difficult to expect the likes of Fernando Torres to fire the Reds to glory in his first year in English football, as we have seen in the past with Didier Drogba at Chelsea.
This is the first time since Benitez arrived at Anfield that he has been able to spend like Manchester United and Chelsea on big players.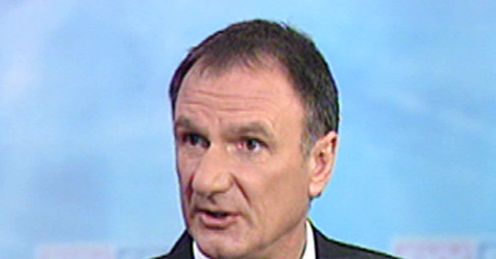 Yes he has spent a lot in his three years at the club, but this is the first time he has been able to go out and spend £20m on one player.
As Sir Alex Ferguson and Jose Mourinho will know, having that type of money to spend brings its own pressures and Rafa will have to deal with that.
After reaching the Champions League final for the second time in three years this season was always going to be a big one, but with the investment from the new owners Rafa has to deliver.
Fernando Torres is a fantastic player, but it's going to take him a year to settle into English football and at 23 he can't be expected to carry Liverpool on his own.
I know from my own time at Liverpool with Gerard Houllier the pressure comes on after three or four years and all of a sudden everybody is expecting you to take the next step.
Yet I believe that if Liverpool are to end their 17 year wait for the League title they need to sign more established world class players, like Torres.
Ajax's Ryan Babel is a highly promising youngster, while Yossi Benayoun and Gabi Heinze (if he signs) are quality if not world beating players.
But Rafa must look at United's summer spending and realise how high the bar has been raised, with Owen Hargreaves, Nani, Anderson and maybe Carlos Tevez all major additions to the champions' squad.
Fernando Torres is a fantastic player, but it's going to take him a year to settle into English football and at 23 he can't be expected to carry Liverpool on his own.
If the board can give Rafa further funds to go out and entice another couple of 'marquee players' to Anfield, then I will be more convinced at their chances of capturing the Premiership title.
Deficit
Let's not forget that Liverpool finished last year 21 points behind United, who have strengthened heavily again, and 15 behind Chelsea who have made some shrewd free transfer signings as well as adding Florent Malouda to their ranks.
Rafa's primary objective must be to close that gap on the top two and ensure that Liverpool can compete and push hard for the title all season and not be left behind after just 10 games.
Benitez knows the Premiership is the Holy Grail for Liverpool and their fans, and with a bit more backing and a bit more time he will get there, just maybe not this year.
Comments (3)
Michael Gilmore (Liverpool fan) says...
Liverpool will be a title threat, maybe not this year but the gap between the big spenders Chelsea & Man Utd is ever so closer given the fantastic signings Rafa achieved. The best of them may just turn out to be the cheapest in Voronin who's already a hit with the Kop and shows a hard edge & killer instinct for goal, hence the perfect player for Rafa's plan of killing off matches against weaker opposition. Babel & Torres are world class acts, before their arrival only Stevie G could demand a position in any premiership side. I suspect our transfer splurge might not be over yet and wouldn't be surprised if Rafa bought in another winger/midfielder & a central defender as cover for Carra when the transfer window opens. Unfortunately for my fellow countrymen Harry Kewell I think his time at Anfield is nearing it's end, and thats tragic as injury has plagued him and rob him the chance to show all reds supporters just how good he is. In Rafa we trust. YNWA
Posted 16:35 6th September 2007
Matthew Killen (Everton fan) says...
Adam Mclaughlin, since when had 6th been mid table? liverpool are still no where near strong enough to win the title and wont be for a while yet. my bet is on chelsea then man u liverpool out of it by feb
Posted 12:26 25th August 2007
Grant Hughes (Manchester United fan) says...
Seamus Mckenzie clearly you dont quite understand that in order to win a premiership title you have to play well no "average side" has ever won the premiership hence why no Liverpool side has won the premier league. I honestly feel sorry for Liverpool though as they must feel like the title is going to Merseyside because of one substantial signing(Torres) who is a good buy however the rest leave a little to be desired (Benayoun) is a quater of the player of the likes of Nani and Malouda and Pizzaro for Chelsea is of a goalscoring pedigree that Torres isn't of yet and he was FREE! so it's quite apparent that not only does Benetez not know what he's doing yet again but what he does know is how to convince the red side of Liverpool that it's thir turn and glory, but he sad reality is that Liverpool in terms of class aren't anywhere near to that of Man U or Chelsea. As for the champions league the team that wins matches rather than penalties is the team who deserves to win (Milan Man U Chelsea)
Posted 16:22 12th August 2007