Manchester United are back on the Champions League trail for the first time since that night when they were outclassed by Barcelona in Rome.
That 2-0 defeat is probably one of the hardest things Sir Alex Ferguson has had to bear - not only because United got beat but because of the manner in which they were outplayed.
By his own admission, Ferguson's been looking at DVDs, searching for answers for what wrong because it wasn't the normal United team that turned up back in May.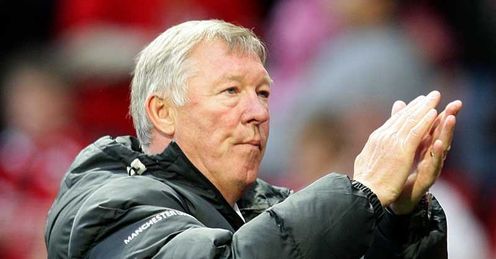 Now this side has the chance to set the record straight, although my guess is they would not have not picked a trip to Besiktas for their opening match because it's not going to be a pushover.
Passionate
The Turkish league may not be as strong as it once was and Galatasaray - who beat Besiktas 3-0 at the weekend - have slipped right off the European radar.
The simplest of challenges from a United player will be greeted as though it is one of the worst, over-the-top tackles.
Phil Thompson
Quotes of the week
LIVE ON SKY SPORTS
Besiktas v Man Utd
7.30pm, Tue, Sky Sports 2 & HD2

LIVE ON SKY SPORTS
Chelsea v Porto
7.30pm, Tue, Sky Sports Xtra & HD3
But United can expect to walk into a very passionate atmosphere. The İnonu Stadium will be full 90 minutes before kick-off and the fans will be on a high bearing in mind the opposition.
The simplest of challenges from a United player will be greeted as though it is one of the worst, over-the-top tackles. Their fans will boo and whistle, horns will sound at every challenge and it takes a very good referee to control a game like this and not be swayed. I get the feeling Nicola Rizzoli will have to be tough.
United will, of course, miss the input of Cristiano Ronaldo because he has scored some fantastic goals for them in Europe - none more so than the absolute screamer he scored in the 1-0 away win against Porto in April.
That is the type of quality you need to go all of the way in Europe. But there is still plenty of character and charisma in this United squad, as they showed in the league game against Arsenal when they were largely outplayed but came back to win.
Stuttering
They then went and did it again against Spurs - and a resurgent Spurs at that - after going 1-0 down. So yes, Ronaldo was one of their greatest ever players and in his absence they've had something of a stuttering start to the season, by their own high standards. They've lost to Burnley and been less than wholly convincing.
But they've got the results and this is where they need their other experienced players to come into their own, the likes of Rio Ferdinand, who has made the trip after returning against Spurs after a calf problem.
Sir Alex may be tempted to leave him on the bench this week and ease him back into the set-up, but nonetheless his presence is a boost.
Both Paul Scholes and Ryan Giggs played at the weekend and I'd expect at least one of them to turn out again on Tuesday and play a significant part. After getting sent off at White Hart Lane, the manager might look to support Paul and play him again.
THOMMO'S CALL: Although I think United have more than enough to get a result in Turkey, I've got a feeling this one could turn out to be a score draw.
Chelsea v Porto
Since Jose Mourinho's move to Stamford Bridge in 2004 there have been plenty of connections between these two clubs but Chelsea have yet to lose to the Portuguese side in four contests.
The opening stages of the Champions League can be a bit cagey but sometimes if you go for the jugular straight away you can end up dominating games and I think Chelsea will do that.
They've made a perfect start in the Premier League with five wins from five and although they have scored a few last minute goals, that's what league champions are made of. It shows they are capable of getting a good result out of adversity and that they have the quality to fight through to the final whistle. They are both highly confident and highly competent.
Formidable
Carlo Ancelotti certainly has plenty of European experience behind him as both a player and as a manager and that will stand him in good stead. He knows what its all about, how to organise teams to win the tournament.
He's inherited a fantastic Chelsea side that in recent years has been quite dominant in terms of getting to the latter stages of the tournament so he won't have to tweak things too much.
Their Champions League record at Stamford Bridge is formidable - they are undefeated at the Bridge in their last 18 games in the competition. The potential is always there for a surprise but Porto have never won in England and Chelsea look far too strong at the moment.
Didier Drogba's ban is justified but he will be missed. The goal he scored against Stoke on Saturday was like something out of the training ground. You can practice those moves time and time again but very rarely does it result in a goal but it did on Saturday in absolutely superb circumstances. The goal was sheer precision.
THOMMO'S CALL: I think a Drogba-less Chelsea will win this one 2-0 rather than the 3-0 or 4-0 victory they might otherwise have secured.
Comments (6)
Mike Cody (Liverpool fan) says...
I dont agree with Marco that the score line for Chelsea will be a 4 nil victory... Porto arent a bad side, especially as home where their record is fantastic.. However Chelsea have a cracking squad but maybe a draw is what will happen tonight! Utd to win 2 nil YNWA
Posted 14:58 15th September 2009
Lee Speers (Chelsea fan) says...
I think that Porto's attacking style of play will suit Chelsea down to the ground we have already showed so far this season that we are able to keep possesion extremely well in the new formations that we are using and there will definetley be alot more room for Chelsea to move into unlike the game against stoke where they were pretty much playing with 5 across the back at times, I can see Porto giving a very good account of themselves and they certainly deserve respect but I can see this one ending up 3 -1 to chels
Posted 14:42 15th September 2009
Ryan James (Liverpool fan) says...
Chelsea haven't always been convincing in the group stages and I would agree that 4-0 is a litte disrespectful to a side as good as Porto, it was only last season that they took Utd to the wire. That said Cheslea always do enough and I believe they will win by the odd goal. You know what to expect in Turkeym its going to be hostile, but Utd have experience and players that don't get bothered by these things, I would expect them to come away with a postivie result. They have far too much quality for the Turks.
Posted 14:14 15th September 2009
Ade Young (Chelsea fan) says...
If you read the comments made by Phil Thompson properly you would see his prediction is 2-0 rather than 3 or 4-0!.
Posted 12:07 15th September 2009
James Moore (Chelsea fan) says...
I dont know how people can label Phil Thompson as showing a 'lack of respect'? He's a pundit, and he predicts what he thinks will happen. Get it? Based on Chelsea superb form, he is not so wide off the mark, yes i acknowledge Porto's superb 'HISTORY' (just as i acknowledge Leeds United). When you think about it though, the only games in which weve only scraped a win was against teams putting 10 men behind the ball, Porto wont do this and that will suit Chelsea perfectly. For this reason alone Chelsea would find an attacking Porto far easier than a defensive Stoke.
Posted 11:35 15th September 2009
Peter Maher (Manchester United fan) says...
I'm sorry, if you think Porto outplayed United at Old Trafford last year you must have been watching a very different game. United were not outplayed and Porto's goals both came from United mistakes. They played well, but they didn't outplay United by any means. You also forgot to mention that in the second leg they were outplayed by United for long periods and didn't offer any real attacking threat. The game at OT was the highlight of their campaign. I'm not showing them a lack of respect but your assertion that they outplayed United is ridiculous.
Posted 02:57 15th September 2009