I have a sneaky feeling Tottenham will get past Real Madrid over the two legs.
That was my gut feeling when the draw was first made and although Harry Redknapp has got plenty of problems in terms of who is fit and who isn't, I've seen nothing to change my mind.
Of course, last time against AC Milan they did the business away from home, but I think it will be much tougher in the Bernabeu and will come down to what happens at White Hart Lane. And getting the second leg at home is vital - it couldn't have worked out better for them in that respect.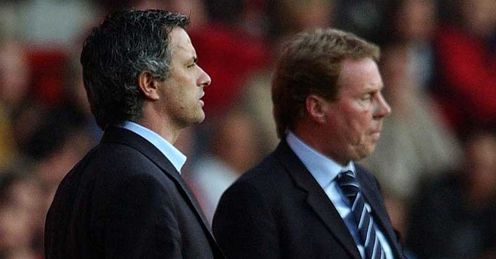 For that reason alone, if I were Harry I would not risk Gareth Bale. I know his pace is important on the counter attack, but you really want him on his game, fully fit, flying at them in the home game.
It is the same, if you like, problem that Jose Mourinho has with Cristiano Ronaldo, who I think will play if there's any chance he will be anything like fit.
LIVE ON SKY SPORTS
UEFA Champions League
Real Madrid v Tottenham
7.00pm, Tues, Sky Sports HD2&2
With seven points between them you have to say Real are unlikely to catch Barcelona in La Liga, so this represents their one chance of a major trophy and Mourinho will want to get a lead to take to England.
That means Ronaldo playing, even if it is a gamble. It's a blow for them that Karim Benzema is out because he had found some goalscoring form, but while everybody was talking about Mourinho losing that long unbeaten home record against Sporting Gijon, it was important to see Gonzalo Higuain come on for the last half-an-hour.
Between them, he and Ronaldo will have to provide the goal threat in the first leg because as well as wanting a lead, Mourinho will be looking for a response to that defeat at the weekend.
Looking down their teamsheet, it looks as if they had one eye on this game, so other than denting the manager's confidence - if anything can - I don't expect it to have too much bearing on Tuesday night.
I watched Tottenham take on Wigan on Soccer Saturday and the one big plus for them was that Michael Dawson and Sebastien Bassong looked pretty solid together. Ok, Wigan are nowhere near Real Madrid, but it will be important they are comfortable as a pairing, because there are going to be times when Spurs are put under pressure and have to defend.
Opportunity
They might find themselves up against Emmanuel Adebayor in that central role because right now he is the obvious answer and also, he will have a big part to play in set-pieces - and defending them.
When you get this far, it can be something like that that makes the difference and if Peter Crouch plays, Spurs should look to hit him at every opportunity.
If I were Crouchie and Harry, I would be looking for long diagonal balls from the word go and I would make sure the referee is made aware of what Ricardo Carvalho is doing.
There's no doubt he would rather stand up and go toe-to-toe with Crouch than try and mark someone like Jermain Defoe, but when he was in the Premier League he would man-handle strikers at the best of times - and now he's a year older and a year slower!
It speaks volumes for what Harry has done at Spurs when you look at these two teams because there really isn't much to choose between them. That's what makes this first leg so important because I think it will boil down to who makes the most of home advantage.
As much as they can worry Real Madrid, Spurs have to make sure they are organised and defend properly. That means Sandro - who, by the way, I have been hugely impressed with - and those other central midfielders making sure they keep Mesut Ozil as quiet as they can; he started slowly at Real but has got better and better and works perfectly with Xabi Alonso just sitting in behind.
That central midfield area will be vital because both sides possess real quality and real match-winners in there. As good as Osil is, Rafael van der Vaart and Luca Modric can influence the game just as well over the two legs, even though Tuesday night might be more about defensive discipline and organisation.
When Liverpool won the Champions League in 2005, they weren't a great team by anyone's standards - they were actually better when they lost the final two years later - but they had shape, commitment and they knew what they had to do.
If Harry can instil that into his side then I see no reason why they can't go a lot further in the Champions League, I really don't.
THOMMO'S CALL - There are a lot of problems for Harry to deal with and it will be interesting to see who is fit and what formation he plays, but over the two legs, I do think they have enough to get through. This will be the acid test, not just because they are away, but because he'll have some big decisions to make before a ball has even been kicked. I do think Real have got goals in them, even though they failed to score against Sporting, but so have Spurs; I can see this ending up 2-1 to Real Madrid. But, I am going to be very brash here and say Spurs will turn that round at the Lane and go through!
Comments (15)
Zeeshan Ahmed (Manchester Utd) (Manchester United fan) says...
It's going to be an very intresting game, the game that leaves us on the edge of our seats...... I cant wait to see them two teams lock horns: Ronaldo vs Chorluka and ofcource Bale vs Ramos that is going to decide the game for me. I think its going to be 2-1 at the bernabau and at white hart lane i think spurs are going to snatch it 2-0. Spurs do it for England!!!!
Posted 15:45 5th April 2011
Dan M (Tottenham Hotspur fan) says...
I take a 2-1 defeat to white hart lane need away goal. 2 away goals and a draw would be amazing COYS!!!
Posted 15:45 5th April 2011
Bilo Sarikaya (Aston Villa) (Aston Villa fan) says...
This is not the game we should be looking to win .This is about scoring away goals. Spurs need to score tonight. Away game for real will be easer, players will be fit and they will seat back in 2. leg game if Spurs can't score tonight.
Posted 15:34 5th April 2011
Derek Oliphant (Arsenal) (Arsenal fan) says...
I think you are over-estimating Spurs, their strikers have been drivel all season, VDV is off form at the wrong time and they have too many injured defenders. I think Real will win by 5-2 on aggregate. They have been very clinical in the league this season, and with Jose in charge they know how to grind out a result.
Posted 14:44 5th April 2011
Victor Kaumba (Manchester United fan) says...
Spurs can nick it if they play the first leg the way they did in Milan. The second leg could as well be an easy stroll for them, Liverpool humiliated Madrid at Anfield a couple of years back at the same stage... they just need to play Pacey English football.
Posted 14:29 5th April 2011
Julian Deakin (Manchester United fan) says...
As much as i am realy happy for spurs this year, Not only have they done so well in there first CL season but also have had to go to some awsome stadia! I think Ronaldo is going to hurt spurs this evening tho. real madrid with no ronny is alot differant than with him, e.g the weekend game just gone. It will be a great experiance for spurs but i think this is the end of the road :)
Posted 12:56 5th April 2011
Jamie Coleman (Aston Villa fan) says...
I'm not completley sure Thommo's right here. I think Madrid over the two legs will simply outclass a Spurs team that aren't on top form at the moment. Saying that, I didn't expect Spurs to beat Inter and AC so do I really know what I am talking about?
Posted 12:04 5th April 2011
Ali Marafi (Arsenal) (Arsenal fan) says...
It will be a walk in the park for Real Madrid. An easy 4-0 I reckon. Spurs will be put back in their place.
Posted 11:37 5th April 2011
Michael Moloney (Arsenal fan) says...
Cant agree with phil on this one. I see madrid easily going through winning 2 or 3 nill 1st leg and then the 2nd leg wnt matter, madrid are a much better team this year under mourinho and spurs look dodgy at the back especially at left back where di maria will run riot. Madrid comfortable winners
Posted 11:35 5th April 2011
Lawrence Klein (Tottenham Hotspur fan) says...
Thommos Call is very well thought out and balanced. I enjoyed reading it. I hope for a 1-1 draw on tonights game. and a 1-0 win at home. I have seen so many teams just parking the bus and blocking play, that is very disappointing. I see a very open game end to end. The "Special One" will want an entertaining and watchable game and so will Harry and his team and The Spurs faithful. I will not mention the year ending in ONE.
Posted 06:14 5th April 2011
Phil Thompson (Manchester United fan) says...
Not a chance! Sadly, Real are stronger than any of the English teams at this moment, let alone Tottenham. Spurs will no doubt put up a good fight and have some joy at times over the 180 minutes but I think Real's quality will show through by winning 2-1 or 3-1 in the first leg and then picking Spurs off on the counter attack in the second leg
Posted 01:51 5th April 2011
Alan Toy (Arsenal fan) says...
Spurs will get to the final I reckon, hard to say as a gooner but I feel like they're made for something like the Champions League where they're constantly going into games as relative "underdogs"
Posted 00:32 5th April 2011
Lewis Allen (West Ham United fan) says...
Spot on! with Spurs going through but i can see an upset at the Bernabeu.
Posted 20:31 4th April 2011
Mikel Shearer (Berwick Rangers fan) says...
Bit off I reckon. Firstly i think Madrid will get at least 3 at home. Secondly Modric is no where near the same standard as Ozil... Or Alonso for that matter. And thirdly Madrid thrive on playing counter attacking football, so defending a lead should be no problem. However this is why I'm not a pundit, cos I'm normally wrong!
Posted 19:53 4th April 2011
Dwain Rooney (Everton fan) says...
V. Controversial
Posted 17:14 4th April 2011