I think Manchester United fans will demand their team go out and attack Chelsea in Tuesday's second leg at Old Trafford.
Despite having a 1-0 advantage from the first leg at Stamford Bridge, I see the hosts pushing on and being a bit more offensive than they were in London.
There was very little between the teams in that game. I don't think United were outstanding but they defended exceptionally well in the second half - albeit against a Blues side lacking a creative spark.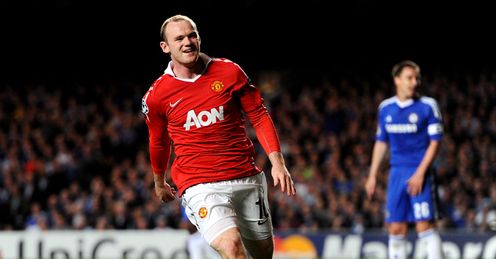 That ability to dissect defences could come from the fit-again Yossi Benayoun, and there's a chance that Carlo Ancelotti will be daring and go for a 4-3-3.
If that's the case, I see Benayoun and Nicolas Anelka starting down the flanks with Didier Drogba as the lead striker - purely because the Ivorian's physicality can push the home defence back far enough for the pair to operate in the space in front.
Despite having a 1-0 advantage from the first leg at Stamford Bridge, I see the hosts pushing on and being a bit more offensive than they were in London.
Phil Thompson
Quotes of the week
LIVE ON SKY SPORTS
UEFA Champions League
Man Utd v Chelsea
7.00pm, Tues, Sky Sports HD2/3D
Shakhtar v Barcelona
7.30pm, Tue, Sky Sports HD4
Schalke v Inter Milan
7.00pm, Wed, Sky Sports HD2

Should the Chelsea boss stick with 4-4-2, then I would think it will still be Anelka who gets the nod ahead of Fernando Torres; he's more experienced at pulling off into deeper areas, a traditional No. 10 if you like.
Blessing
The Premier League suspension of Wayne Rooney may well prove to be a blessing for Sir Alex Ferguson, as he'll be fresh and chomping at the bit for this game.
I know he scored the winner at the Bridge and a hat-trick at West Ham in the game before, but I still don't think we've seen Rooney at his best; he's capable of an all-round non-stop performance and is one of the best in the world at what he does.
What may prove to be crucial is Ferguson himself. When you win the first leg away from home there's a tendency to feel that the job is already done, and if there's one man who can demand full concentration and commitment, it's him. Having said that, players will be players...
Chelsea are massive underdogs but they've gone away from home and done it before. I remember a game in Valencia a few years back where they went and turned in a sensational performance with their backs against the wall.
They will need John Terry to lead them and likewise United need Rio Ferdinand if they are going to hold their opponents at bay.
If Ferguson does send his men out to try and kill the tie by adding to their aggregate lead, there'll be a lot more space in behind their defence than there was in the second half of the first leg - and Chelsea have the tools to exploit it.
I wouldn't discount penalties. There's a genuine chance Chelsea could nick one late on, and wouldn't it be ironic if the Blues emerged with a shoot-out victory this time around!
THOMMO'S CALL: I'm leaning towards 0-0. I think it will be tight and intense, just as the first leg was. If United do try and protect what they have, I think you'll see frustration from the fans and that may well play into Chelsea's hands and give us an exciting finale. But I see the Red Devils squeaking into the semi-finals.
Comments (26)
Carl Jackson (Chelsea fan) says...
Tonight i feel the return of Alex and Benayoun will be the key for this game. We had a 30minute glimpse of Yossi and Nando on Saturday and it looked deadly.
Posted 16:02 12th April 2011
Tyrone Butler (Manchester United fan) says...
i agree with thommo cant wait for this game rooney will score 2 he will be on fire tonight the whole untd squad want this because they know ferguson wont be around much longer he has been sitting in the stands the last while now and he knows the team is getting stronger and stronger i just hope jose takes over after him he is perfect for the job come on utd
Posted 15:07 12th April 2011
Matt Mcneilly (Manchester United fan) says...
i think united will win 2-1
Posted 13:26 12th April 2011
Stephen Henriques (Manchester Utd) (Manchester United fan) says...
Damn it.....the kiss of death from Thommo!
Posted 12:18 12th April 2011
Nick Williamson (Manchester United fan) says...
I think the away rule is there for entertainment, over 2 legs it is too often you find teams shutting up away from home, which is very boring to watch, and then going for the win at home. By making away goals more valuable you have to look to score more goals overall or go for that elusive away goal.
Posted 12:17 12th April 2011
James G (Liverpool fan) says...
to those lads on about the away goals rule...yee sound scared lads ...if united were away tonight.. yee wouldnt be goin on about it... united fans are always the same!!!!!!!!!!!!!!!
Posted 12:15 12th April 2011
Mick Wright (Newcastle United fan) says...
united arent anywhere near as good as they were a couple of years ago with ronaldo and tevez and scholes and giggs have aged even more so regardless of whether they put chelsea and schalke out they wont be able to cope with barcelona or real and rooney will be shown up by players on a different level
Posted 12:02 12th April 2011
Michael Ward (Manchester Utd) (Manchester United fan) says...
The away goals is the best rule in european football. It makes the k/o stages so exciting.
Posted 11:03 12th April 2011
Kidus Kdus (Manchester United fan) says...
Well the most intense game of the year. United took advantage from the first game but their midfielders are not reliable, carick is good player the problem is who is going to play with him Gigs or Scholes? If united want to win this game they have to play 5 in midfield and 1 up front (Rooney) put Park behind Rooney in midfield and use nani and Valencia on the wide position and then Carick and Scholes in the middle then Chelsea won¿t have a birthing space to attack they will try to defend.
Posted 11:00 12th April 2011
Karl Pearson (Manchester United fan) says...
Utd at home have been outstanding this season and knowing they only need a win or any draw will give them great confidence. I hope we don't play long balls but instead feed Nani and Valencia on the wings who are both on top form. It will be interesting to see who Fergie picks in attack tonight, an early goal will be crucial. Keeping Drogba and Lampard quiet will be key too but Chelsea aren't 'massive' underdogs. 2-1 Utd and through to play Schalke in the semi's.
Posted 10:58 12th April 2011
Homzie D (Manchester United fan) says...
this promises to be a classic unlike any other Utd v Chelsea game as Chel know they have to attack but with Rio back at the back, our defenders will be calm and our attackers will do the job...I hope Sir Alex plays Scholesy (the best midfielder of our generation) who will pull the strings in midfield and with Nani and Valencia on the wings and Wazza, Berba and Chicharito, we WILL score goals..the question is whether they will score? I'm not sure they will...it will be a tough match for both sides but we will make our 1st leg advantage count...My prediction - Man Utd 2 Chelsea 0 (Utd 3-0 on aggragate)...all the best to both sides...may this be a cracker!!!
Posted 09:34 12th April 2011
James C (Manchester United fan) says...
I can't see tonights game being a tight contest unless we have a scoreless first half, which I believe we won't. Chelsea are desperate for the CL and this is there last chance at silverware they will have to go at United and that will suit United, anyone see the game against Fulham United sat back got everyone behind the ball and then pressed Fulham to catch them on the counter it was brilliant and well executed. United will punish any mistake from Chelsea tonight and I am confident will go through to the semi's. "Massive underdogs" is a bit harsh though for a team of Chelsea's calibure it's only 1 goal afterall.
Posted 05:45 12th April 2011
Barry Fox (Manchester United fan) says...
The beauty of the away goals rule is that it encourages teams to play attacking football away from home rather than setting out to nulify an opponent in the hope of beating them at home in the return leg. Without it the game would suffer as a spectacle
Posted 03:17 12th April 2011
Abebaw Bekele (Manchester United fan) says...
i agree with what has been said and have no doubt about man.utd progression to semi_final. Chelsea luck composure!!!!! united are always eager to win trophies!!!!!!
Posted 01:01 12th April 2011
Alan Tse (Manchester United fan) says...
I am definitely believe this will be a big score game. Chelsea have to score 2 goals to go through if Utd cannot score. 1-0 is not enough unless they are intending for penalty shoot out. Then it will be an open game. No matter Utd score or not, Chelsea have to go forward to try to score 2 goals. This gives space to Rooney/Little pea/Berbatov to score. I can't wait to watch the game.
Posted 00:28 12th April 2011
Mark Galvin (Manchester Utd) (Manchester United fan) says...
herenedez is key if he can graba poachers goal the game will be over and with chelsea going all out for a goal the gaps will open up
Posted 22:59 11th April 2011
Dan White (Tottenham Hotspur fan) says...
The reason the away goal rule was created was to ensure that the games were more exciting over two legs. If team A wins 2-1 at home there would be no reason for them to go out and try and add to that lead in the second leg. They could sit there and soak up the pressure, and if they did concede it wouldn't be the end of the world. However, with this rule, if team A sits back and plays negatively and team B scores, they will be punished. I Believe that because Man u are a very tough team to break down at home the game has 0-0 all over it. Whoever goes through though should really fancy winning the competition this year! Good luck to both of the English sides.
Posted 19:24 11th April 2011
John Lacey (Manchester Utd) (Manchester United fan) says...
I think man utd will just be too good at home and will seal the tie with a couple of goals in front of their fans on home soil, Chelsea may well score but utd will outscore them On the night and add to the away goal from the bridge.
Posted 18:50 11th April 2011
Steve Corry (Chelsea fan) says...
Couldn't agree with Paddy more! Away goals are totally stupid! Scoring a goal should only ever be that ..... One goal!! As for tomorrows game, think it will be a score draw, putting Utd through! Only thing going for Chelsea is Utd could be stuck in two minds, do they defend what they have or try and get 2nd goal! Fingers crossed for a good game!!
Posted 18:44 11th April 2011
Neil Wicks (Chelsea fan) says...
This is a difficult one. After last weeks game I had the right hump and conceded that Chelsea were out but the more I think about it the more I'm swinging Chelsea's way. They need to go 4-3-3 and attack United from the off and get an early goal as there is not a better team defensively than Chelsea when it's backs against the wall. I'm loving the negativity from the media about Chelsea as sometimes this can play into their hands and after the drab 1-0 win against Wigan at the weekend a performance is needed and there is not a better place to do it and especially when we have a good record at United. Maybe it's written for Torres to score who knows but I do believe if it goes to Penalties then it's definitely written for John Terry to score the winner and wipe away the memoies from Moscow. A classic game instore tomorrow night. COME ON YOU BLUES !!!!
Posted 17:20 11th April 2011