I don't think it's unfair to say that the first leg between Real Madrid and Barcelona was a disgrace to football.
The things that went on in that game showed why the Spanish League cannot be compared with the Premier League. We complain about simulation and cheating in English football, but it is a million miles away from what goes on in La Liga.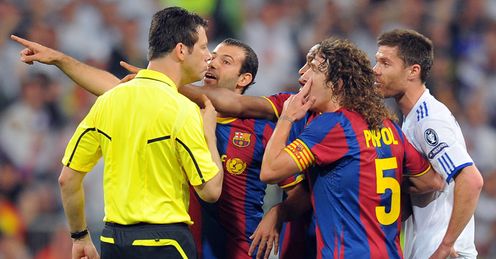 And it's not just that one game. I watch Spanish football regularly on Sky Sports and I see antics like that week in, week out. There must be an average of 12 cards per game and most of them come as a result of simulation.
It seems to be orchestrated by all of the teams. As soon as a player has been shown a yellow card, they seem to target him to get him sent off and that means everybody is frightened to make challenges. I feel very sorry for the referees because it's an extremely difficult situation to work in.
The cynic in me says it will be tit-for-tat and we will see players going down every time they get touched, perhaps even more so than at the Bernabeu.
Phil Thompson
Quotes of the week
Lionel Messi isn't one of those players. He seems to get on with the game and his tremendous balance and technique stood out last week, so I'm hoping that the football will shine through in the return leg at the Nou Camp.
But I can't see that happening. The cynic in me says it will be tit-for-tat and we will see players going down every time they get touched, perhaps even more so than at the Bernabeu.
I say that because the only way that Real Madrid have got a chance of overturning a 2-0 deficit is if Barcelona players get sent off - I think we will see even more play-acting.
Jose Mourinho will tell his players to be aggressive, but by and large they need to sit behind the ball and try to hit them with a counter-attack or a set piece. In that sense, his tactics will not be too dissimilar to those he used in the first leg.
He believes that game would have finished 0-0 if Pepe hadn't been sent off. A few years ago a goalless first leg would have been seen as a bad result, but these days managers are happy because it means they haven't conceded an away goal.
That all went wrong for Real Madrid which is why Mourinho keeps flagging up the red card. That changed the game and as a result he needs to slightly alter his approach to this tie.
I think he will probably start with Emmanuel Adebayor to provide some height down the middle with Cristiano Ronaldo on either the left or the right. But for long spells I think the formation will resemble a 4-5-1 and they will play largely on the counter-attack.
There isn't any other way. Mourinho understands his team is inferior to Barcelona and if they try to attack at the Nou Camp they could end up receiving a bit of a hiding. He will need to be negative and hope for some joy from free kicks and corners.
The other chink of hope for Real Madrid is the injuries that have disrupted the Barcelona back four and they may have to employ Javier Mascherano as a makeshift centre-half.
He has always been a rash player who tends to get away with it in midfield, but if he dives in as a defender, he will give away free-kicks - as we saw when he conceded the penalty that cost them the game at Real Sociedad on Saturday. Real Madrid will identify that and target him as somebody who will give away fouls in and around the box.
Carles Puyol, who is not a left-back by any means, is likely to play in that position and I didn't understand why they didn't get at him more in the first leg. That's another area of weakness, so there is some hope for Real Madrid.
However, there are too many areas where Barcelona will dominate, particularly in the centre of the field. Pep Guardiola will instruct his players to keep the ball, probe and look to wear their opponents down, just as they did at the Bernabeu.
They controlled the first leg and they know they will create chances if they deny their opponents possession. The home fans will be delighted if it's 0-0 at half time because Real will grow increasingly tired chasing the ball.
So I am convinced that Barcelona will make it through to Wembley to face Manchester United (I'm not giving Schalke a prayer of coming back from 2-0 down at Old Trafford, by the way).
My greatest wish is that these two teams will play extravagant football on Tuesday night so that we can put to bed all of the antics that went at the Bernabeu. That was a game that didn't portray Spanish football in a good light.
We all know that Barcelona are capable of playing great football because they show us that every week - and Real Madrid have also produced some brilliant stuff this year.
Unfortunately I think the first game will set the tone and the intensity of the occasion will prevent the two teams showing us what they're truly capable of.
THOMMO'S CALL: I think it will be another 2-0 win for Barcelona. I expect a very similar game to last week, but ultimately it will be even more comfortable for Pep Guardiola's side.
Comments (6)
Rahmat Rahimi (Barcelona fan) says...
I think this is a very taugh game and Real Madrid will try to work on encouter attack in order not to concede goal and defend well. When get the ball send it through to the forward and this is their approach to the game. I wish it will be a good game and the deserved team go to the final that I think it is FCB.
Posted 21:03 2nd May 2011
Jonathan Jurado (Barcelona fan) says...
I think that Thomo has some facts wrong... reports in spain are that Mourinho is planning to go for the game and attack. He'll apparently play four strikers... those including Ronaldo, Di Maria, Ozil and Benzema... rather than Adebayor which Thommo mentioned. Madrid have defensive probems of themselves with both Ramos and Pepe suspended. whilst Barca have been boosted with the return of their key midfielder Andres Iniesta, who scored the goal which ultimately put Barca into the Final of the Champions Leauge two years ago in Rome. Mourinho will see his side knocked out of the Champions League from the stands as he is also suspended and cant sit on the bench. Barca to go through... around 2-0 or 3-1, I say.
Posted 16:11 2nd May 2011
Darren Jones (Liverpool fan) says...
We can complain about the diving and what not and boast about how great the EPL is, however it's obvious that on football skill Barca, and possibly Real are a million miles ahead of anything we've got in our league.
Posted 16:07 2nd May 2011
Cesar Pena (Malaga fan) says...
There are players that fake in all the world, Nani, Ronaldo, Di Maria, etc, but saying that because of that the premier league is better is going to far, Totenham has lost to Madrid without effort, Arsenal was also inferior to Barca, is true that his chances were diminish by a sent off to V. Persie, but the rule is that kicking the ball after the referee whistle is second yellow, and nobody dare to say that Arsenal was the better team of the 2, but the final test to prove which league is best is in the final, if MU past of course(is almost sure theyll do)
Posted 14:34 2nd May 2011
Aydan Macmillan (Tottenham Hotspur fan) says...
I know that Spanish football has always been over exaggerated when it comes to a foul or simulation but it's rife in every country. The worst case i have seen was either Gerrard's dive in the late minutes of the Champions League or Busquet's comical actions in most games. The more annoying thing about these players is that they are at such a high level and so talented that most of the time they so not even need to go to ground. If Di Maria stayed on his feet more he would be quality but he falls at the slightest contact. It's a shame really because it looks like it's only going to get worse.
Posted 14:14 2nd May 2011
Aron Rowe (Aston Villa fan) says...
All I would say Phil is never count out Mourinho, his tactics are likely to start the same with a 4-5-1/ 4-3-3 counter attacking style much as he has played for career. BUT he is famous for being able to turn a game on its head with a couple of changes if things arent going his way. I do think Barcelona will go through but by no means will it be an easy game for them or comfortble as Phil is suggetsing its going to be an interesting game in which Mourinho will pull out a few surprises. E expect a 2-1 barca win but you never know with Jose it wouldnt surprise me if he went to the nou camp and got a result
Posted 13:31 2nd May 2011