Manchester United have always got a chance, no matter who they play.
Yes, Barcelona are a fantastic team, the best out there, and they are rightly favourites, but you just cannot rule Manchester United out. Of any game.
There aren't many other sides in Europe, even in the Champions League, that you can say that about and there are even fewer who you would say could not only cope with Barcelona, but cause them plenty of problems as well.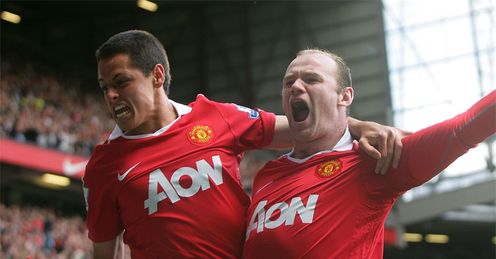 For a start, do not underestimate the Wembley factor as well. I played there for Liverpool in the 1978 European Cup final and it felt just like a home game. We must have had 90 per cent of the support that night and it made a huge difference.
I know it's different now with the distribution of tickets and all the corporate boxes, but I still expect United to have 60, 65, even 70 per cent of the crowd on Saturday night. Yes Barcelona are experienced, but you've got ask how much of a difference that can make - especially during the periods when it is not going their way. And as good as United are, they will know they are in for times like that during the 90 minutes.
I don't think for a minute they will make extra special plans for Lionel Messi either. Not just because Manchester United are too big a club to do that, but also because you can't! And also because the last thing you want in a Champions League final is to be sending your players out with negative thoughts.
Phil Thompson
Quotes of the week
But the biggest question has to be, how does Sir Alex Ferguson approach this? How does he set his side out?
I would think he will fancy his chances, go for it. I expect him to take the game to Barca, fight fire with fire if you like. They are too big a club to sit back and worry about any opposition and what they are going to do. It's not the Manchester United way.
As soon as we see the line-ups on Saturday you'll be able to tell. If he is going to be conservative, try and stifle them, it will be Michael Carrick and Ryan Giggs in central midfield, with Antonio Valencia on the right and Ji-Sung Park down the left.
If Nani gets the nod on the left of a four-man midfield, they will be going for it, but that central area is so crucial against Barcelona, I can't see that happening.
Damage
Park always seems to get the nod in these big games, because you know what you're going to get. He works hard, backwards and forwards and gets the odd big goal, too. Dani Alves is such an important part of the way Barcelona play, he might just be the man to deal with him.
Nani of course, would give him plenty to think about going the other way, but if he comes in, I think we'll see Park moved infield a bit to a five, leaving Wayne Rooney up front on his own.
I can't see Sir Alex doing that though, because Xavier Hernandez and Rooney can cause Barca real problems. We will all be talking about what damage Barcelona can do but with those two up front, United have a real threat. Rooney will drop into deeper areas and you know Hernandez is always going to be on the move, always on the last shoulder.
To lose that twin threat would make life a lot easier for Barcelona. But it's a tough one for Sir Alex because whatever you do against this side, you have to make sure Xavi, Andres Iniesta and Sergio Busquets do not get a hold of the game in the middle of the park. Let those three settle and you're in for a long night - whoever you are.
I can see Fergie being mindful of that at first, but not over-cautious. It's just not his style.
And I don't think for a minute they will make extra special plans for Lionel Messi either. Not just because, as I said at the top, Manchester United are too big a club to do that, but also because you can't! And also because the last thing you want in a Champions League final is to be sending your players out with negative thoughts.
What can you do about Messi anyway? They are not going to man-mark him, I'm certain, so they just have to make sure that whenever he gets on the ball, wherever he is, they get on him right away. But that is easier said than done. He drifts deep, he switches position with David Villa, he pulls out wide to let Alves come into inside right or he just drops off to create a little hole for someone like Iniesta to get beyond him.
Problem
He is a nightmare to mark if you're a central defender and Rio Ferdinand and Nemanja Vidic would much rather be up against a traditional centre-forward, as it were. That's what makes Barca so difficult to play against, they all interchange so easily, they move the ball slowly, wait for someone to make that deep run and then boom, they've created and found a gap.
But by the same token, United can get at Barcelona, don't worry about that. If Eric Abidal is not passed fit, they have a bit of a problem. Pep Guardiola has been playing Carles Puyol at left-back because he's easing him back from injury and because he knows he's not blessed with great pace, so if Valencia is on his game, they have a chance there.
Javier Mascherano is quicker so would probably get the nod at centre-back but up against someone like Hernandez, he will need to have eyes in the back of his head all night long. And if Rooney can drop in between the backline and Busquets, that is where he is at his most dangerous.
I just think that has to be United's approach: focus on what they can do well, not anything Barca do.
But the problem is they know they are not going to have the ball for long periods of time, so they will have to keep their shape and discipline, make sure they do not all get attracted to Messi. Then, when they get it, they have to make sure they are on their game going forward - which, to be fair, they usually are.
Even with the talent he has at his disposal, Sir Alex has to make sure his tactics are spot-on and those Manchester United players have to make sure they all do their jobs; not one of them can afford to switch off, or make a silly mistake. Just sitting here going through it, you can see what a difficult job they have on their hands.
If anyone can stop this great team it is Manchester United, but I am afraid I think it might be too much, even for them.
THOMMO'S CALL: I am going to go for a 2-0 win for Barca. I do think United can cause them plenty of problems, especially at the back, but it is that central midfield, plus the movement of Messi, Villa and Alves that will be their undoing. When we see the team-sheets we will know what to expect from United and the game itself.
We are talking about two teams full of top-class players and two managers who are both very, very tactically astute and know how to win big, big games. Of course, there is a danger they could cancel each other out in that respect, but I think there are too many individuals on display to let that happen. It's the biggest club game in the world, at the home of football, so you've got to expect the stars - on both sides - to shine.
Comments (37)
Chandra Gohil (Manchester United fan) says...
Manchester United are unbeaten this season in the Champions League I'd doubt that they will crash in the final Barcelona have already lost in London to Arsenal and Messi has never scored on English soil in the Champions League. Although both sets of teams have already faced each other in Rome, United have young fresh blood in the squad and that will catch Barca off guard I'm saying 2-0 Manchester United Rooney and Hernandez "Believe"
Posted 16:07 27th May 2011
J D (Arsenal fan) says...
I think united have a glimmer of hope because of the style of football they play, counter attack, they even counter attack when playing at home! Having said that I think it's all very well saying that Rooney/Valencia/Pea will rip them to shreds but I think it more likely that none of them see the ball. I've watched us play both sides this season and by a country mile Barcelona are best. Anything can happen on the night though!!
Posted 15:55 27th May 2011
Ricky Thompson (Liverpool fan) says...
Most people have said Barca to win unless their Man united fan lol... i think it will be high scoring but the English champs will come out on top 3-2 even as a Liverpool fan i want Man united to win just to knock Barca down a peg or 2.. Barca aint invincible they lost at Emirates (Arsenal) and like in second leg with them against Madrid they got through by decisions going their way...SAF needs to play Ronney and Hernandez i dont see Barca defence coping with that
Posted 12:22 27th May 2011
Alec Mccormick (Liverpool) (Liverpool fan) says...
I really can't call this match. Yes we all know of Barca's great strength Magic Messi and the spanish matadors(Xavi and Inestia) in the middle of the park, But on the flip side United have the pitbull up front (Rooney) along side Speedy Gonzales (Henandez) tons of other experience all over the pitch, old whiskey nose is definally the best Manager of my life time. My head is telling me that Barca will win, but my gut is saying United might just nick it. For a semi-neutral like myself its going to be a very interesting game.
Posted 11:19 27th May 2011
K Wicks (Manchester United fan) says...
Although i admit Barca are the favourites for this game i also doubt they have faced a team like United this season we have pace and energy down both wings in Park, Valencia, Fabio, and Evra (who i think will play). we have Carrick and Giggs to hold the middle, In Rooney a Striker who will work back making us 4-5-1 when we don't have posession and Hernandez will sit right on the last man waiting for a chance and probably taking it should it arrive. He will also work back help out and win the ball. To add we will have a sub bench allowing us to change the game and bring on the likes of Berbatov, Scholes, Fletcher, Anderson and Nani. Forget Barcelona's strengths for a minute we have so many of our own. United will worm there socks off and will be much braver in attack than Real Madrid were in the semi's I for one am not too worried United can match anyone over 90 minute's lets get a bit of revenge for 2009...
Posted 10:13 27th May 2011
Uyi Jb aisagbonbuomwan (Chelsea fan) says...
barca is so good as an attacking side that people tend to overlook their denfensive qualities.in every position they superior to utd except goal keeping.i'm predicting barca 3-0 utd
Posted 09:56 27th May 2011
Mambuku Buku (Newcastle United fan) says...
Carrick can not pass the ball well and hustle. Park despite all his efforts will be over run and eventually run out of steam.I still see Barcelona wining this one 3-0 and Rooney or Giggs getting a red card due to frustration.Ferdinand causing a penalty due to being left for dead due to pace.
Posted 05:41 27th May 2011
Seani Obrien (Cardiff City fan) says...
Man Utd will find it difficult to win this one ,at Old Trafford they would have a chance,but no here. Messi and Co will dominate and keep penetrating the United defence, until they score. Away from home United have looked dodgey all season, a couple of late goals saved their season and won them the title because no one else wanted to win it as much as they did. If united are going to do some damage it will come from Park, Hernandez or Rooney. Park will run his socks off as will Chicharito. The midfield of United is poor compared to Barca and this is where the game will be won by Barca. The united defense is fragile when under pressure as they showed in a few games this season,you think Vidics pace (lack of it) will be able to stay with Villa or Messi, I think not. I'm sure Macsh would love to get revenge against Utd for the Liverpool games he lost with Liverpool. If Barca get an early goal the game will open up as Utd will have to come forward which will actually help them as most teams sit back against Barca which never works. Barca will win this one as they are without question the best team in the world right now. A 3 - 1 win for the Catalans and long lonely ride back to the cheering Man city fans who await them in Manchester
Posted 03:03 27th May 2011
Dj O'brien (Manchester United fan) says...
Not being biased, but think United will win. In 2009 all the pressure was on United as favourites, not this time. Also in 2009 United were too reliant on Ronaldo who didn't play well because he was only playing against Messi for the title of best player in the world. @Jack Whaley you talk about the United-Liverpool game and Manchester United's poor defence but in that game the defence was Rafael Smalling Brown and Evra, hardly the starting line up on Saturday night. Midfield is arguably the only area on the pitch where United are weaker than Barcelona, but Ferguson will know that and make sure that the tactics mean that the ball will be kept in the wide areas as much as possible. Valencia or Nani will cause problems for either outof position Puyol or lack of fitness Abidal. If Rooney plays on form he can destroy the Barcelona defence as they will not know what to do with him or who should mark him as he is likely to play a 'roaming' role between midfield and Hernandez. The experience of Ryan Giggs who will feel he has something to prove could also be crucial, and Park will make sure Xavi and Iniesta have no time on the ball to pull the strings. One other area of weakness for united is at right back where either the inexperienced and sometimes rash Da Silva twins or lacking in pace O'Shea is likely to play and if Villa is on form could be the main source of attack for Barcelona. However overall I think United will win 2-1 scoring first and then Hernandez getting the winner through a United counter Attack in the final 10 minutes, when Barca themselves are pushing for a winner
Posted 01:23 27th May 2011
Charlie Bob (Manchester United fan) says...
Everyone seems to keep saying barca are favourites and they'l dominate utd. how utd are poor this year. lets not forget utd are the english champions. they won the league by 9 clear points. they also scored the most goals of any team in the premier league. they went through a phase where they were unbeaten, but also where they hadn't conceded a goal in so long and kept so many clean sheets. Barca are rightfully ranked as favourites simply because of the reputation of the players they have, but would you ever back against a manchester united team in the past 10 years, maybe even 15 years? Both teams have very good players going forward, namely messi and iniesta for barca. david villa and pedro have been out of form and off the pace in the last few months, whilst xavi is a very goof player. But utd also have giggs and rooney who have been on fire, and hernandez had undoubtedly been better than david villa. add valencia who brings freshness to the team and you have some very good forward going players. park ji sung is unsung hero and never stops working. he'l get the odd goal or two but also provide space and movement, as well as defensive duties. Even if we say barca and utd are equally good going forward, or even if say barca are slightly better, when looking at the base of the team in defence, utd is much stronger. rio and vidic are the best defensive pair in the world. evra is the 2nd best left back behind ashley cole. fabio can be rash but also dangerous going forward. compare that to alves who going forward is strong but poor defensively, pique and puyol, where puyol lacks pace and isn't 100% fit and either abidal and mascherano, who either isnt fit or not a proper defender. I feel utd's defence can cope with barca's attack better than barca defence coping with utd's attack! I see utd scoring 3 or 4 goals on saturday and going on to win the champions league.
Posted 23:28 26th May 2011
Alex Clasper (Celtic fan) says...
I think itl be 2 _ 1 to barca as they have more match winners and are just better full stop cmon barca
Posted 23:11 26th May 2011
Jezza Thered (Manchester Utd) (Manchester United fan) says...
Looking at this objectively, I reckon United to go ahead in the fisst five mins, then as Barca throw caution to the wind we will pick them apart on the counter. 2-0 to untied by half time. Barca players will lose their rag and one of their much vaunted stars will see a straight red!!! United to dominate and either 3-0 or 4-1 to united final score.
Posted 23:00 26th May 2011
Justin Hughes (Wolverhampton Wanderers fan) says...
Man utd fans are in dreamland again!!! They will not get the ball, they will be passed off the pitch!!! The difference in class is too much, United they make me laugh!!! Just like I'll be doing when Barcelona go three nil up!!! Haha!!!!!
Posted 22:10 26th May 2011
Kevon Nancoo (Manchester United fan) says...
Barca Barca Barca Has anyone a clue that barca's midfield is tired!!!! Yes they have 3 world class midfielders...who will try there best to dominate .which they did after the first 20 minutes when utd started to chase the game in 09 its not going to b like that no cristiano means more ball possesion and more movement!!! its going to b tight but utd are much more prepared than last time out an what eva back 4 barca puts out r going to have a tough time with little pea rooney valencia an park!!!! They may not be silky smooth as the other so called " BIG 4" but they will b ready SAF will get his tactics right 2 - 0 UTD!!! 4 eva united!!!
Posted 20:45 26th May 2011
Paul Topps (Manchester United fan) says...
the difference between 2009 and now is Javier Hernandez. His pace and postioning will cause Barcelona nightmares. The game will be tight but i think United will come out 2-1 winners.
Posted 19:53 26th May 2011
Pradeep Shenoy (Barcelona fan) says...
i think man united have punched above their weight all season long. It is only due to chelsea and arsenal self destruction that they were able to win the premier league. i think they will reach a dead end against barca. IF man united win , then it would only be only if barcelona become overconfident which i dont think Gaurdiola will allow them to be.
Posted 18:52 26th May 2011
B reasonable (West Bromwich Albion fan) says...
Good article, well reasoned. It might go to extra time and even penalties; and who knows what will happen then? The Barcelona players are said to be tired. They will play for an early lead and then hope to pass United out of the game. But United will get at least one chance...and if they equalize leading to extra time, it's game on. The Wembley pitch will be extremely tiring in the seconnd period of extra time.
Posted 17:55 26th May 2011
Aman Narang (Liverpool fan) says...
Look at all the man u fans drawing false hopes for their mediocre team....united are an average side who will be sorted out and outclassed on saturday by a team who is better than them in all aspects..3-1 to Barcelona!
Posted 17:48 26th May 2011
Stephen Mckeown (Stoke City fan) says...
First to score Hernandez Manchester united to win 3-1 Best team in the world!!!!
Posted 17:40 26th May 2011
Ocen Justine (Manchester United fan) says...
in football anything can happen, it is wrong to say united can't match barca. which team which was full of great players did united beat to claim thier third euro glory in 2008? is it nt barca? nothing have changed from the style barca plays, let me hope barca will not get great decision in their favor and the world will witness the strenght of united squard esp the dangerous forward pair of Wayn, park valencia and Chico. go in united home it u to lose on home ground.. God bless united on that day
Posted 17:38 26th May 2011