Some people feel Matthew Hoggard has been harshly treated by the England selectors, but not me. I feel his case has been more one of hard luck.
Hoggard had an injury in Sri Lanka, missing the second Test of the three-match series defeat, but then came back into the team for the third Test and had a poor match.
And then he didn't bowl well in the first Test in New Zealand, so he had two poor Test matches in a row, albeit between December and the beginning of March.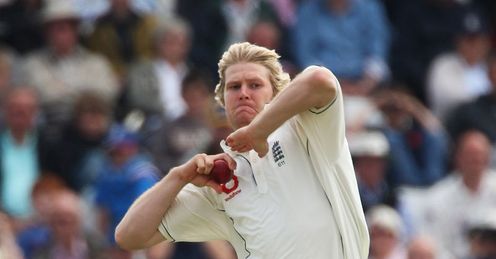 The England management were surprised and disappointed that he was so ill-prepared for that Test in Hamilton.
Now whether that was Hoggard's fault or their fault, whether these guys have got to go with The Lions and warm-up playing cricket somewhere else before they attempt to play Test matches, remains to be seen.
I think Vaughan was surprised and disappointed at how poorly prepared Hoggard, and indeed Harmison, were for that match - a match which England lost comprehensively in.
For me, Broad has to stay in the side in order to develop into a top class bowler in time for the Ashes next summer. He's a special talent.
Bob Willis
Quotes of the week
England v New Zealand
First Test, 15-19 May
Sky Sports 1 & HD1
Click
here
for live listings
But I would expect Hoggard to be named in a squad of 12 for the first Test of the summer against New Zealand, moving up in front of James Anderson in the pecking order.
Flintoff return
And then the discussion will be whether Vaughan can persuade his fellow selectors that Andrew Flintoff is fit enough to be one of four bowlers and if he can persuade them of that, should the fourth bowler be Hoggard or Monty Panesar?
Whether they need the spinner at Lord's is dependant on the weather because there have been instances in the early Test match at Lord's where the spinner has hardly bowled an over - I can remember Ashley Giles hardly bowling in a couple of Lord's Tests, and before that Chris Schofield being picked and hardly turning his arm over.
So I would have thought that that would be Vaughan's preference from what he's been saying, in particular in an interesting interview with my Sky Sports colleague Michael Atherton in The Times.
I think Vaughan is favouring the same six batsmen that finished the winter tour - with Strauss opening with Cook, Vaughan at three, Pietersen four, Bell, Collingwood and then Ambrose, Flintoff, Broad, Sidebottom, and then a choice between Panesar and Hoggard.
I would like to see the return of Flintoff although I think some of the selectors might want him to do a bit more with Lancashire.
I think his runs, or lack of them, are irrelevant because he is one of England's best four bowlers, so he should be selected as a bowler in his own right.
Talent
For me, Broad has to stay in the side in order to develop into a top-class bowler in time for the Ashes next summer. He's a special talent.
The drawback with playing Sidebottom and Hoggard is that they are very similar bowlers and I wouldn't give the new ball to both Sidebottom and Hoggard.
I want someone with a little more pace with the ball - when Harmison was bowling well I always wanted him to open up with the new ball.
Hoggard is going to have to force his way back into the side and get wickets in order for him to prolong his Test career.
But Sidebottom is the number one bowler now, Broad must be kept in the side as an investment for the future and Flintoff is potentially England's best bowler if he is fully fit, so it will be a big ask for Hoggard to get back in the side, and stay in the side.
Do you agree with Bob Willis? Has Hoggy's time been and gone, or does he still have a part to play for England? Let us know your thoughts by filling in the feedback form below
Comments (7)
Dan Wild says...
Hey cmon Socko! Collingwood is one of the best fielders England have had for a long time now, this combined with his handy bowling at times and an average of about 42 or 43 with the bat! U really think someone like Shah for example will bring the team more? The batting line up is quite good i think. Hopefully Freddy will be fit sooner rather than later so him coming in at 8 behind Ambrose say, then Broad ( love that guys aggro! ) Sidebottom 10 and the Montster should do the trick..if one of our bowlers packs it in then Saj or Plunkett should be given another go..neither have been consistently good as yet but theyre both still young and got pace to burn! What do you reckon guys?
Posted 01:20 13th May 2008
Dave Raverson says...
Spot on Bob, that would be my exact line up come the first test. I agree about spinners in May at Lord's but I would definitely pick Monty as he has shown himself to be a wicket taker in English conditions, even though that is backward logic, I suppose that's Monty! I've been screaming out for ages for Flintoff to move down the order, he has never been a number 6, especially averaging 30 and only hundreds to his name.
Posted 10:34 8th May 2008
Ed Heywood says...
An interesting debate, but there is no way Anderson should be ever mentioned in the same sentence as Hoggard, they are miles apart, Hoggy is class, Anderson is distinctly average, at best. You cannot concede the numbers of runs Anderson does, and still be an England international. For me, Hoggy is still one of the better new ball bowlers in the world, and should open up with someone fast. Sidebottom is a more natural change bowler, in my opinion.
Posted 12:08 7th May 2008
Stuart Wrangles says...
Give hoggard a brand new bowl and most of the time he usually gets a wicket just ask mathew hayden. Not matter the age hoggard would give 100% for county and for country. I cant see why u cant have hoggard and sidebottom in the same side they use to play for the same county so they are use to play togther. One player swings the bowl right handed and the other one left handed so these different variations cause problems to the batsmen. i know these two havent got the pace of harmison but least they are more accurate with the ball. If Flintoff starts the first test England would have one speed bowler. The ashes winning side had five bowlers we need to do the same They are Flintoff ,Sidebottom, Hoggard, Broad and Panasar and stick with the bowlers until the ashes because one of the reasons we won the ashes we kept a settle side. Batsmen worry me more than the bowlers they struggled to covert many centuries against new zealnd who are not the best side in the world. If i was the chairmen of selectors Cook would open with strauss then bell three pietersen four then collingwood flintoff bopara foster broad sidebottom hoggard and then monty if cook is fit make him captain towards the next ashes series he is the man to carry this team foward lets stop dropping players after one match We gave strauss another chance why not hoggard
Posted 00:34 7th May 2008
Will Eden says...
hi bob and sky cricket team why are the england players so frightened of signing for the ipl, if they get the offer they should go. it s ridiculous for the ecb to make threats about contracts . in any case if they are not playing much for their counties early season what does it matter ? the ipl new zealand players have arrived in plenty of time before the first test and pietersen hasn t had 1 first class innings for hampshire . surely playing a few t20 games in india is no worse than playing a few 50 50 games early season for your county . would the ecb really have cancelled a players central contract if he had arrived back a week before the first test ? neither can i understand ravi bopara turning down an offer today for a large sum of money. he is only a fringe player with no guarantees of a regular place in the england side. englands top players should be calling the shots, not bowing down to petty threats from the board . i think shane warne is right that the ecb have got "their heads in the sand". once again england are the last to react to any change and its the players , long term that are suffering.
Posted 21:43 6th May 2008
Rich Cropper says...
I totally agree with what Bob is saying regarding the bowling attack. Whilst Hoggard has been a brilliant bowler for England, and may still have an a small opportunity to continue being so, things are moving on and England really should try and play with 4 bowlers. This, unfortunately, would mean Hoggard will be 12th man. You can't argue with a batting line up that has Flintoff and Broad batting at possibly 8 and 9, with Sidebottom at 10! Furthermore, it is important for Broad to develop into the bowler we know he can be, and perhaps even become an all-rounder. Fingers crossed anyway. However, at least with bowlers like Harmison, Hoggard and Simon Jones around, there should never be a lack of competition, or the need for young bowlers, such as Mahmood, Plunkett, Onions etc, to be thrown in at the deep end.
Posted 17:16 6th May 2008
Kenny Perry says...
I agree with what you have said Bob, so would you have Flintoff opening with Sidebottom? I think that Flintoff could take over from Harmison as Englands main threat. If Flintoff can make a quickfire 30 at number seven its can only help to improve Englands hit and miss tail.
Posted 15:42 6th May 2008