So the selectors have kept with the same team that won the last two Tests in New Zealand, and have kept with James Anderson.
He has been put under pressure by Matthew Hoggard who has been bowling well for Yorkshire, but I believe the selectors decided not to change a winning side for a couple of reasons.
Firstly, in order to stabilise the side with some continuity and also because Anderson offers the attack more variety.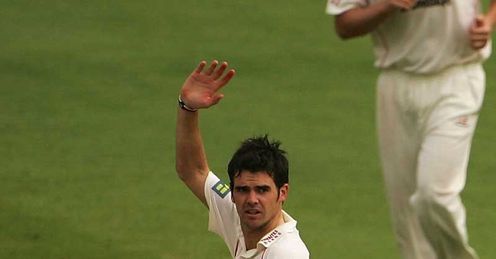 With Hoggard and Ryan Sidebottom in the side together that is a lot of swing - there's more variation with Anderson, Stuart Broad and Sidebottom.
They will go with Anderson and hope that he has found some consistency. At the moment in Test cricket he bowls one decent spell and three rubbish ones and they'll be hoping that he can improve on that.
The England selectors will go with Anderson and hope that he has found some consistency. At the moment in Test cricket he bowls one decent spell and three rubbish ones so they'll be hoping that he can improve on that.
Bob Willis
Quotes of the week
England v New Zealand
First Test, 15-19 May
Sky Sports 1 & HD1
Click
here
for live listings
It'll have to be this season that Anderson comes of age and can learn to bowl disciplined spells, cutting out the four balls, as I think the selectors' patience will wear thin and they'll look to others, including Graham Onions and hopefully the returning Andrew Flintoff.
Balance
This bowling attack are going to have to work hard because clearly Michael Vaughan has changed his mind about the balance of the team.
Under Duncan Fletcher England picked five bowlers, including Flintoff.
They now have four bowlers, so in the first innings those three seamers are going to get through a lot of work and you wouldn't want Monty Panesar to bowl a lot of overs in the first innings, particularly at Lord's early-season.
England need those bowlers to perform - and also they could do with Paul Collingwood being fit to bowl.
There may be a little too much burden on the three seam bowlers, and in an ideal world it would be better to have four at the captain's disposal.
But I believe there's enough potency there to bowl out New Zealand.
Panesar
Panesar got off to such a great start in Test match cricket that we were expecting that steep curve to continue.
He has not been able to continue that, but you have to remember how young he is. At 26 years of age he has a lot of Test cricket ahead of him.
But like Broad, you'd like to see some substantial improvement.
I don't see him vying for his place realistically at all as there aren't many spinners breathing down his neck and there aren't any others who are capable of bowling a side out as Panesar is.
Graham Swann is a handy performer but you wouldn't identify him as a Test match bowler who is going to bowl sides out on a regular basis.
Visitors' attack
As for the visitors' attack, they are a hard-working unit.
Chris Martin and Kyle Mills bowled better than I thought they could in New Zealand.
Daniel Vettori was disappointing in that series; I think England know how to play him and won't be particularly fazed by him.
Young Tim Southee impressed in the third Test in New Zealand taking five wickets and also has some batting potential after smashing 77 not out in the second innings.
But he may struggle to get wickets on the pitches over here. He's a year behind Broad in development and I would be surprised if he made any match-winning contributions in this series.
Do you agree with Bob Willis? Is this series make-or-break for Anderson? Let us know by filling in the feedback form below.
Comments (8)
Adam Ray says...
Bob is right in the fact that Anderson does need to find consistency, but even Jimmy has stated that, he knows it and is working on it, it doesn't seem to be a thing a bowler like he can just click his fingers and find, but whilst he is doing that he is and will always be a threat. Personally I have always felt Jimmy deserves a place, I want him to do well, and I want him to have all the time to get his consistency sorted out because he is one of the best bowlers in the world when he gets it right But with the team as it is with just 3 seamers, I would leave Anderson out if we could get Simon Jones or Flintoff in for the SA games, I would probably choose Jones at the moment, he has been out and has shown great character to do so well coming back into cricket, Flintoff did about average on his return, Jones deserves the nod over Freddie.
Posted 12:56 18th May 2008
Paul Govier says...
i think Jimmy should be playing... yes he has had many chances but injury always seems stop a long run in the side. The batsmen all get a fair go so I hope Jimmy gets a long run in the team. Bob metiond about Panesar only being 26 and has time to improve. Jimmy is only 25(nearly 26) ...... also Hoggard, Harmison and Freddie didn't start firing for England until they were a similar age so i think he deserves his chance to play. Like bob says there's no need for Hoggard and Siddebottom in the team and even Hoggard would agree Ryan is playing outstanding. Hoggard has been unlucky, agreed but look at the Australians they're always ruthless with selections whether this one is right time will tell but u have to look to the future of team.
Posted 00:57 17th May 2008
Abdul Moiz says...
I totally agree with Bob Wills that its pay back time for James Anderson, Everybody knows how talented James Anderson is but the problem with him is that he wants to do so many things in one over what he have to learn is to be bit more patient and should have A, B & C plans to get the batsman out or not let him score freely by bowling good line or length. James Anderson have the ability to swing the new ball with pace the things he should work on is control and secondly which is most important is the mental strength at times he lose his concentration. If he wants to be successfull at this level on consistent basis he has to delvelop a habit to think about the game on the feet because it was your mental strength which will help you during the tough times. Another thing he work on is swing the old ball specially reverse and the best place is to do that is work hard in the nets.
Posted 13:15 15th May 2008
Dan Smith says...
Anderson appears to be coming in for a lot of stick, when to be fair, on recent performances he's no worse than Hoggard. I personally, wouldn't have either of them near the side. The selectors seem fascinated with going back to tried and tested 'has-beens'. Yes Hoggard and Anderson have had glory moments, but top level sport is all about 'what-have-you-done-lately', and these two have done nothing to warrant a Test call up. They'll be bringing back Darren Gough next.
Posted 11:59 15th May 2008
Chris W says...
If they are going on form you can't argue with them picking Anderson. If you saw him bowl with Freddie against Durham last week he was great. Just hope he can continue this in the test arena.
Posted 11:49 15th May 2008
Joe Carroll says...
Test after test, year after year, Anderson is for some unkonwn reason in the selector's mind, Why? Does he hold some dark secret over them? his performances certainly do not warrant selection. How much swing are they expecting at Lords anyway? As Bob says so many of his sessions are 'rubbish'
Posted 17:49 14th May 2008
Wilhlem Holm says...
Hoggard and Sidebottom are too similar and neither particularly fast. Hoggies coming towards the end of his international career too, so against New Zealand there is no doubt a younger bowler should play. Let Jimmy find his rhythm, hes not started the season so badly.
Posted 14:09 14th May 2008
Ed Heywood says...
Absolutely ridiculous decision. Fair enough dropping Hoggy in New Zealand, too give him a wake up call, bur Anderson is NOT an international class bowler. i just hope the selectors see the error of their ways before the South Africans get here.
Posted 13:14 14th May 2008