The Riverside is a beautifully-presented ground and one that continues to evolve as it gets to grips with staging international matches.
I have no axe to grind with the facilities or pitch ahead of this week's second Test between England and the West Indies, but it does concern me that ticket sales at the ground have once again been disappointing.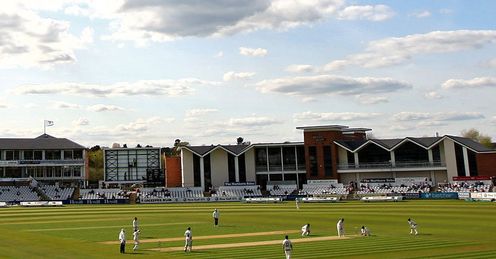 Durham Chief Executive David Harkness admits that fewer tickets have been sold than was hoped for and although Lord's was far from packed out for the first Test, I do feel this shows that the ECB is directing its finances in the wrong direction.
We already have six very good, established Test match grounds located in highly-populated areas and I believe we should concentrate on turning those into the super stadia they should be rather than develop newer grounds that we'll struggle to fill.
I believe that going to Cardiff later this summer is a complete nonsense, as is going to the Rose Bowl in 2011.
Bob Willis
Quotes of the week
LIVE ON SKY SPORTS
England v West Indies10.30am. Thu, Sky Sports 1 & HD1
We are constantly told that the North-East is sports mad but the sad truth is that Test matches haven't sold out at Chester-le-Street.
While trying to market a Test match in May is no doubt a tough job, I believe we should take the game to where the centres of population are. For that reason I believe that going to Cardiff later this summer is a complete nonsense, as is going to the Rose Bowl in 2011.
Stress
Turning to the Test itself, I must admit that I was surprised to see Ryan Sidebottom included in England's squad so soon after undergoing surgery on his Achilles tendon.
Geoff Miller says the Nottinghamshire seamer is bowing pain-free but I have my doubts as to whether Sidebottom will ever be fit enough to play a series of Test matches again.
I sincerely hope I am wrong but I just got the impression last winter that his body was telling him he'd been through quite a lot and that the stress of bowling was taking its toll.
It's not as though this is Ryan's first injury; he's had trouble with his side and hamstrings in the past and as with all maturing bowlers who have got a lot of miles on the clock, the strain increasingly takes its toll.
By including him in the squad the selectors have given themselves the option of playing four frontline seamers but I think the chances of Sidebottom displacing Tim Bresnan from the side are extremely unlikely.
After all, the Yorkshire all-rounder bowled only seven overs at Lord's - hardly enough for a decision to be made on his future - and he fully deserves another chance.
I would have simply added another batsman to the XI that won at Lord's and, as has been done, left Monty Panesar out as there is no way you can justify playing two spinners at the Riverside.
The selectors clearly feel that the next best batsman available to them is Ian Bell; they told him to go away and get runs after a poor return in the West Indies and he has done that, against Somerset at least.
Owais Shah has fallen by the wayside and Michael Vaughan wasn't scoring heavily before he hurt his knee, so if England are going to play the extra batsman then Bell is the man - at least until Andrew Flintoff returns.
What the selectors are effectively saying is that Stuart Broad is not a Test match number seven - and you'd have to agree with that against a side like Australia.
England may well get away with it at Chester-le-Street against a dejected-looking West Indies side but I don't think England can afford for Broad to go in that high when they are five-down in the Ashes series.
Light
Before then, I'll be watching with interest to see if the International Cricket Council's cricket committee is able shed any light on the feasibility of day-night Tests as they meet this week.
I'm happy enough for the concept to go ahead if it's what the public wants and it helps keep Test cricket at the pinnacle of the game.
However, Test cricket will become a different game because of the diverse conditions the players will be asked to compete in.
In many countries I'd expect heavy dew to affect the condition of the ball and I'm sure that would be to the disadvantage of the fielding side.
On the bright side, playing under lights would transform play at grounds where bad light is a major problem such as Faisalabad - so there is plenty to discuss.
Comments (7)
Phil Hook says...
Bob - I have to disagre with some of your vies here. The reason The Riverside hasn't sold out is due to a combination of the teams playing here (Zimbabwe, Bangladesh and West Indies) which aren't strong Test Nations and the fact the Tests staged here have all been early in the season and overlap with the football season. Most venues would struggle to sell under these circumstances. Give us better sides and a more favourable time of the season and we will sell out. With Headingley and Old Trafford undergoing major redevelopment work over the coming years, The Riverside is the only option for people in the north of England to see regular Test cricket.
Posted 22:41 14th May 2009
Oliver Chettle says...
The centre of gravity of England's population has moved south over recent decades. Over half the population lives in the south, but four of the six traditional grounds are in the Midlands and the North. The South Hampshire urban area and the Cardiff region both have bigger populations than Nottingham. Cardiff is the most accessible test venue for several million people in the south west, as well as those in Wales. Southampton caters for the several million who live south and west of London, many of whom will consider it more convenient to drive to Southampton than to slog through London to Lord's or the Oval.
Posted 22:37 13th May 2009
Alex Winter says...
I think we should seriously look at building 6 brilliant cricket venues - when you watch Australia play in Australia you see big, large grounds packed to the rafters full on enthusiasm. On thursday at the Riverside, we'll see a not so large ground with quite a few empty seats; not only does it impact financially but think about the lift a team can get from playing in front of lots of their fans. So the ECB needs to think about modernising the stadiums, making them bigger - the Australian stadiums have that football stadium feel, something that maybe we should try.
Posted 08:34 13th May 2009
Stephen Watson says...
i have been to the riverside and enjoyed the cricket whatever the opposition, but i have found the sharp increase in ticket prices a turn off. i am not prepared to pay the high prices asked. in the ground food and drink is not cheap either. thats my reason for staying away
Posted 22:54 12th May 2009
Gary Dennis says...
has cardiff sold out ? the answer is yes and the tickets sold quicker that any other ground,bob willis clearly doesn`t want wales to be part of the england and wales test and county cricket board
Posted 21:57 12th May 2009
David Neale says...
Bob, you make some valid points in your summary, but I think Paul Wood has hit the nail on the head. As I can't get a ticket for Headingly and there isn't an old trafford test, I would definately go to Durham to see the Aussies, but I wouldn't travel from Sheffield to Durham to watch the windies. The ECB should target the same fans that pack St Jame's Park, The Riverside and Stadium of light. Cost can be an issue but the 3 football clubs are hardly cheap, and in any case I feel test match cricket is better value. After all you are watching your country's best 11 for a full day, rather than some diving, moaning premadonna for 90 minutes. That said,most Summers we play 7 tests, why should Lord's always have two?, particularly given our poor record against the better teams there. The Riverside in May could be our home banker to kickstart any series with a win in the first test(again something we haven't been too good at in recent years) As for day night/ floodlights, I would only be in favour of using the lights to avoid the dreaded bad light stopped play. Test matches should not be unfairly balanced between whether you bat in daylight or not.
Posted 21:42 12th May 2009
Paul Wood says...
If Chester-le-Street was given a test against decent opposition rather than West Indies, Zimbabwe or Bangladesh it would sell tickets no problem. Also the tickets could be made more affordable. I have attended all the international matches at Durham in recent years but simply can't afford it this time round.
Posted 15:24 12th May 2009