I can't help feeling that Hampshire's decision to join Rajasthan Royals in a global franchise is an example of Twenty20 overkill.
I have no problem with the Twenty20 format itself, but trying to shoe-horn even more into the English and International timetable appears counter-productive to me.
What with the IPL, the Champions League, International Twenty20s, the Twenty20 World Championship and the domestic competitions I would have thought there is ample sufficiency of Twenty20 cricket now!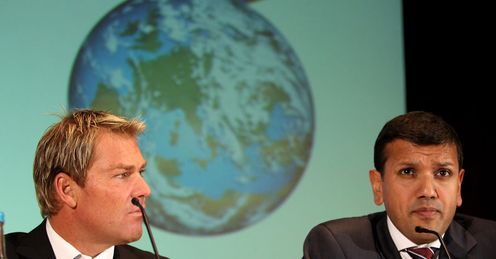 There is a danger of all of these different tournaments just melting away with no-one remembering anything about them.
Fostering
My biggest problem with this matter, though, is that the IPL is a private operation; it isn't underpinning the world game nor is money going to grass-roots English cricket from the Rajasthan Royals, as far as I can tell.
The IPL is a purely financial exercise to make the shareholders money and I have a problem with that when they are cutting across a system which is trying to provide cricketers for the national side.
Bob Willis
Quotes of the week
The IPL is not the ICC, the ECB, Cricket Australia or an officially-run board that is fostering cricket in that particular country.
It is a purely financial exercise to make the shareholders money and I have a problem with that when they are cutting across a system which is trying to provide cricketers for the national side.
Shane Warne, it appears, favours phasing out the 50-over game to free up more room for Twenty20 cricket. The question is - is that what fans want? Let me know your thoughts below.
Unfortunately, I don't think the counties who run our county game actually know what the fans want.
Clearly they have decided that supporters don't want to sit and watch 50-over cricket and that they would probably like to see the 40-over game that is going to be played in England this summer becoming the new one-day international format. But I don't think that is a universal view.
The likes of India and Australia very much like the 50-over format, which also offers the TV men more advertising slots.
Effective
What is clear is that we seem determined to play floodlit cricket in this country and, coincidentally, Hampshire along with Nottinghamshire have probably got the best lights in England.
But I'm still sceptical about how effective this will be because when it's dark in this country in this country in the summer it's seldom warm.
You've got a period between mid-May and August where it's light until nine or 10 o'clock at night. So the idea seems to be to flood the market with 20 and 40 over cricket played under lights when people are available to watch it.
I thought the original idea for Twenty20 cricket in England was to play at tea-time so that kids could go after school even during term-time. You are not going to get many five to 10-year-olds staying up on a regular basis until 10.30pm at night watching cricket under floodlights.
Less
The success of the venture all depends on the demand for the product and if Hampshire's association with Royals2020 does create a financial imbalance in the county game, as appears likely, that's simply the way of the economic world.
We see in football, rugby - pretty much every sport - that money talks.
I will be interested to see how the global branding of Royals 2020 works; it is potentially something of a minefield and we'd certainly want to avoid a complicated situation similar to the difficulties the West Indies have found themselves in over sponsorship and television rights.
But I can't get away from the fact that coaches and players alike say they want to play less cricket and rest more, while all that comes out are bigger programmes from the ECB with more cricket than the previous year.
Throw in other satellites appearing from around the world and you've got a very congested marketplace.
Comments (6)
Ian Sands says...
in the first two seasons I ran school trips to 20/20 at the rose bowl. (as I was running schools cricket across the school) From the third season onwards, the start times moved later and I did not feel that it was right to return the children to school at midnight in the middle of portsmouth, so we never went again!
Posted 05:55 27th July 2010
Wayne Hammond says...
I am a big fan of 20:20, but i have to agree with Bob you can play to much of one format. I am a huge fan of all formats of cricket and i think there should be an even spread of the number of games played in each format, that way you appreicate every game and format. It is like the old saying "you can have to much of a good thing" and that is very true. My favourite format is test cricket but i enjoy watching 40, 50 over games and of course 20:20, so i say keep the amount of games played in each format the same
Posted 21:01 15th February 2010
Haaris Ahmed says...
I'm 14 years old and I love 20:20 as much as the next guy, but I think it is definitely overplayed. I'm also a big fan of 50 over matches, but I think we play too much of that as well, international wise. They should leave the fans wanting more, not overfeed them.
Posted 20:34 13th February 2010
David Neale says...
Bob have to agree with you 100% and the brief comment from Peter Dixon is spot on also. I've loved test match cricket since I was 10 and some 30 years later can recount countless fantastic Test matches that England have been involved in. I have marvelled at the likes of Lara, Ponting, Yousef, Imran,Tendulkar, Akram,Warne,Botham, Flintoff, Thorpe......the list goes on and on. I could recite umpteen test matches that posssed everything, but on the one day front I'm struggling to remember truely awesome performances. 3 innings of brilliance stick in my mind in 30 years, 1/ Viv Richards - spanking you, Beefy and the rest at Old Trafford, 2/ Robin Smith 150+ Not out against the Aussies in 1993 (why does no-one ever remember Smith spanking, Hughes, Mcdermott and Waugh (Mark and Steve) to all parts of Edgebaston) 3/Neil Fairbrother with a Century against a strong Windies attack at Lords. That's it, I'm struggling to remember any worthwhile or memorable one day heroics. I don't think I'm blind, naive or have a selective memory (unlike some cricket pundits), but Test cricket is the ultimate for me. Great Fast bowlers who can work over a batsmen (no one bouncer per over etc) , spinners giving it air (rather than bowling it flat for one day cricket) and batsmen batting for loner than 50 overs. I'llconcede 20/20 has added the odd piece to the reportoire - the slow ball bouncer and the reverse slog sweep are entertaining, but test cricket is theatre, 20/20 is a cross between Mcdonalds and baseball.
Posted 20:20 13th February 2010
Ali Akram says...
i'm a 19 year old, and i think that 50 over cricket is fascinating to watch. its brilliant to watch and atleast that way you don't feel robbed when you watch an international fixture and feel you have value for money- as both 50 over and twenty20 internationals cost 50 quid!!
Posted 22:47 12th February 2010
Peter Dixon says...
Us older members feel that we have gone as far as we want to with 20 /20 cricket. Most of my fellow members at the Oval dont even bother turning up for 20 /20 games. They feel its not worth the trouble going for such a short game.
Posted 13:46 11th February 2010