To borrow a captain's cliché, England can take plenty of positives from the recent Twenty20 series against Pakistan into their tour of Bangladesh.
Once again Eoin Morgan demonstrated his one-day prowess and it was good to see the ball hitting the middle of Kevin Pietersen's bat.
Thanks to those two players we even witnessed a limited-overs century stand. There certainly should be plenty more of those to come over the next few weeks.
Potential
Craig Kieswetter, who is no stranger to regular viewers of the domestic game on Sky Sports, is clearly a very special talent and calling him into the full one-day squad was definitely the right move.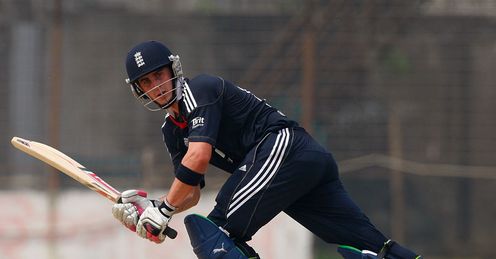 I think this lad has the potential to get into the England side as a batsman alone if Matt Prior excels and succeeds in keeping the gloves.
At the very least, his runs will make the rest of the guys who thought their place in the 50-over set-up was rather cosy sit up and take notice.
The 22-year-old has learnt his trade at Somerset and what an education it has been, batting at the other end to the likes of Marcus Trescothick and Justin Langer.
Kieswetter has the potential to get into the England side as a batsman alone if Matt Prior excels and keeps the gloves.
Bob Willis
Quotes of the week
On the one hand you've got a batsman who consistently looks to hit boundaries and generally succeeds and another who picks out the gaps in the field and makes ones into twos and twos into threes.
Playing alongside players of that calibre on a shirt-front at Taunton, with its short, straight boundaries has given Kieswetter enormous confidence to go out and play and that's exactly what he's doing.
Settled
Kieswetter might just be the man to shake up the Twenty20 side too because, to date, England have failed to find a regular opening Twenty20 partnership capable of performing consistently.
Getting the side off to a lightning start in Twenty20 cricket is a high-risk position but Jonathan Trott and Joe Denly don't look like the answer to a maiden's prayer at present.
While I understand that Andy Flower will not to chop and change too much at the top of the order, there is still plenty of room for improvement.
Yes, England's line-up is very settled but in terms of the world stage it is not really performing adequately against the top sides.
Resources
While watching the Twenty20 matches against Pakistan I was struck by the definite and remarkable improvement in England's standard of fielding.
I'm sure the squad will put that down to all the work they have been doing on their fitness levels and it was noticeable that on their first full day in Bangladesh they were gym training rather than cricket training.
They rightly see their work in the field as a vital area that had to be improved if they are to bolster their record in 50-over cricket.
However, I still feel that over the next 12 months England are going to find out - in all three forms of the game - that a lack of pace in their bowling attack is going to be a big minus for them.
When England got their line right in the opening T20 match against Pakistan, the batsmen clearly didn't like the short-pitched delivery at all, but there simply weren't the resources to keep up the battery.
Role-model
Talking of pace, it seems as though Brett Lee is likely to announce his retirement from Test cricket.
If that is the case I wish him well because he has been a tremendous entertainer over the years, primarily with the ball, of course, but also with the bat.
When Brett burst onto the Test scene in 1999 for the first of his 76 caps he appeared to just run up and let the ball go as fast he could.
But over the years he has matured into a very skilful bowler - one who made people sit up in their seats when he came on - thanks in part to one-day cricket.
These days a bowler has to have so many strings to his bow: reverse swing, lateral swing and slower balls are all part of the armoury and Brett's control improved as a result.
He wasn't a perfect Test match bowler because at times he went for quite a few runs.
Australia could accommodate that in a side featuring Shane Warne and Glenn McGrath, but when those two greats retired Brett's economy rate became more of an issue.
Nevertheless, I'm sure he would have loved to have spent longer as Australia's senior bowler than injury permitted.
In terms of energy, commitment and enjoying the game - there was rarely a smile off his face - he was very much a role-model.
He was also chivalrous on the field, as proven by the manner in which he accepted defeat at Edgbaston in 2005 when despite falling just short in an epic Test he had the good grace to shake Andrew Flintoff's hand.
Comments (8)
Dean Henderson says...
I find it incredulous that "England" cricket continues to bring in South African born cricketers into the national team without a hint of emabarresment or even comment in most cases. Would you put the level of cricket talent in England on a par with say, Canada or Holland? That is what is seems to be, as they often have to import foreign born players in an attempt to compete. None of the strongest cricketing nations (Australia, South Africa, India, Pakistan, New Zealand) would dream of having 5 players from another country, let alonge 5 from the same country, play in their national team. What a joke!
Posted 11:16 2nd March 2010
Clive Brickell says...
Is Barry Cashin having a laugh calling Matt Prior mediocre and inconsistent? I would suggest that along with Colly he is one of Eng most improved players, today was a good example, an excellent catch down leg, and finished with a calm 30, come on Barry credit where credit due, now off with those Somerset tinted glasses, yes ck looks good but he hasn't faced the great Brett Lee, good luck BL you came across as a pretty good guy (even for an aussie)
Posted 19:35 28th February 2010
Robet Bailey says...
hi having been a cricket fan al my life ive watched brett lee and although yes he was exspensive and sprayed it a baout a touch what always impressed me and wished our england players had was he commitment to his team it ment so so much to him yet he very rarely played the game in anything other than the best spirit more players around the world could learn from him, as to kieswetter/KP rivialery it can but make maybe the both improve but less we forget that when trott 1st appeared on the internation scene everyone said the same but as of yet he hasn't really been consistant enough and this i think is a problem with in england we're not consistant what the reasons are i dont know maybe someone cleaver than i can say but thats our problem if we were more consistant then we really could be pushing for that top spot
Posted 09:14 28th February 2010
Lee Johnson says...
Brett Lee was a great ambassador for his country in terms of how he played the game and his sportsmanship, wish him all the best in his limited overs career
Posted 17:47 27th February 2010
Barry Cashin says...
I'm sorry to see Brett retire but this is only temporary. he was, after all, an Englishman's sporting enemy! I believe that he is one of the great white fast bowlers of all time but my rosette goes to Allan Donald for sheer aggression and pace. Talking of Craig Keiswetter, I think England should put him in all three formats of the game as I believe he is the natural replacement for mediocre and inconsistent Matt Prior. I forecast CK's rise to fame a year ago and have no doubt he will become an England legend soon, maybe even knocking KP (whose position now should be under threat) off his perch!
Posted 14:41 27th February 2010
Ellie Scott says...
Hi Bob, Brett Lee has been my favourite Aussie cricketer for some time - he just comes across as such a great guy surrounded by a team of miserable blokes! And he has been a breathtaking sight when on song - a great action, super speedy and very skillful. As for Keiswetter - people are talking about him as if he is a problem for the England team! I think he has bulldozed his way into the reckoning, and on merit deserves his chance in Bangladesh. Joe Denly has sadly not made the most of his chances, and Matt Prior has simply not made an impact in the ODI team. Those are 2 possible ways in to the team for him.
Posted 18:29 24th February 2010
Harun Yahya says...
Its sad to see Brett leaving when he eventually does. He seemed to be cursed with having minor injuries, which never really let him get a consistent run in the team. Weather that was because of the pressures of fast bowling, i dont know. You could argue others have been better. Shoaib Akhtar was no role model, yet he had a more distinguished Test career & i think his record faired better to Brett Lees. However injuries caught up with him & his bad habits caught up even faster. As for Lee, he never got a long enough of run in the team. I also think Australia brought him into the seniour setup 5 years late. I know the sub continent teams bleed young talent in very quickly, sometimes at a very young age. But Brett Lee didnt start till 24 or 25. Nevertheless in his pomp, he was a powerful bowler, he carried a fear factor about him & his appearances with the bat were more than impressive. All the best Mr Lee
Posted 11:27 24th February 2010
David Neale says...
Bob , its always sad when a truly great fast bowler is forced to retire prematurely. Brett has been so cursed by injury over the last few years that you you have to feel sorry for world cricket as a whole because there is now very little fast bowling talent around. I always looked at Brett as an Aussie Devon Malcolm, at times he was unplayable and if he got a wicket, he became possessed and would invariably take 2 or 3 very quickly. He hasn't been at his best in English conditions but always had the knack of breaking a partnership for the likes of Warne and McGrath to step in. He was also a role model to younger cricketers on how to play the game fair but hard. Its been a sad 12 months for test Fast bowlers with the loss of Brett Lee and Freddie.
Posted 21:34 23rd February 2010