Steve Davies can book his place on this winter's plane to Australia with another positive, fluent innings when England take on Pakistan in the third one-day international on Friday.w
The 24-year-old was a revelation in the first match of the NatWest Series as he stroked 87 and would appear to be in the ascendancy while Craig Kieswetter's stock drops.
Somerset's Kieswetter may be compensated by a County Championship or CB40 title this week but his chances of becoming a permanent fixture in England's 50-over side look on the wane due to an average of 26.66 from 12 innings.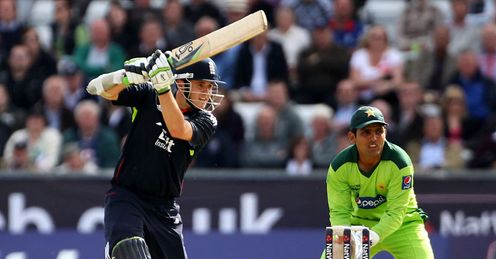 While he was a central pillar in England's World Twenty20 success, I don't think England are in the business of taking specialists in the shortest format of the game all the way to Australia.
So if Davies can finish the NatWest Series in rousing fashion he could get the gig for all the one-day cricket Down Under - plus be England's reserve wicketkeeper for the Ashes.
The plans to implement a World Test Championship are absolute rubbish as they stand. My main gripe is about the length of time involved because most teams will evolve significantly over the four-year period.
Bob Willis
Quotes of the week
LIVE ON SKY SPORTS
England v Pakistan
Third one-day international
12.30pm, Fri, Sky Sports HD1
Watch online with
Sky Player
How to
remote record
I know in the past that the selectors have had some reservations about Davies' ability behind the stumps but he's worked pretty hard on that in his first season at Surrey - even if the ball doesn't get past the bat very often at the Oval!
I'd put him ahead of Kieswetter when it comes to glove-work and as the selectors are so keen for continuity it makes sense for the one-day keeper to act as Test back-up to England's current No 1, Matt Prior.
Finding a wicketkeeper-batsman is of the utmost importance these days in international cricket and Prior, who has three Test tons to his name, is certainly capable of batting at six although England remain reluctant to give him that responsibility.
Savvy
Davies isn't short of flair in the middle either but he does need to be savvy with his shot selection and placement in one-day cricket, both of which should come with time.
Like many of the younger players we see on the county circuit, he needs to temper his aggressive attitude slightly; no batsman can hit every ball for four, even in a power-play.
Licence to attack can only extend so far if you want an opener to get your team off to a flying start and then build that start into a match-winning innings; it comes down to a matter of balance.
Time in the middle is a precious commodity, as Ravi Bopara well knows. I've no doubt the 25-year-old will be in England's one-day squad for Australia but he could do with a big finish to the season to help him feel more at ease in the side.
Bopara's a very, very capable cricketer - the problem he has is getting the chance to bat in a successful one-day side; his opportunities are limited.
After a torrid time in the Test match arena, it's important that he secures his place in the one-day side rather than fall by the wayside much as Owais Shah did.
Ruthless
For their part, Pakistan will be buoyed by their display at Headingley on Sunday even if they couldn't quite pull off the win they so badly wanted.
The tourists certainly didn't play like a team that has given up the ghost in Leeds - far from it - and, of course, some of them have happy memories of the Brit Oval having won the Test match there.
Groundsman Bill Gordon usually provides a magnificent pitch that produces a high-scoring match so their batsmen, at least, should be looking forward to the game with some relish.
Perhaps the most encouraging aspect of Sunday's game for Pakistan was that each of the top four got a start and built on it, even if the century box remained un-ticked.
As exciting as it is to see young talent scoring runs, I was pleased that Mohammad Yousuf made another solid contribution; now, as Andrew Strauss did, he has to go on and get a big hundred for his team.
England weren't right on the button in the field at Headingley and they'll need to rediscover the standards that helped them win the World Twenty20 earlier this year to give them the best chance of limiting Pakistan to a reasonable score if their talented line-up does fire.
Putting your foot on the opposition's throat has not been top of England's agenda in the past but under Andy Flower the team looks more ruthless and I fully expect them to come back from their little break and polish of Pakistan to put the series beyond reach.
Rubbish
Earlier this week the ICC's chief executive committee outlined a proposal to instigate a four-year World Test Championship that culminates in a four-team play-off series; in my view, the plans as they stand are absolute rubbish.
My main gripe is about the length of time involved because most teams will evolve significantly over the four-year period. Why can't we have a league that spans two years instead?
I don't see why we need a play-off system either. It could work well in one-day cricket, but not Test cricket. The team that tops the league at the end of two years should be crowned champions. End of story.
I'd have thought that the poor turnout for this summer's Tests between Pakistan and Australia in England would have convinced the ICC that staging a play-off final in every four years in a neutral country would not be a good idea, but it appears not.
Going forward, I'd like to see a system consisting of two divisions of five teams introduced with one team relegated and one promoted each time. Who knows, that format might even work on an annual basis if it was top priority in the schedules.
As ever, let me know your thoughts...
Comments (6)
Evan Townsend says...
Good read as usual Bob. I have to agree with you in regards to Davies he looks like a very good prospect and has definitely edged out Craig Keiswetter for the slot i the 50 over form of the game, though I think Keiswetter should remain as our opener in the t20 Internationals. In response to George Staples I do sort of agree with what you''re saying in regards to Rashid in particular but he''s not going to get in over the World''s best spinner at the moment (Swann) so I see little to no purpose in including him in the squad when he could be getting time in the middle with his county. As for you point in Pietersen I have to disagree, look he''s definitely out of form but he is our best and most talented player by quite some distance and I really think there is no way you can not play him against Australia. I think our lineup for the first test should be: Strauss, Cook, Trott, Pietersen, Collingwood, Bell, Prior, Swann, Broad, Anderson, Finn Perhaps drop Collingwood, Trott or Bell in favour of Bresnan for an extra bowling option.
Posted 21:18 18th September 2010
Philip Beacock says...
Davies is a good cricketer but why look any further than our test keeper matt prior? He is one of the most improved players in the england squad and should be the one day keeper as well as test keeper.
Posted 12:51 17th September 2010
Greg Kneuss says...
I think Steve Davies has done more than enough to state his place in the Ashes brilliant performance in the opening one dayer and I think if England can produce players of this sort of quality they should be played! More often than not Steve''s producing 50 plus innings so why not?!
Posted 12:47 17th September 2010
George Staples says...
IU agree with Bob re selection of Davies. The glaring weakness in Flower and Miller''s selection policy is that those in the variious squads are there for good. The Ashes squad will only include favoured players i.e. Pieterson who it seems has a guaranteed place regardless of form. Others doing well on the county circuit have little chance of selection. Take the humiliation of Rashid, he has bounced back, but to no avail. Shahzad deserves a place, but isn''t being selected in the build up games and there are others. Why oh why are we expected to support these decisions? Players on form should be given a chance. Over to you Messrs Miller, Strauss and especially Flower. George Staples
Posted 10:38 17th September 2010
Kelly Sherwood says...
Good Comments as always, With the retirement of Andrew Flintoff, do you think England really need this poison Chalice of a "New Botham/Flintoff as I feel in Swann and Broad we have the new breed of all rounder, as Englands Batting line up goes all the way down to 8/9 at the moment. The Test league idea you have is better but the Countries in Div 2 wont like the fact they donr get the tours from England ,India and Australia as I wpuld think they make the most revenues from those teams touring their Country Cheers for now Kelly
Posted 09:27 17th September 2010
Hassan Kiani says...
A very balance and fair article but don''t you think if the allegations against the Pakistani players prove wrong then the NOTW should be sued by the ICC as it will mean that they had deprived us from a more thrilling competition in the ODI''s as Pakistan without their 3 of starting XI''s are really giving England some serios business.
Posted 11:05 16th September 2010