What a terrific opening day for England!
After losing the toss, Andrew Strauss would have bitten your hand off if you'd offered him Australia 245 all out on a belting pitch - a total that looks at least 150 runs, if not 200, light.
England's batsmen now have to deliver a massive first-innings score of 500-plus to exert as much pressure as possible on Australia and capitalise on a great first-day position in Adelaide.
Dramatic
The opening scenes of Act two in this Ashes series could scarcely have been more dramatic.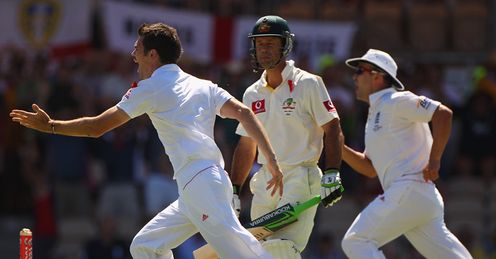 The first run out in the innings - executed by Jonathan Trott's dead-eye throw in the first over of the day - underlined the pressure that this indecisive Australia side is under as well as England's ruthlessness in the field.
Andy Flower has prepared his side meticulously for all aspects of this job including the ground fielding, which was exceptional throughout, and the slip catching; Graeme Swann was switched on from the off and made pouching Ricky Ponting and Michael Clarke look incredibly simple.
This is an England side that is working exceptionally well as a team and that has a potent, cohesive bowling unit led superbly by Anderson.
Bob Willis
Quotes of the week
SECOND ASHES TEST
Australia v England
11.30pm, Fri, Sky Sports HD1
Follow the Ashes
wherever you are
- on Sky Sports HD1, Sky Player, Sky Mobile and skysports.com
James Anderson is probably the best outfielder in the world at present but his team-mates aren't too far behind as the second run out, achieved by some quick-thinking between Strauss and Alastair Cook, showed.
Cohesive
This is an England side that is working exceptionally well as a team and that has a potent, cohesive bowling unit led superbly by Anderson.
Once again Stuart Broad provided excellent back-up and can count himself unlucky not to have got a few more wickets while Steven Finn, who let's remember is still learning the ropes, managed to find a little bit of reverse swing when he was bowling in tandem later on in the innings with Graeme Swann.
Overall, the ball has done nothing to speak of off the pitch but there has been a fraction of swing for Finn and, in particular, for Anderson with the two new balls.
England will now be hoping that the hot weather continues so that they can inflict two days of hard slog on Australia before taking advantage of a pitch that looks likely to turn later on in the Test.
Pressure
When Australia do bat again Clarke and Marcus North will be under intense pressure, otherwise both will find themselves going the way of Mitchell Johnson sooner rather than later.
Australia had little option but to leave Johnson out - he has proved an embarrassment in his last four Tests, first in India and then last week in Brisbane - but Ben Hilfenhaus can consider himself a little bit hard done by after toiling away pretty manfully at the Gabba.
The selectors, however, clearly wanted to freshen up the bowling attack although I'm not yet convinced that Doug Bollinger is the man to put the squeeze on England.
Ryan Harris on the other hand does give Australia a little bit extra with his additional pace. He is a hustler and a bustler and, providing he stays fit, he could be more of a handful.
However I wouldn't want to be hustling and bustling with the ball if it's 37 degrees on day two, which is why England, with runs on the board, hold the distinct advantage.
Comments (4)
Jonny Comber says...
I love it when we give it to the Aussies they don't like it up em!
Posted 00:08 4th December 2010
Keith Robertson says...
Ponting and Haddin were asking Strauss if Encould declare when they lost their second wicket because they didnt want to be more than 500 behind on 1st innings
Posted 23:33 3rd December 2010
Jonathan Payne says...
What do you think was said by Ponting to Strauss as they came off? Was he asking Strauss if he'd like the heavy roller?
Posted 15:26 3rd December 2010
Steve Pullin says...
Yes, certainly England were on the money today and looked hungry even when they didn't look like taking a wicket. Exceptional close in grounding fielding put added pressure on the Ozzies on a pitch offering almost nothing to the bowlers. The test match is there for the taking if England bat to form.
Posted 14:13 3rd December 2010