It's been another great day for England - and Kevin Pietersen in particular.
I don't think there was ever any doubt he would get back to form, it just took a little longer than we might have expected.
He has been saying for some time that his break back in South Africa, where he spent time with his old coach and friend Graham Ford made a big difference to him and even in the warm-up matches in Australia, you could see he was right.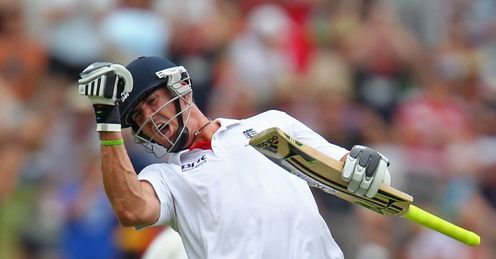 I do think the disappointment of the captaincy and the whole Peter Moores thing affected him more than we might have realised and it certainly took him a long time to come to terms with.
On a flat pitch like Adelaide when Pietersen is on form, he just cannot be bowled at.
This Australia attack is powder-puff as it is but on that surface, when he's in that form, all you can is hope that he makes a mistake and gets himself out.
On a flat pitch like Adelaide when Pietersen is on song, he just cannot be bowled at. This Australia attack is powder-puff as it is but on that surface, when he's in that form, all you can is hope that he makes a mistake and gets himself out.
Bob Willis
Quotes of the week
SECOND ASHES TEST
Australia v England
11.30pm, Sun, Sky Sports HD1
Follow the Ashes
wherever you are
- on Sky Sports HD1, Sky Player, Sky Mobile and skysports.com
His self-confidence - which borders on arrogance - means that is always possible, when Pietersen is focussed like that, there is not much you can do.
It was interesting to hear him saying the pitch was doing plenty, because it was something Michael Hussey had said, but I've got to be honest and say I haven't really seen anything in it all.
Maybe he was just trying to lift Australian sports after the first day, but the pitches for these first two Tests are among the flattest I've ever seen.
It will make it tough for England to bowl Australia out, particularly with bad weather about. But England are right on top and they need to turn the screw. Now we will see just how effective this bowling unit is.
I do think they are going to need five bowlers in this series if they don't want the frontline four to be on their knees by the time the New Year comes and I would've taken the step of bringing in Monty Panesar for Paul Collingwood here.
They might not need him to win this now, but with rain expected on day five, they might not have as much time as they would like.
Kidology
For now though, the England batsmen deserve all the credit. Their physical fitness is clearly supreme. It's tough for the bowlers but when it's 37 degerees, but it takes a lot for a batsman to concentrate in that heat as well.
Alistair Cook has showed he can do it, Pietersen was as dominant as only he can be and Jonathan Trott clearly loves batting in Australia. All we really need now is Paul Collingwood and Andrew Strauss to get scores and for Ian Bell to get more time in the middle.
He is clearly in the form of his life but I can't help thinking he is wasted down at six - although there's not much you can do when people are scoring double centuries! Had the rain not come I think he would've batted out the day and then England would have declared there and then.
Now though, you can expect the declaration just before the start of play tomorrow. There might be a bit of kidology from Andrew Strauss but I don't they are going to catch Shane Watson and Simon Katich by surprise; they will be preparing to bat from the off tomorrow.
Ricky Ponting knows what his side have to do and when he says we've been here before and dug ourselves out, what he was really saying was he knows he has very good batsmen in his side. They have all proved their quality over the years and if Michael Clarke and Marcus North can find some form, you cannot write them off.
It all depends on what happens with the new ball tomorrow morning. Australia are up against it as it is, but if they lose early wickets, their task will become impossible.
Comments (10)
Jim Reid says...
The Aussies were supposed to still be most afraid of KP of our players, before the series began - despite the talk of him also being possibly out of form. Now we see why! If we win despite the rain interruptions, it's not just his score that has been central, it's the speed of his scoring; buying us extra time apart from anything else. High scoring + high strike rate = match-winning. As for the spin bowling, well...the amount it spun for Clarke's wicket was pretty massive...KP should develop the spin bowling (but when wd he have time when he is key to all three of England's teams...unlike Cookie who as Bob Willis said can concentrate just on Test batting...). Phew! C'mon England!
Posted 16:14 6th December 2010
Matthew Carley says...
Broad should bowl cutters, this pitch looks very similar to the pitch at the Oval. It's going to be tough to take wickets otherwise.
Posted 01:40 6th December 2010
Andre Bell says...
Needle them, harass them, poke them, focus on what wins and know that we are champions - stop being English! Who cares what people think! Do what wins; forget the rest.
Posted 01:07 6th December 2010
Andre Bell says...
Why are all the comments so lame?! They're straight out of a party political broadcast! The bottom line is we want to rip the Aussies apart in this series! And they want to do the same to us - rightly so! If you don't, and ya don't think they don't want to do the same to us, find a different profession other than competitive sport. Then have a beer together and compare notes after, but not before like some kinda nonsense do-gooders
Posted 00:51 6th December 2010
James Doan says...
I would like to see us smash it around for 30 mins in the morning then declare so the aussies are rushing around before they bat. Taking the the field for the 4th day of the test will demoralise them. I cant see us playing 2 spinners in the series. If we do play 5 bowlers it will be Tim in for paul. Another possible change could come if young Finn gets tired mentally or physically, although I am sure he would love to bowl at the WACA. I would like to see Tremlett given a go at some point in the series. He looks like a man mountain these days.
Posted 22:07 5th December 2010
W g Grace says...
for the 1st time since 1932 we really have australia rattled and I'm surprised ponting has not come out and said we are cheating in some way or another by now how australia long for warne and mcgrath just goes to show how they relied on them to they look a shadow of there former selfs with that said england have been absolutely fantastic just hope swann can show what a great bowler he is and bowl the aussies out i think the aussies groundsmen need to rethink the way the prepair there pitches now they have a substandard attack because on these flat pitches they have got no chance of getting 20 wickets
Posted 21:45 5th December 2010
Andrew Kenneally says...
Sounds spot on about Panesar for Collingwood, Bob, & would also have meant getting Bell in a little earlier, so it's not as if the batting would have been weakened.
Posted 14:23 5th December 2010
John But says...
Funny how when England play out of their skins itsAustrailia thats playing badly yet when England play badly Austrailia are told they are playing out of their skins. The England guys Cook and Pieterson have put a lot of work in last year this is no accident that they are playing so well. Well done to them and it shows the young that hard work pays.
Posted 13:03 5th December 2010
Matt H says...
I understand the concern regarding a four man or five man attack, but why on earth would you bring Monty in? Australian pitches don't favour picking two spinners, and we shouldn't try to convince ourselves otherwise. We did that last year - we convinced ourselves that Cardiff would turn loads and two spinners would bowl Australia out, but it wasn't and they didn't (in fact, they only took 1 wicket between them).
Posted 12:29 5th December 2010
David Mckeown says...
We can't be denied by rain , surely. Bob, tell me life can't be that cruel and sarcastic!! The broiling city in the ultra parched desert country where you never see rain when your watching cricket... Come on now fates, surely you don't like Ponting either...
Posted 11:09 5th December 2010