England in sensational form, Australia in complete disarray - the Adelaide Test has gone a long way to deciding the outcome of this Ashes series.
I thought England would have to work harder for their 100th Test win over Australia than they did but Ricky Ponting's side rolled over on the final day in the face of another superb, disciplined bowling performance.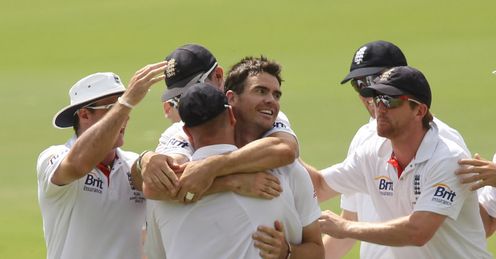 It's clear from the post-match interviews that reality has now hit this Aussie side.
They knew they were as good as doomed if rain didn't come to their rescue after the first innings and so it proved; they were outplayed in all departments by England and the end, when it came, was suitably swift.
Rash
England needed just 20 overs to wrap things up as Mike Hussey - normally so strong-willed - played a rash pull shot that was entirely out-of-character.
It's clear from the post-match interviews that reality has now hit this Aussie side.
Bob Willis
Quotes of the week
THIRD ASHES TEST
Australia v England
2am, Thu Dec 16, Sky Sports HD1
Follow the Ashes
wherever you are
- on Sky Sports HD1, Sky Player, Sky Mobile and skysports.com
It was the shot of a man who knew the end was nigh.
James Anderson then helped Graeme Swann to wrap things up and I couldn't be happier for him. The contrast in his fortunes between now and four years ago when his bowling got hammered could not be greater.
Many people feared that he could turn out to be a one-trick pony if the Kookaburra ball didn't swing but instead he's shown us how far he's matured as a bowler, bowling with great control and clever variation.
He leads this attack superbly well and is one of the key reasons why Andrew Strauss is able to get away with fielding a four-man attack.
Cloud
The only black cloud on England's day was the abdominal injury to Stuart Broad, who must be devastated that his tour has ended so prematurely - particularly when England look odds-on to make their own bit of history.
Like each of the England players his focus has been on this Ashes tour since the close of the 2009 series so this will be a gut-wrenching time for him.
A similar thing happened to me on the 1974-75 tour when I damaged my knees at Adelaide; I had to fly home and do rehab for two-and-half months but the problem reoccurred during the first game of the new season and I then had to have surgery.
That was doubly tough to take because the Australians were touring that summer; I'm sure that Broad, with the World Cup on the horizon, feels just as desperate at the moment as I was back then.
England are lucky in as much as they've got a choice of three replacements ready to go and I don't think the attack as a whole will be severely weakened by the absence of Broad, who didn't get his fair share of luck in the opening two Tests.
Chris Tremlett, Ajmal Shahzad and Tim Bresnan have each given a very good account of themselves so far and now each will get the chance to prove their deserve Broad's spot in the three-day game against Victoria.
While none of that trio have the same potential with the bat as Broad, Bresnan does have the edge in that area after performing well in Bangladesh; he hasn't let anyone down with the ball either and has proved that he can be a threat even on the flattest pitches.
Meanwhile some believe that Shahzad's skiddy action gives him the advantage on abrasive surfaces.
But if he was fit and firing the thought of Tremlett bowling in Perth should put more fear into the Aussies even if the pitch isn't as bouncy as quick as it has been in the past.
Debate
So what now for Australia?
The selectors will surely debate Marcus North's future long-and-hard after another sub-standard display on a flat pitch. His Test career is littered with too many scores under 25 at a time when Australia need a lot more from their batsmen.
Ironically, his ability to bowl some overs may save him because Xavier Doherty will surely be replaced - but by whom?
Steve Smith is an exciting young cricketer but he bowls a four ball an over when I've seen him; do the selectors really think that this is the right time to blood him?
If the wind blows at the WACA, Australia will need a bowler to run up into the wind - a role that has effectively been done by a spinner in recent years since the pace went out of the pitch.
All of that points to a U-turn over Nathan Hauritz. But if he wasn't good enough two Tests ago, how is he going to fare against an England side that is now rampant?
Comments (5)
Dan Young says...
play tremlett he will rough the aussies up with his pace and bounce and is no mug with that bat either swann will move upto were broad bats then tremlett after him think england will win comfortably at perth whoever australia pick!
Posted 11:55 8th December 2010
Kai Lexx says...
I've been reading the Aussie press. There's much talk of a young batsman called Usman Khawaja. He's tipped as a possibl future captain. Usman is Australia qualified but was born in Pakistan. I wonder if his inclusion in the Australian side will stop the constant 'South Africa' related comments being aimed at the England side? If he's as good as they say he is it'll not be long before he appears and then the boot will be firmly on the other foot. I know the English Press and Gentlemen Cricket fans will be above pointing this out.
Posted 10:53 8th December 2010
Richard Drinkwater says...
Clinical, efficient and very worrying for the Aussie team. They were relying on Adelaide being very much in their favour; yet we bowled beautifully to remove them cheaply in the first innings; and it went downhill from there for them. Even the rain gods were too late! I would pick Tremlett for Perth; his height, and ensuing bounce should discomfort Ponting & Clarke which we need to continue to do. On another note, i think it's shameful of the Aussie fans to desert their team by not turning up to the ground to cheer them on, even if it's in defeat. Mind you, it all helps England, and i reckon over the past few years, the Barmy Army have been integral in creating a great atmosphere for the England boys. today was like a home game in the ground! Brilliant for us but, hey, shame on you, so-called Aussie fans. If the Oz public reaction could predict/gauge the outcome of the series, it's a sure-fire 4-0 win for England! Bring it on! Drinky
Posted 20:40 7th December 2010
Jack Brown says...
Not sure about the comment that Tim Bresnan can't match Broad's batting ability. In 77 First Class matches, Broad has an average of 25.11 with 1 hundred and 12 fifties. In 97 First Class matches, Bresnan has an average of 27.52 with 3 hundreds and 14 fifties.
Posted 14:13 7th December 2010
Ann Hadfield says...
What a brilliant game, we now have a settled side who gel together. If there is one team I long to see beaten it is the Aussies who are so arrogant in all sport. I hope Merv Hughes will eat his words "Australia to win the Ashes 4-0!!!!"
Posted 09:08 7th December 2010