Purposeful and precise - England's grip on the Ashes is getting ever tighter.
It's hard to see how the first day in Perth could have gone much better for them.
Australia, desperate to get back into the series, gambled by requesting a green, grassy pitch and picking four seamers (five if you count Shane Watson) and that move backfired when they lost the toss.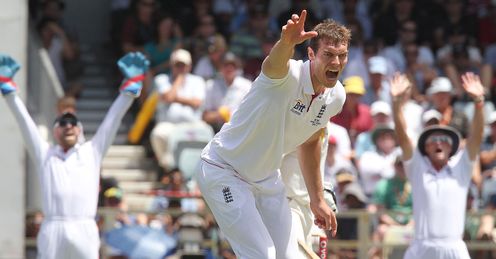 Once again the top order wilted under pressure and, but for some much-needed lower-order resistance, a total of 268 would have been well out of reach.
Despite those late runs things still don't look very encouraging for Ricky Ponting's side as they stand.
There was precious little encouragement for the Aussie bowlers in the last 45 minutes of the day and once the heavy roller does its work I can't see why England shouldn't look to get at least 450 on this pitch.
Superbly
As a unit England's bowlers were a little off colour in the morning session with the exception of Chris Tremlett, who performed superbly on his return to the side to set the tone.
Nick Knight said to me during the last Test that Jonathan Trott is one of the best slip fielders he has ever seen but he can't get a look in with Collingwood and Graeme Swann in such great form and that has to be a really healthy sign for England.
Bob Willis
Quotes of the week
THIRD ASHES TEST
Australia v England
2.30am, Fri, Sky Sports HD1
Follow the Ashes
wherever you are
- on Sky Sports HD1, Sky Player, Sky Mobile and skysports.com
He made the most of his height but more importantly struck the right length.
Pitching the ball up that little bit further at Perth takes a bit of doing as a quick bowler; many, myself included, have been guilty of bowling their natural length but that's simply too short.
As the bounce is so true any batsman worth his salt - as Mike Hussey and then Alastair Cook showed admirably - should be able to leave a straight ball that is short of a length as it will bounce over the top of the stumps.
Instead, Australia's batsmen got drawn into playing too many shots and poor ones at that; Ricky Ponting and Michael Clarke's efforts were particularly ill advised.
Credit
But all credit to Tremlett. He produced a tremendous three-card trick to account for Phillip Hughes, who showed that he remains susceptible to a probing fuller ball just after a shorter delivery.
Such instability at the top of the order is not only unsettling the team but it means that Ponting barely has time to collect his thoughts before making it out to the middle.
This time he was sent on his way by another spectacular Paul Collingwood slip catch.
Nick Knight said to me during the last Test that Jonathan Trott is one of the best slip fielders he has ever seen but he can't get a look in with Collingwood and Graeme Swann in such great form and that has to be a really healthy sign for England.
You have to give Richard Halsall, the fielding coach, a lot of credit for England's success in this area because he's clearly worked very hard on the guys.
Trouble
At 69-5 Australia were in deep trouble but the tail proved what type of pitch this is - one that offers precious little seam movement once the new ball softens.
It's extraordinary that Steve Smith should bat before Brad Haddin in the order; after all, there's nothing in his domestic or Test record that suggests he's a genuine Test number six whereas Haddin has scored runs in this series and complements Hussey's game well.
Either way it was a good effort from the guys down the order and Mitchell Johnson is clearly a very capable striker of the ball.
He now needs to do the job he was brought in for, namely take wickets, because Australia's attack is going to look very samey come mid-afternoon on day two unless the seamers lift their game.
To a man England's batsmen are in decent form and they can rightly feel confident about tightening the screw another couple of turns. It's all going worryingly well.
Comments (9)
Peter Gaskell says...
The headline that foxed you last night ¿Feeble and the damage done¿ is a play on the title of the Neil Young song ¿Needle and the damage done ¿ . Being a Dylan fan yourself, Bob, I thought you could have advised Charles about this! Looking forward to the verdict again tonight but I don¿t think we¿ll see such a headline after the Aussie fightback today.
Posted 08:44 17th December 2010
Abhijit Nair says...
Mr Wilis what happened to your Eng team 's 450 prediction?
Posted 07:27 17th December 2010
Richard Grooms says...
So the real England has finally shown up at Perth, no more luck with dropped catches by the Aussies and limited technique. As an England supporter you could see it was only a matter of time before the Aussies remembered who was the better team.
Posted 07:08 17th December 2010
Danny Redding says...
ENGLAND cand turn the screw but i feel strauss gave oz 2 much respect by takin out da slips against their tail or was that just me please comment
Posted 23:29 16th December 2010
Graham Barrick says...
"The Feeble and the Damage done" Australian Headline from day 1 thata had you experts baffled. You may wish to visit Neil Youngs classic album of 1972 "harvest", track 9 "I've seen the needle and the damage done A little bit of it in everyone But every junkies like the setting sun"
Posted 22:14 16th December 2010
Simon Carbery says...
" ...The Feeble And The Damage Done". Explanation: it's a rather, er, feeble reference to a Neil Younf Song: "The Needle And The Damage Done"
Posted 22:12 16th December 2010
Eddie Smith says...
Great work by England. They bowled brilliantly epically Tremlett but Hughes was rubbish and what the hell was Ponting thinking. You would back us to win at the Waca and take the Ashes home.
Posted 20:22 16th December 2010
Geoffrey Single says...
The Ashes is staying home. I carn't see how Australia can win two out of three test to win them back.If England's batsman apply themselves sensibly in their batting they have every chance of a victory here and you must have faith in them in this series,there surely the most proffesional well trained and significantly happy and together team in living memory god save the queen
Posted 19:26 16th December 2010
Jim La bouchardiere says...
Waking up in the morning is becomming such a pleasure; once again a great team performance from England with Tremlett proving the selectors right. Australia look in disaray the innings rescued from tatters by the H men and some solid blows from the tail. One tiny criticism; surely Swan should have been bowling earlier at the last pair which may have prevented them from adding late runs which put a bit of gloss on a poor batting display. That aside near perfect, with England openers looking sound a big lead 150 plus is distinctly possible. One caveat, England bat last and will not like to chase more than 200. I look forward to the next desperate gamble by the Aussie selectors.......what fun is that.
Posted 14:31 16th December 2010