Australia's cracking counter-attack means that this Perth Test is finely balanced going into day three.
After being outplayed in Adelaide, Australia had no option but to come out fighting and the much-criticised Mitchell Johnson did just that.
The left-armer finally found his radar and proved virtually unplayable at times as he followed up his first-day runs with 6-38.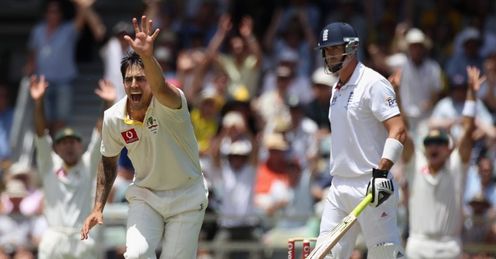 Not only did he bowl in the right area but he got the ball to swing late on a pitch that is noticeably quicker in pace than day one.
Jonathan Trott and Kevin Pietersen fell to particularly fine in-swinging deliveries and this time the tail had little answer to Johnson's aggression.
Perhaps Trott and Pietersen were guilty of getting too far across their stumps early in their innings and maybe England got too involved in the on-going chat on the field, but nothing should detract from Johnson's impressive return to form.
Australia will be only too well aware that it's almost two years ago to the day since South Africa racked up 414-4 in Perth to clinch a famous victory.
Bob Willis
Quotes of the week
THIRD ASHES TEST
Australia v England
2.30am, Sat, Sky Sports HD1
Follow the Ashes
wherever you are
- on Sky Sports HD1, Sky Player, Sky Mobile and skysports.com
It's surely no coincidence that the guys who play their cricket at the WACA, like Johnson and Mike Hussey, have looked the most comfortable playing in this game so far.
Transformation
It is sudden shifts of fortune such as Johnson's transformation that makes Test cricket the compelling game it is.
Paul Collingwood could do with a similar resurgence in form with the bat. So long as his poor trot continues, Ian Bell is clearly wasted at number six.
Apart from his stupendous catching and fielding Collingwood is bringing very little to the party at the moment. The tough decision would have been to drop him after Brisbane in order to play another bowler at Adelaide.
England are very reluctant to change - stubborn even - because Collingwood has been part of the inner sanctum of that side for a long while now.
But Bell, who remains in imperious form, simply isn't in the shop window at six. He's in the best form of the life and surely has that first Ashes hundred in him.
But when Matt Prior fails with the bat, he has little option but to chance his arm in order to garner as many runs as possible with the tail rather than play his natural game.
From the outside swapping Bell and Collingwood in the batting order would seem the simple change to make in the short-term but I'm not sure that the England management are comfortable with two stroke-players - Pietersen and Bell - going in next to one another.
Struggling
As Australia's second innings unfolded it became clear that England's seamers are still struggling to find the right length to bowl in this pitch.
Instead they've fallen into a familiar trap of banging the ball in too short, too often after seeing it carry through to Matt Prior above shoulder height.
This has played into the hands of Australia, who have gone in all guns blazing with the bat second time around; those batsmen out of form weren't going to die wondering.
With Shane Watson and Hussey still at the crease and looking to play positively against Graeme Swann, Australia - 200 runs ahead - now have a strong foothold in this Test.
But they'll also be only too well aware that it's almost two years ago to the day since South Africa racked up 414-4 in Perth to clinch a famous victory.
All is certainly not lost for England yet by any means.
Comments (8)
Subramani Aiyar says...
Mitchell Johnson's return to his late swinging ability and Ryan Harris being made a vital cog in the Australian bowling is what has given Australia this win. I also feel that the WACA wicket enabled these two bowlers to achieve more than the others.I do not think England will play as badly at either the MCG or the SCG. They need to send Ian Bell higher up, possibly before Collingwood. Bell is in the form of his life. I wish he would begin to convert these pretty cameos to the double hundereds that he is capable of. Also I wish they would add Panesar to the line up for Sydney. Australia seems to have regained their confidence. But I am not so sure.Take out Hussey and you know what they are capable of.
Posted 13:12 19th December 2010
Alan Raffety says...
You & your fellow pundit's comments regarding thr fragility of Collingwoods confidence was to say the least stupid. To promote a in-form batsman like Bell would be in THE TEAMS INTEREST which is all that matters. To have Bell batting and forming meaningful partnerships with higher order batsmen would be all important. Having now used Anderson as nightwatchman has now plunged Bell even further down the order he is now left with 1 wicketkeeper - lacking runs and 4 bowlers. Lets start doing what is right for the team and ignore the fragility of out of form hasbeens. Get him out of the team and Morgan or Bresnan in.
Posted 10:54 18th December 2010
Robert Frost says...
Not taking anything away from the Australian attack, but funny how England have failed on what is a good batting wicket and it corresponds to the WAGS arriving!! - loss of concentration, loss of team togetherness and minds elsewhere?
Posted 10:09 18th December 2010
Mac Green says...
Pietersen is not a team player, he has to much ego and just plays for himself.
Posted 09:37 18th December 2010
Jim Austin says...
Mike shaw you surely no nothing about cricketing matters... Johnson is a perfectly legal bowler. Yesterday showed what he is capable of and why so many in australia have been raving over him for a long time.. he just doesnt do it consistently enough.. The one thing that stuck for me was his aggression from his first ball the evening of the first day. as for the 3 rd test England are far from gone... this pitch will get better for batting if the past few years is anything to go by......
Posted 22:34 17th December 2010
J. Nichols says...
What is the matter with Mike Shaw? Yesterday Mitchell Johnson was rubbish! Today he takes 6 of England's wickets. Then your into him for his action? His action is his handicap. It is not illegal. But if he gets wickets with it good on him. You need a checkup mate!
Posted 16:38 17th December 2010
Brian Lara says...
Chucker eh?!! lol. What about Lasith Malinga, the slinger, he definately chucks it, might as well run up slowly and throw the ball overarm at the batsman or stups, lol lol. Anyways, I have great memories of the 1981 series, with the England and Australia teams battling hard. David Gower's captaincy was fantastic, and Sir Ian played hard, as ever, a legend he will always be, especially in my eyes, made me want to be a cricketer so badly as well. I was also impressed with the fielding and standard of team play, and banter between the two sides as well. It was great to watch Sir Ian Botham and Sir Vivian Richards for Somerset, the best of friends, and when the windies played the three lions, the best of frenemies!!! Ahhh, what a wonderful sport this cricket game is, just bat, ball, men, but ohhhhh, what wonderful contests are drawn out, and frankly, you can never predict the outcome, a lot of factors are involved.
Posted 14:57 17th December 2010
Mike Shaw says...
Having grown up in the 60s and 70s and watched Hall and Grifiths from the West Indies and watched Derbyshires Harold Rhoads suffer from being no balled on the odd occasion.How is Johnson' s action legal ? Syd Buller would have a fit if he saw these guys slinging the ball down side arm. What ahppened to chucking.
Posted 12:13 17th December 2010