You've got to hand it to Australia; Chris Tremlett aside, they've completely out-bowled England at Perth and will now surely level the series.
Down and out after Adelaide, Ricky Ponting's side has produced a remarkable comeback and made an in-form England batting line-up look very brittle indeed.
Even bearing in mind some of the batting blips we witnessed during the summer, it was still quite a surprise to see England lose five wickets in that final session.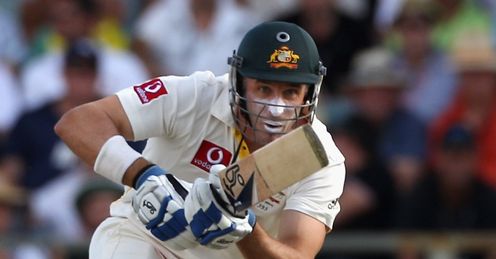 Alastair Cook got a good ball from Ryan Harris, but Andrew Strauss and Paul Collingwood could have left the deliveries that got them and goodness knows what Kevin Pietersen was doing!
He'd just changed his bat and the only explanation I can think of for his shocking waft outside off-stump is that he suffered a complete loss of concentration; in the end it looked as though he was giving slip catching practice!
Collapses
But collapses such as England experienced can happen when you are facing a huge target in the fourth innings.
The way Hussey plays the short ball is absolutely terrific, particularly the way he smashes it in front of square.
Bob Willis
Quotes of the week
THIRD ASHES TEST
Australia v England
2.30am, Sun, Sky Sports HD1
Follow the Ashes
wherever you are
- on Sky Sports HD1, Sky Player, Sky Mobile and skysports.com
Set a mammoth 391 to win, they needed to end the third day at a maximum of one-down to have a chance of making English cricketing history on a good pitch.
Instead with the scoreboard showing a sorry 81-5 I can't see any way out of this for them now.
Hopefully we'll see Ian Bell play another classy innings but the problems are at the other end.
Australia will no doubt pepper nightwatchman James Anderson early on, while next man in Matt Prior remains hit and miss; if he scores runs he will score them quickly and once he's gone I can't see the tail resisting for very long, so all hope is lost.
Plaudit
On a brighter note, Tremlett deserves every plaudit for picking up his first Test five-for earlier in the day.
It was interesting to listen to his interview after the first day's play when he admitted that he had butterflies the night before making his comeback and he experienced a restless night as a result.
You wouldn't have guessed that from the way he performed on the park; he's looked every bit the part and full of confidence.
As we showed on Friday's highlights show, Tremlett has been the only England bowler to consistently bowl the right length - possibly because he's become used to bowling on a pitch where there is a bit of carry at the Oval.
To their credit he and the rest of the bowlers kept going well in the heat and did a good job in wrapping up Australia's first innings as quickly as they did.
James Anderson had more snap to his bowling than he has at any stage in the match, while Steven Finn still has a happy knack of picking up wickets despite leaking runs.
Phenomenal
They had their work cut out, though, bowling at 'Mr Cricket' - Mike Hussey.
As his stats suggest, he loves playing against England particularly in Australia; his record in the last two home Ashes series is quite phenomenal.
It was hard to imagine that anyone would overtake Alastair Cook as the leading run-scorer in the series so quickly after watching the England opener rack up 235no but Hussey, on the back of five consecutive scores above 50 (six if you count his innings at the Oval last year), has achieved that feat.
The way he plays the short ball is absolutely terrific, particularly the way he smashes it in front of square.
He picks up the length of the ball very quickly indeed, on the back and the front foot, and I love to see him coming down the track and being positive against Graeme Swann.
Goodness knows where Australia would be in this series without his runs.
Comments (11)
Ewan Clark says...
its funny how one day the england team is the best and then there rubbish. stick by england if everyone said there were ruibbish its not good for the team. didnt you ever think that maybe the pitch was made to suit australia and not england.get behind them for the fourth test
Posted 11:50 22nd December 2010
Julian Bates says...
Part of me was almost happy they were coming back into it but we didn't really show any fight... & it's just HORRIBLE to see them collapse - again! Just as a new partnership was showing slight promise, away it went. Even Bell got out to a bit of a sloppy shot I believe in the last innings (correct me if I'm wrong). Where has that confidence gone !? & I'm sure we all felt (perhaps not so much any more on reflection) that fear while watching- we've seen it so many times, but mostly (thank goodness) in the past. The fact that there was an end to the test match was england's only refuge. Have the aussies put something in their tea?;) Come on England -by and large, you are pretty amazing players. Just be 'bigger;' than australia. They are a (slightly) worse team:) Stand up Jimmy - and enjoy your prowess:)
Posted 04:51 21st December 2010
Oliver Feeling says...
Do England know how to bowl yorkers. So many half trackers. Bowling short balls to Hussey is like throwing buns to an elephant. England need to learn by their mistakes and quickly. Eoin Morgan in at six, Bell to five.
Posted 10:20 19th December 2010
Jason Hackett says...
does james anderson know what he is doing as nightwatchman, he failed to take a single to take the strike away from collingwood last night , and i recall in our last tour to india he took a single and exposed andrew flintoff to the last ball to which he as well was dismissed
Posted 02:41 19th December 2010
Tony Donnelly says...
Hussey has kept oz. in the hunt.England lost momentum but will ultimately win the seies.a far better outfit.Aus.paying the price for holding the Mcgrath/Warne era far too long.Give Morgan a shot perhaps I am the one to get bullet!
Posted 22:40 18th December 2010
Adam Diggle says...
To be honest I hink we'd been a bit flattered by flat pitches so far on the tour, our batsmen had performed well but in the first two matches the ball was never really doing much, we come to perth on a greenish pitch and suddenly the technical difficiencies rear their heads again, reaching for shots away from the body, walking across the stumps etc, when the ball is swinging and bouncing those types of faults will undo you. It's interesting that the one batsman on our team who looked at all comfortable was bell, the most technically correct. To be honest though the aussies haven't batted brilliantly either, totals of 268 and 309 ain't great, this is a tricky pitch to bat on if the bowlers utilise it properly and ours simply didn't. Despite seeing Hussey pull and hook with glee in the last two matches we still fed him short stuff on leg stump and he pounced on it, despite seeing johnson have success with pitching it up ambrose we didn't do the same, our bowlers saw the ball flying through to prior and got carried away, ignoring that effective waca length that forces the batsmen to drive, (Finn's lack of experience really showed here). There are still two tests left of course but I hope our quicks have learnt from their mistakes, especially as it looks likely the aussies will try to perpare similar wickets at the SCG and MCG to help their guys and to negate swann as much as possible.
Posted 18:58 18th December 2010
Rob Drake says...
It's England's inconsistency which will always get in the way of becoming number one in the world. While we have had a reasonably good 18 months or so, most of the series have been against sides in transition or with off field problems. Our batting collectively gets caught like rabbits in headlights far too often and compared to other countries most are averaging in the lower 40s. Most other countries main players average high 40s or low to mid 50s. With 16 back up staff on this tour, the technology and pampering England have, their ability to think on their feet seems at times to desert them. Some are too comfortable. To lose the momentum so quickly after Adelaide is unforgivable and you can bet the Aussies will be right at us again in Melbourne. While the Aussies are also in transition, this is probably our best chance of beating them on their patch for a good few years to come. This defeat will be a huge blow and underlines our timidness which cannot afford re-surface in the next two tests. It wouldn't surprise me if it does though. We are not as good as we think we are.
Posted 18:26 18th December 2010
George Staples says...
Hasn't anyone noticed that Mitchell Johnson was dropped when he wasn't performing. The Aussies are never afraid to shuffle their squad. Look at the effect it had on him. Now I wonder will Strauss and Flower omit Pieterson as once again he is contributing nothing to the side. I fear that his guaranteed spot will remain and he will once again be in the next team. Prior's glove work is mediocre, his batting is very hit and miss and I feel he shoujld be rested. He won't, as he's another of the favoured few who have guaranteed Test places. Congratulations to the Aussies. By the way, are the England team deliberately scruffy in their appearance, or is there a competition to find the most dishevelled player? Looks like a re run of the Graham Gooch influence. George Staples
Posted 17:52 18th December 2010
James Hunt says...
yes, its been a dismal few days.... i wonder how much we're missing stuart broad - obviously we are for the control he gives us in his bowling (no slight on finn who has done really well for a 21 year old), but also for that bit of front / edge.... he is a really confident lad and i wonder, psychologically, just how teak tough some of our lauded players are.... matt prior is but has a technical issue with short bowling, i keep hearing collingwood is but he always seems to be batting for his career, and strauss can be shaky sometimes.... as can KP (the latter two are obviously great players though).... where's the aggression / charisma gone? we seem to have left it in a bar in adelaide......
Posted 16:27 18th December 2010
Bluenoseeddy T says...
Seems very much same old story to me, we are great when things are going our way, but when the Aussie's finally front up and get in our faces we are not mentally tough enough. Exchanging verbals doesn't make a strong player, although I do believe we should give as good as we get, you have to back up words with actions. Very poor batting twice when really questioned for the first time in the series. Doesn't look good for remaining two games with score going to be 1 - 1.
Posted 14:19 18th December 2010
Adam Diggle says...
I just can't believe why our bowlers saw the aussies zipping and swinging the ball around on a fuller length and then came in and pitched it consistently short again, did we learn nothing from watching them bowl on a pitch that is waaay more familiar to them? We picked a tall bunch of bowlers for the bouncier pitches but you can still get that bounce off a good length, i couldn't stop myself screaming at the tv when finn was bowling, we didn't utilise the conditions at all and leaked too many runs for what should be a difficult wicket to bat on
Posted 11:36 18th December 2010