If a side can ever be out of a Test match after one day - and I stress 'if' - then Australia are that team after an incredibly one-sided Boxing Day in Melbourne.
I, like every England fan, am still pinching myself after seeing the home side bowled out for just 98 at the MCG on what is surely a decisive day in the fate of the Ashes.
Santa Claus brought England all of the gifts that they wanted - a successful toss, a pitch that offered the seamers encouragement and some woeful batting from the hosts.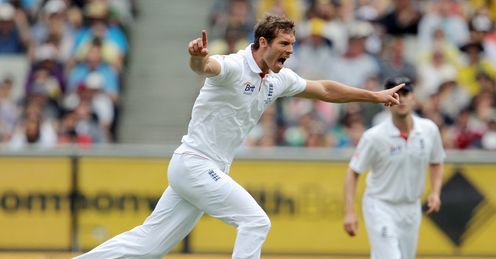 If England had batted in a similar vein, we would have been disgusted by some of the shots played.
It must have been as disheartening for every Australian supporter to watch as it was uplifting for the England fans who packed the MCG or stayed up all night to witness the drama.
Fluctuating
All too often these days Test matches are played out in front of near-empty grounds around the world - frequently in smaller venues such as the University Oval in Dunedin - so a packed MCG was a tremendous advertisement for Test cricket.
Santa Claus brought England all of the gifts that they wanted - a successful toss, a pitch that offered the seamers encouragement and some woeful batting from the hosts.
Bob Willis
Quotes of the week
FOURTH ASHES TEST
Australia v England
11pm, Sun, Sky Sports HD1
Follow the Ashes
wherever you are
- on Sky Sports HD1, Sky Player, Sky Mobile and skysports.com
So are the fluctuating fortunes of each side in this series.
It's scarcely believable to see England, 157-0 at stumps in reply, in such a dominant position after the drubbing they received in Perth.
Yet we did say on our highlights show that the WACA pitch is unique and that England would not have to face another surface like it for the rest of the series, and so it proved here.
After a poor opening over, Chris Tremlett realised the pitch didn't have as much bounce and adjusted his length accordingly; he fully deserved his four-wicket haul.
His extra height is always going to cause batsmen problems and if he can stay fit it will be very difficult for the selectors to leave him out in the future.
The pick of the bowlers, however, was James Anderson who maintained his focus despite seeing Paul Collingwood and Kevin Pietersen drop early chances to collect four wickets himself.
He had admirable support from Tim Bresnan; personally I would have kept faith with Steven Finn (why leave your leading wicket-taker out) but Bresnan justified the selectors' switch and once again you can't fault England's preparation and planning.
Flatter
Andrew Strauss, who has now flown past 6,000 Test runs, and coach Andy Flower can reflect on a day that could not have gone much better.
The heavy roller certainly did its job between innings and, as Ricky Ponting predicted, the pitch has already become much flatter.
There is an argument to say that the use of the heavy roller should be banned in Test cricket just as it has been in first-class cricket in England but that's an issue for another day.
For now the weather is set fair for the next four days in Melbourne, where Mitchell Johnson has lost his form as quickly as he found it in Perth.
With neither Johnson nor Ben Hilfenhaus swinging the ball and Ryan Harris bowling with less fire, spinner Steve Smith has been left to carry a heavy burden; for a lad who still has plenty of developing to do, that's a tough ask.
With conditions in their favour England should now be capable of building a very healthy lead of at least 300 - maybe even 400 - on day two.
But as a few of you have pointed out, I said the same after day one in Perth and look what happened! So let's not get ahead of ourselves.
However, does anyone out there really believe that England won't retain the Ashes inside the next four days?
Comments (6)
Alan Lockey says...
ONLY 2 THINGS CAN SAVE AUSTRALIA FROM A HUMILIATING DEFEAT THAT`S THE WEATHER OR A MIRACLE . WHAT ODDS ARE THE BOOKMAKERS GIVING FOR AN AUSSIE WIN
Posted 00:10 27th December 2010
Frank Mcgrail says...
This series has been full of records. Batting might be difficult tomorrow morning with white cloud forecast - so concentrate hard in the first session tomorrow to avoid a cluster of wickets and as the tpitch improves thereafter, we will avoid Oz achieving the record of the best comeback since 1907 (or Lazarus)
Posted 21:42 26th December 2010
Julian Cosgrove says...
Yesterday was not only a day of deep disappointment for the Australian cricket team; It was a day of sporting shame off the pitch. To see the crowd of 90,000 dwindle to just a few was a sad day for their nation and one that should cause all cricket loving Australians to hang their heads in shame.
Posted 21:37 26th December 2010
Dave White says...
the way tremlett has in to the side and bowled has been brilliant. just like swann he has been in the wilderness for a few years and now seems to know his game. perhaps england should do the same to broad who at the moment is not an international quality bowler, as his average suggests. stick with tremlett and even tim bresnan and leave broad playing county cricket so he can develop properly
Posted 21:13 26th December 2010
Norman Brill says...
as we shiver and slip what better medicine can we have than a supreme England performance against the Aussies,every player was a rep. of Father Christmas with a wonderful present for us all - do this every session and the sun will shine. again.
Posted 11:44 26th December 2010
Rob Bailey says...
yes i do think england will retain the ashes within the next 4 days, but i have a word of warning that there's nothing like a wounded aussie to throw a spanner in works, and england need to be very patiant. and bat themseleves into a positon where they only bat once
Posted 10:57 26th December 2010