The leaks in Australia's ship are starting to look like very big holes indeed.
As if watching the Ashes drift away from them wasn't bad enough, their skipper has now lost his cool on the field - much to the detriment of his side.
Let's get one thing straight; Ricky Ponting's reaction to the failed caught-behind appeal against Kevin Pietersen was totally out of order.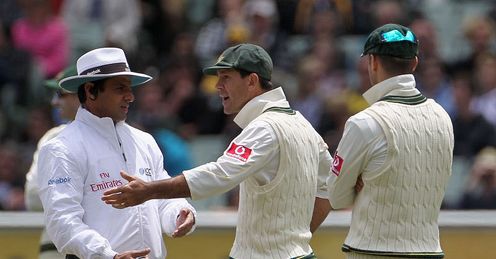 There is never any excuse for waving one's finger at an umpire or arguing with one or both of the officials.
While Ponting carries himself very well in post-match interviews, there is occasionally an ugly side to his character on the pitch which is not acceptable and we saw it at the MCG today.
Flaw
If Ponting does have any defence, it is because the whole incident highlighted the fatal flaw that exists in our current review system.
The game has always put itself on a pedestal in terms of the way it is played and the conduct of its players so it seems self-defeating to persist with a review system that encourages players to dispute umpires' decisions.
Bob Willis
Quotes of the week
FOURTH ASHES TEST
Australia v England
11pm, Mon, Sky Sports HD1
Follow the Ashes
wherever you are
- on Sky Sports HD1, Sky Player, Sky Mobile and skysports.com
The way it is set up means that players are encouraged to challenge the umpire's decision, something which goes against cricket's ethics.
The game has always put itself on a pedestal in terms of the way it is played and the conduct of its players so it seems self-defeating to persist with a review system that encourages players to dispute umpires' decisions.
I would much rather a third and possibly fourth television official took charge of decision-making in all areas even if that meant having two bean-counters on the field of play.
Yes, we want to try and get the right decisions but the ICC must now have a rethink about the best way to achieve that end.
They have also got to come up with the means of providing the right technology at every Test ground. How can you have one series with it and another without, or use different versions of the same technology? It's simply not a level playing field.
Virtual Eye, which is being used in this Ashes series, is a cheaper alternative to Hawk-Eye but it simply isn't as good.
It's turned out to be erroneous on several occasions so the ICC must now find a way to strike agreements with every Test-playing country to provide a universal system for every ground.
Temperament
Thankfully, we still have some excellent umpires in the game - none more so than Aleem Dar, who has taken over from Simon Taufel as the leading umpire in world cricket.
He has a terrific temperament for the job and is a very placid, caring man to boot and rather than waving Ponting away and disengaging himself from the situation he stood there and took the flak from Australia's captain for far longer than others would have done.
Dar proved his ability again calling a marginal no-ball when Matt Prior nicked behind. He clearly felt the decision was too close for comfort so he rightly asked for the view from the square-on camera.
That decision came at a crucial time for Prior and England, who had just lost a clatter of wickets.
There was a lot of talk before this match that England, beaten so heavily in Perth, would be intimidated by crowds of 85,000 but because England have approached this Test in such a confident fashion, most of the luck in the match has gone their way.
Jonathan Trott continues to accumulate runs and impress at the same time.
He's very much out of the Rahul Dravid school of Test match batting rather than the Adam Gilchrist academy and there's nothing wrong with that - you want a foil for dashing players in your side to give you a combination in your side.
Patience combined with mental and physical fitness is the hallmark of Trott's game.
Australia, who have dashers throughout their order, will find out tomorrow just how difficult it is to save a Test if you don't possess that stubbornness and resilience in spades.
Comments (15)
Rob Bailey says...
not having sky sports ive not seen the inccedent, but reading about it reminds me of the 2005 ashes at lords (i think) when ricky ponting was run out by gary pratt, he gave a foul mouthed abuse to the crowd the england dressing room then, looks as if he's not learnt his lesson from that too, so 40% seems a touch lucky to me having never played in a side that has known mediocroity at best he seems to have resorted to throwing the toys out of his pram to try and get his own way, a ban should have been given. and also its time for him to hang up his bat and gloves before he's only remembered for being a bad sportsman instead of one of the best batsmen who played the game.
Posted 20:13 28th December 2010
Abdul Aziz says...
Agree with the Asif Majid. I am not trying to turn this into a bias type issue but ut is a fact that had this been an Asian player (As in some previous instances) then there would have been a certain ban with it being a level 2 and with Rickys history a Level 3 case. ICC stinks of double standards run by a bumch of cretins. Once again another sad very sad day for cricket. Come on Inger-lund.
Posted 20:35 27th December 2010
Jim Labouchardiere says...
Another excellent day for England but a poor one for test cricket. Pontings actions were to use his language pretty ordinary and confirmed suspicions that the Aussies are bad losers (not enough practice, a state which looks likely to change) Ponting was never a good captain and shorne of great bowlers he looks a woeful one. Well done Aleem Dar a very good umpire and a calm and dignified one. The review system as it stands is badly flawed and i would favour taking away the decision for review from the players and handing it too the third umpire. The sight of the MCC rapidly emtying of home supporters was gratifying and alarming at the same time. The fact is Test Cricket is dying everywhere except England and Australia ( only when England are touring) and it is not a good sign to see how fickle the Aussie supporters are. Test Cricket needs a serious make over to compete in the 21st centuary. Four day tests, wickets with some life, minimum over rates (enforced by penalty runs) and realistic ticket prices would be a start.
Posted 19:00 27th December 2010
Sunny P says...
Ponting is lucky to get such a lenient fine.ICC have been firmer on other players for lesser crimes.I think the Aussies get off lightly (against India in Oz they cheated their way to a win.Ponting was the umpire too) when they commit offences. England will win by an innings,Ponting will whinge,Cricket Australia won't sack him because they have no replacement, a totally spineless Board.End Result England win Ashes,Ponting back to being a nightclub brawler and Australia play challenging Cricket against Hong Kong,Bermuda and Afghanistan
Posted 18:23 27th December 2010
Andrew Kenneally says...
I agree with ASIF Majid that Ponting's punishment seems a joke given how far beyond accepted behaviour towards umpires he went. Still the fact that he hasn't been banned deprives Australia of an excuse that would have been done to death if as looks likely would have been very much required. While I think Bob Willis is right on teh flaws of teh referral system in general, I don't think this in any way offers a defence of Ponting; rather the opposite as it should have been perfectly obvious to even his eyes that the footage of the bat's hotspot didn't match the flight of the passing ball, and yet he continued to try to bully the umpires into bowing to his pressure. So, as we could see, with this being patiently explained to him by the ice-cool Aleem Dar - a contrasting picture of quiet dignity - what did Ponting think his ranting had going for it? It all does, as elewhere pointed out, highlight the joke of the Aussies fprmer "whinging Poms" refrain.
Posted 17:37 27th December 2010
Asif Majid says...
Typical had that been a Pakistan Captin behaving like that a ban would have been a certainty. The ICC once again shown how spineless they are 40% of his match fee is a joke. What type of behaviour is that of a test captain and what example is he setting youngters.
Posted 14:48 27th December 2010
Dale Hoyle says...
This was typical aussie stuff,the writing is on the wall for Ponting,i can't see him being captain after this series,having said that ,who is going to replace him? Michael Hussey is the clear leader of the batters but before this series he was close to being axed. Watching the Australian's bat in the first innings was hilarious,Hughes look's awful,Ponting and Clarke are badly out of form,even Haddin struggled and if there is a worse number 6 batter than Shaun Smith in world cricket i've missed him.it's really good to watch though hahahahahahahahahahahah
Posted 14:37 27th December 2010
David Leonard says...
if the headlines were made by Strauss arguing in such a fashion with the umpires, I'm sure the majority of us would think he was a fool and should not continue as captain of England.
Posted 14:07 27th December 2010
David Nicholson says...
Perhaps the UDRS should only be used to check 'out' howlers i.e. by batsmen only and bowlers should not be allowed to use it to try their luck. Have some respect for the on field umpire please.
Posted 13:53 27th December 2010
Gerry Knight says...
easy way to fix disputes and take the pressure the umpire. Revue every appeal for dismissal. Save a lot of time. Let's face it Hadin and Ponting both appeal for catches they haven't taken. Whingers !!! We must win at all costs. All countries want to beat us just to hear us whinge. A great pity that there wasn't a record attendance on Boxing day. There should have been 250,000 there to see Australia get a drubbing in scoring 98
Posted 13:50 27th December 2010
Stuart keith Hallam says...
Ponting fined - pathetic. Should have lost all match fee and banned for at least one future test. Shows he wont accept umpires decision on field or off. How long before his actions creep down to grass roots level
Posted 13:38 27th December 2010
Luke Mcanally says...
Ricky Ponting lost it today, has been fined and I'm sure will apologise unreservedly at the end of the match.
Posted 13:21 27th December 2010
Chris Smith says...
I whole-heartedly agree with David Mckeown. Ponting is the epitamy of the 'Whinging Aussie'. Even when faced with over-whelming evidence in support of the umpires, he choosing to winge on, and show himself up on the world stage. Keep up the good work Ricky!
Posted 12:20 27th December 2010
David Mckeown says...
All we here from down there is ' whinging poms... whinging poms' . I know they don't do subtlety or irony so they won't see it, but Aussies are the biggest whingers and moaners in sport when things don't go their way... Being so used to winning they just don't know how to handle defeat with any kind of good grace. They whined like heck when the Kangaroos bombed out in the RL World Cup Final, and we saw in 2005 and 2009 that the baggy greens just can't take it!! But it hurts a lot more losing at home and they've taken their petulance and brattishness to new lows here. Pontings a spoiled brat out there when things don't go his way, and he's the ultimate whinging Aussie... He was a gob on a stick at Perth when they were winning. Great player he maybe, great captain and sportsman he is not... It's hilarious let's be honest. Grind them into the dust lads.
Posted 11:38 27th December 2010
Ben Roberts says...
Sorry, the review system worked in this case, Ponting had no cause for complaint. He was out of order - simple! This incident is not a reason to review the review system!
Posted 10:26 27th December 2010