Congratulations lads - you've done England proud!
We've waited a long time to taste Ashes success of such magnitude in Australia but this England side has retained the urn in exceptional style.
The anomaly of Perth aside, the team has played exceptional cricket as a unit and this will go down as a monumental day for English cricket even if Andy Flower won't be fully satisfied until England sit No 1 in the world rankings!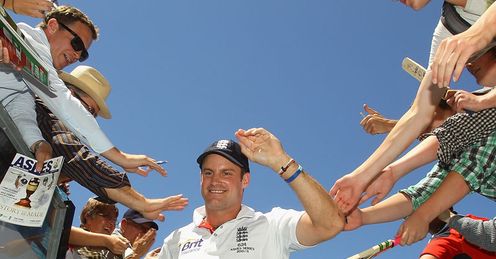 The fact that players with records as good as Ricky Ponting and Michael Clarke haven't performed in the series just goes to show how brilliantly disciplined England's bowling has been.
Meticulous
This has to go down as one of the best displays I've seen by an England attack overseas for quite some time.
It is very rare indeed to possess four-front line bowlers but England are in that happy position; they have individuals who can shine but each player is just as important as the others in his own way.
This has to go down as one of the best displays I've seen by an England attack overseas for quite some time.
Bob Willis
Quotes of the week
FIFTH ASHES TEST
Australia v England
10.30pm, Sun, Sky Sports HD1
Follow the Ashes
wherever you are
- on Sky Sports HD1, Sky Player, Sky Mobile and skysports.com
Thanks to Andy Flower's meticulous planning they all know exactly what their role in the side is meant to be and although Graeme Swann hasn't got the avalanche of wickets that we've become accustomed too, he's done a fine defensive job and picked up valuable victims along the way.
This success hasn't come about by luck. The ECB has thrown an enormous amount of money and resources at the England cricket team in recent years and the administrators are savvy enough to know that they are the cash cow for the whole game.
It costs an absolute fortune to fund Performance Squads, both at Loughborough and away on tour, but investment in areas such as this is clearly paying dividends.
The same can be said for central contracts and the strength and conditioning work done with many of the players, in particular Stuart Broad and Steven Finn who have both benefitted from spells away from the game and stepped up another level as a result.
Gap
Hopefully the benefits of a healthy England side will continue to seep down into the first-class game and beyond.
This summer the top six teams in division one of the County Championship proved that they are well-balanced, professional outfits. But unfortunately the likes of Nottinghamshire, Durham and Hampshire remain head and shoulders above those sides in the lower division.
You only have to look at Phillip Hughes' performances for Middlesex to show what the overall standard of bowling is like in division two, so there is work to be done there.
I've spoken at length to Steve Harmison about this issue - and he will tell you that the gap in quality between the first and second division is massive.
If England want to maintain this production line of top-quality bowlers then they must develop further ways of nurturing new and existing talent.
Demise
You could say the same for Australia, who have been floundering in the dark for some while now.
The downside to fielding such a great side in 2006/07 was that the back-up players had to wait a long time for their chance; Mike Hussey was one batsman who was on the sidelines for an age before his opportunity came along.
As a result the side got old together and, with the standard of the Sheffield Shield not what it was, a slide was inevitable.
The fact that the selectors had to pick 17 players for the first Test of Brisbane and that they can't find a spinner of any description at all says it all.
Every country, of course, will go through problems at some stage and now it is most definitely Australia's turn.
Their demise has been all the more stark because they were top of the pile for so long and now they have been put firmly in their place by an England side that is more determined than ever to win the series.
Comments (10)
Ivan Olckers says...
Just a reminder That a certain Mr Kepler Wessels went to live In Australia in the 80"s married a lovely Australian girl and was almost immediately selected for Australia in 1982 to face England.He scored a debut test century and went on to play many tests for Oz He later returned to S.A and captained the Test Team.I can assure you that you won"t find any of England"s so called S.A players doing that. GO ENGLAND I"M BEHIND YOU
Posted 08:04 1st January 2011
Robert Bailey says...
ref nigel snipe:- Robin Smith Alan lamb but to name 2 of many in the past, i think it says more about the strengh of the english game of cricket that these players have choosen to come here and play for 4 years (i think) before eligible than stay in SA AUS maybe they have political vews aka KP but its still be great for the game the flamoyance of KP enlgish and welsh kids at club level wont to emulate or the dogged ness of JT to deternination of AS its all there teaching our kids that whoever you are you can make it if you trym a successfull england side is good for local cricket getting our young kids playing and long may it continue ENGLAND SUCCESS is good for everyone within our beautifull country REMEMBER 2005!!!!!!!!!!! enough said
Posted 13:37 30th December 2010
Gordon Cooper says...
Fantastic result for England, outplayed the Aussies in every session bar 2/3. Have waited a long time for this result Getting a bit cheesed off with negative comments from both English and Aussies about our SA born players. Don't hear too many negative comments from NZ, SA, Aus when men have died while serving with the Marines and Army in Afganistan!!
Posted 19:34 29th December 2010
Ivan Olckers says...
Reply to Nigel Snipe I am a South African and I can assure you that those guys you feel so sour about is as English as you are.You can see by their sheer joy when the team has success.I can assure you they are as English as anyone born there.Ask them the reception they get when playing against us,I only wish they were playing for us. Cheers Ivan
Posted 17:53 29th December 2010
Muhammad farrukh Nawaz says...
It is a great victory for England & they thoroughly deserved it. They are brilliant in batting, bowling and fielding. Hard work always pays. Aussies are far away from victory now and in my opinion they do not have backup of good quality players. On the other hand ICC needs to be very strict on conducts of players on & off the field whether it is spot-fixing or personal behavior. Cricket is a beautiful game and it should arise above. Congratulations to England for such display and it is good for international cricket as well.
Posted 17:46 29th December 2010
Allan Gobey says...
For God's sake stop bleating on and on about South Africans playing for England. They aren't. They are South African born cricketers who are are eligible to play for England - it's not like a transfer system. If a player is eligible to play for England then as far as I'm concerned he's English. I suppose you think a Cook century is worth more than a Strauss or Prior one? How idiotic. And by the way it has happened in football - in the 80s and 90s plenty of players who were born outside of England player for England - John Barnes and Cyrille Regis to name two - people were a little upset, England is for the English and all that nonsense - throw away these racist ideas and understand that England is a multi-cultural country and that our sporting teams should represent that.
Posted 17:05 29th December 2010
Ian Harrington says...
Can I assume that Mr Snipe is an Aussie? If so, this is a very bad case of sour grapes. True, a couple of South Africans played very well, but this is a team game. All the bowlers are English,and it is they who bowled the Aussies out on more than one occassion to aid the regaining of the URN. I suppose that if they had gone to live in Ausralia then you wouldn't mind them playing, especially with the side they have at the moment.
Posted 17:03 29th December 2010
Alan Gray says...
Well done England, now to win the series and on to the ODI series.... I don't believe there should be any sour grapes over the South African players in the England squad. Sure, there are a few, but they are all English to me, just like Australians are almost English. Come on, it's a new era, we have players with Asian backgrounds in the England squad.
Posted 15:56 29th December 2010
Nigel Snipe says...
Congrats to England outplayed the Aussies in every dept.Just leaves a sour taste in my mouth with all these South Africans in the England side.Would be a lot better with a team of Englishmen.If this happened in Football there would be a national outcry.
Posted 12:46 29th December 2010
David Mckeown says...
Fantastic.... but now let's not give them a sniff at Sydney and pinch a 2-2 draw which they'd talk up no doubt. They don't deserve a level series so let's hear some determination to go home worthy winners.
Posted 10:55 29th December 2010