The standard of play may not always be of the highest calibre, but this Ashes series remains compulsive viewing!
Day two in Sydney was a case in point as the momentum fluctuated back and forth between Australia and England to leave the Test fascinatingly poised.
On the whole the pitch proved much better for batting than bowling and the run-scoring was helped by some fairly indifferent spells from both attacks.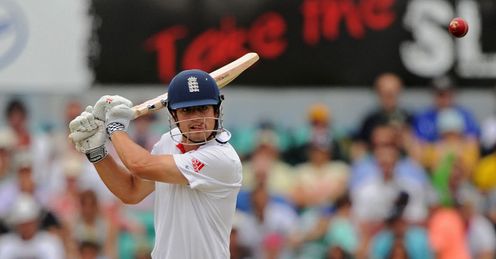 England began the day well enough, building up pressure with some excellent in-fielding, and they earned a real bonus when Paul Collingwood picked up the wicket of Mike Hussey just before the new ball was due.
At that point bowling Australia out for around 220 looked a real possibility.
Wayward
But as so often happens in Test cricket the new ball disappeared at a rate of knots; this time it was England who failed to find the right length and Mitchell Johnson gorged himself on some wayward bowling.
The ability to concentrate for long periods and grind down the opposition is a huge part of Test match batting and both Cook and Jonathan Trott have those qualities in spades.
Bob Willis
Quotes of the week
FIFTH ASHES TEST
Australia v England
10.55pm, Tue, Sky Sports HD1
Follow the Ashes
wherever you are
- on Sky Sports HD1, Sky Player, Sky Mobile and skysports.com
Andrew Strauss must take some of the blame for England's failure to finish off Australia's tail as quickly as they would have liked; he offered Johnson too many runs too early in an effort to bowl at Ben Hilfenhaus, who chanced his arm with good success.
In the context of the game Australia's ninth-wicket partnership of 76 could prove to be very valuable indeed.
As frustrating as that lower-order rally was for England, the stand showcased the fascinating unpredictability of Test cricket and the added dimensions it possesses in comparison to the one-day game.
Backfired
I suppose Michael Clarke was trying to stamp his character on the captaincy by giving Johnson the new ball at the start of England's reply but his decision backfired.
Australia's skipper might have taken his erratic left-armer off after two overs rather than three but it would have mattered little as Strauss had already got the innings off to a flyer.
Alastair Cook was more than happy to go about his own business as his captain helped himself to 18 off 12 balls and in comparison his own innings was the epitome of composure.
The one blemish came when Cook was caught off a Michael Beer no-ball - an unforgivable error for a spinner, particularly when your first Test wicket is at stake.
It was a huge slice of luck for Cook but one he deserves because he's worked so hard to iron out the faults in his game.
Difference
Last summer he was on the move before the ball had been delivered but now his trigger movements are much more precise, which has made a huge difference to his footwork and position at the crease.
No longer is he toppling over and playing across his front pad and these days he seems unable to do any wrong at all.
The ability to concentrate for long periods and grind down the opposition is a huge part of Test match batting and both Cook and Jonathan Trott have those qualities in spades.
It can't all be about flamboyance and hitting boundaries.
In comparison to Shane Watson, who plays some devastating shots but can't seem to keep the scoreboard moving, Cook is able to manoeuvre the ball around and rotate the strike.
His form on this tour has been nothing short of a revelation and if he can get stuck in again tomorrow then another hundred beckons.
Comments (5)
Alan Easton says...
THE hOTSPOT TECHNOLOGY USED IN ENGLAND IS MUCH CLEARER AND SUPERIOR TO THAT BE USED IN AUSTRALIA - WHY IS INFERIOR TECHNOLOGY BEING USED?
Posted 06:00 5th January 2011
Nigel Cloke says...
OK, it maybe a little wet in oz, but i saw a flood in that catch. Their now trying to cheat. Should be fined.
Posted 00:36 5th January 2011
George Macpherson says...
Well the way we are playing right now we can get 400 to 500 plus rus if we try hard. Thay way it is looking right now with the partnership we can get an extra 200 or so runs in the day. This current 66 run wicket partnership can grown into a 100 run partnership then we will se what happens. Day 3 will be interesting to follow.
Posted 22:48 4th January 2011
Jonathan Peters says...
Here we go again! England do one thing wrong, or Australia have a little fightback and instantly everything seems to be wrong. Why not just give Australia credit here? Just watched Tendulkar play and miss at Steyn and Morkel and Tsotsobe and yet we don't say Steyn has bowled badly because Tendulkar got 100. Cricket has a way of allowing what looks like a loosing side to come back and make a good fist of things...as the Aussies did. So lets just say England were outplayed for a bit there, as can happen and keep supporting them all the way?
Posted 19:03 4th January 2011
David Mckeown says...
How frustrating !!! Bob , why do we see teams smoothly get 8 wickets sticking to all their plans, and then completely lose the plot when 9 , 10 , jack are around? Strauss set the field like Johnson was The Don. If the top order struggled why should he find it easy- try and get him out like you've done all the rest. Everything went a bit doolally- fielders everywhere, bowlers spraying it around , hardly a ball that would have hit the stumps and not a yorker in sight. Plans seem to go awry when tail enders are about! 280 is annoying .... Should be ahead by now. Really really hope those runs don't bite us like in Perth- we have to bat last.
Posted 11:27 4th January 2011