I can't see Australia, 208 runs behind with two days left, winning this Sydney Test now.
That means the series is England's and they fully deserve their long-awaited triumph because they are superior in all departments to Australia.
Ian Bell - a special player in irresistible form - and Alastair Cook, whose prolific scoring has been the bedrock of much of England's success, highlighted the point with centuries that left Australia's bowlers looking demoralised.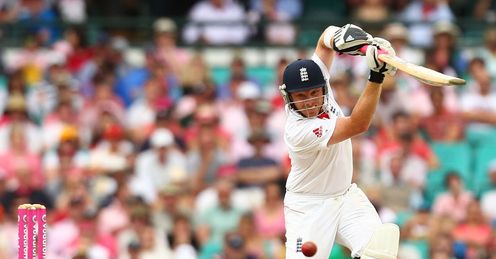 Those hundreds have given England licence to swing the bat on day four on a pitch that should still be pretty good for batting and thereafter Australia will have to show a lot of character to achieve respectability.
Sharpened
Bell's game has come on leaps and bounds since Andy Flower took the decision to drop him on the tour of the West Indies in early 2009.
Bell will be the first to admit that his maiden Ashes ton has been slow in arriving, but he's not the only England batsman to have struggled against Shane Warne and Glenn McGrath over the years!
Bob Willis
Quotes of the week
FIFTH ASHES TEST
Australia v England
10.55pm, Wed, Sky Sports HD1
Follow the Ashes
wherever you are
- on Sky Sports HD1, Sky Player, Sky Mobile and skysports.com
Instead of sulking about carrying the drinks he sharpened up his act and that summer went back to Warwickshire and piled on the runs.
It was the jolt he needed: as soon as he was out of the side he realised what he was missing, not least the lifestyle and the camaraderie of being a modern-day international cricketer.
He has always been a stylish stroke-player but last summer he was in irresistible form, winning game after game for his county including the Clydesdale Bank 40 Trophy at Lord's.
He's carried that momentum into this Ashes series and it's baffling to think that he is still behind Paul Collingwood in the order - not that I expect that situation to last much longer.
Bell will be the first to admit that his maiden Ashes ton has been slow in arriving, but he's not the only England batsman to have struggled against Shane Warne and Glenn McGrath over the years!
Now those two Aussie legends are out of the frame it's his turn to cash in, and cash in he has.
Luck
He had a slice of luck on 67, when the fallibility of the Decision Review System worked in his favour.
It's easy to say that umpire Aleem Dar should have been brave and stuck by his decision to give Bell out caught behind.
However, he had little option but to reverse his verdict when the off-field umpire could find no evidence on 'Hot Spot' that Bell had hit the ball.
The fact that 'Snicko' - a piece of technology that I regard as even less accurate than 'Hot Spot' - later suggested Bell did nick off highlights the extent to which technology in its current format is undermining umpires.
We saw another example of this when Phil Hughes tried to claim a catch at short leg offered by Cook.
The attitude now seems to be 'we don't care if it bounced or not - technology will tell us one way or another'.
It's difficult to justify that sort of behaviour in the context of the 'Spirit of Cricket' - something the DRS is putting in jeopardy.
Magnificent
Cook, whose merits I wrote about yesterday, rightly survived and went on to register another magnificent century.
He and Collingwood are two of the major beneficiaries of the introduction of central contracts, in that the selectors have stuck by them through thick and thin.
There used to be a time during my career and before where four low scores in two Tests would cost you your place in the team. Not any more.
Most people would accept that Collingwood has had a fair crack of the whip and it's time for England to look elsewhere - much as they did in 2009 when Bell was out of form.
But Collingwood still seems an integral part of England's 'inner sanctum' so don't be surprised if the selectors give him another chance at Test level if he has a decent one-day series and World Cup campaign.
That's providing he doesn't call time on his Test career before then, of course.
Comments (10)
Ivan Olckers says...
Reply to all the Crits. You englishmen can be so unfair at times.Bell was genuinely unaware that he had snicked the ball why would he risk his reputation by asking for a referal when this would have exposed him as a cheat. This method is correct 9 times out of 10. He would have walked not his fault the hot spot did not show.It always does when there is a genuine snick.Give the man a break
Posted 06:53 7th January 2011
Alan Nonwalker says...
GAL - Nobody walks anymore!
Posted 15:59 6th January 2011
David Wallace says...
Bell has lost all respect for not walking, scoring a century in an Ashes Test - hardly he was OUT!
Posted 05:20 6th January 2011
Martin Hicks says...
Bob - I think it is a sad reflection of cricket that cheating is part of the game. Batsmen hit the ball and don't walk, bowlers claim catches off the pads and fielders don't often signal 4s when they touch the boundary rope. The improved camera work has magnified the situation and made it essential to rely on technology to help the umpires. I think the on field umpire should make the decision and as in rugby ask the third umpire if there is any reason why that should be given out /not out? I think Hughes knew it wasn't a clean catch and Bell knew he hit it. In some ways I think Collingwood's retirement from test cricket is sad but I think it is the right decision.. His form dipped during the world 20 x 20s and it may be that he has been playing too much cricket. I wish him every success for the future.
Posted 00:27 6th January 2011
Martin Hartwell says...
I think the comparison between Ian Bell and Phil Hughes' behaviour is misleading in the extreme. Firstly, how many batsmen walk nowadays? Was it an Aussie who wa quoted as saying he would never be a walker? Secondly with no discernible hotspot mark it is possible that Bell didn't know whether he'd hit it. As he said in interview he wasn't sure so asked Matt Prior before "risking" a review. Ricky Ponting has said that with disputed catches you should trust the word of the "catcher". That assumes an element of integrity there. Fat lot of use that would have been in the case of Phil Hughes' claim. I think the ball pitched closer to Michael Clarke earlier in the day ( which he didn't bother to claim) than it did with Phil Hughes. There was no excuse for claiming the catch. Anyone who has been a close fielder, even in club cricket, would tell you that there would have been no doubt as to whether that had been taken on the bounce. I don't think that this event qualifies as a "not so clean catch". I know Cook tried to defuse the issue by saying that Hughes admitted he wasn't sure but only after Cook pressed him on the point a long time after the appeal. Can you imagine the Aussie press' reaction had it been an England fielder? Also did you notice the lack of applause by a number of Aussie fielders on Cook reaching his century? Pathetic!
Posted 20:32 5th January 2011
Barry Bernstein says...
All modern day cricketers are doing is acting like their footballing "cousins" If you can get away with getting your opponent a red card by gamesmanship thats fair game. We saw two examples today in the Test Match.Hughes did not get away with it and Bell did. Ian Botham may want to call Hughes a cheat.But Ian Bell got away by being a cheat. He played the "system" and beat it. Good for him , good for England , bad for SPORTSMANSHIP!! Sorry Bob Willis I am from a different generation . I only play golf now, but if any member tries the gamesmanship equivalent to what Hughes did and Bell got away with , they would be BANNED from our club!!
Posted 18:53 5th January 2011
Mike Jessop says...
I agree, Bob. The old Ian Bell was like Dennis Amiss when he first played Test crciket-a nice player. The new version is altogther tighter and looks visibly less apologetic about being there. As regards technology and the mirage of the days when players walked, it was always going to get to the stage when players just said, let the technology decide. Until 1980's, at least, players were kept in check by their peers to the extent where you didn't appeal 2 ft outside or claim catches off bump balls and stand there like a Spanish hatchet man in football looking innocent. But let's not rewrite history. neither Jack Hobbs nor that doyen of MCC, Lord Harris, were advocates of walking. Their argument was that you shouldn't do anything to undermine the umpire by taking his right to make a decision away from him. We've all been out caught behind off someone bowling above 90 mph with the fainstest of edges and not really known if we'd touched it and consoled ourselves with the feeling that at least we were good enough to get a touch but there's absolutely no excuse when it goes to 2nd slip 2 foot above the ground and as for catching on the bump, if you field at backward short leg or slip all season, there'll only be a couple at most when you really aren't sure. You'll remember the umpires who used to read the read the riot act to the players if they were strectching it and maybe the old ex player could do that better than the non players-look at Ian Gould's performances in SA as an example.
Posted 17:06 5th January 2011
Abhijit Nair says...
Mr Willis Kindly tell MR Botham that if Philip Hughes is a cheat then even more so is Ian Bell , He hit the cover of the ball and then asked his partner , if he had doubt he should have reviewed it straightaway. What about Strauss in previous Ashes series claiming a not so clean catch and umpire standing by him then
Posted 14:42 5th January 2011
Ron Simpson says...
On the subject of the claimed catch off Cook I am surprised there have been no comments about Michael Clarke's role in this. Clarke has "previous" in this respect. On his first Ashes tour to England he claimed a slip catch that had clearly bounced in front of him. From that moment I must admit to distrusting his integrity and in this latest case it is clear that both Hughes and Haddin knew that it had not been a clean catch and it was only after Clarke appealed and started to celebrate that they went along with the appeal. Short on character, yes, but the charge of "cheating" should, I feel, be laid at the feet of the Aussie captain. His behaviour is destructive to the whole ethos of playing cricket in the correct spirit.
Posted 13:29 5th January 2011
Tony Davidson says...
Have to agree with you Bob, its quite alarming that the introduction of technology appears to be fostering a climate of gamesmanship which was not previously there. Personally I think the technology should only be used for run outs or at the Umpires request, take it out of the players hands, otherwise is there really any point in having the umpire any more?
Posted 10:20 5th January 2011