England are true sporting heroes for winning the Ashes in such a tremendous manner.
An incredible team ethic has underpinned everything Andrew Strauss and his players have achieved and I doubt we've ever sent a closer-knit squad to Australia.
The emphatic 3-1 result - achieved with no less than three victories by an innings - is exactly what English cricket needs at a time when there are constant questions about the direction our game is going to take.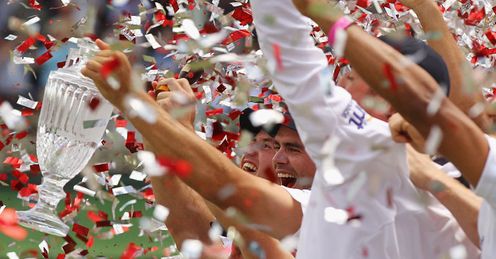 There are plenty of people out there tolling the death knell for Test cricket but this series has kept the five-day game at the forefront of people's minds - non-cricket and cricket fans alike.
Never underestimate the feel-good factor that comes from sporting success, particularly in these austere times.
Role-models
Most pleasingly, this is a side full of great role-models.
Strauss and his team have been exemplary in the standards that they've set - none more so than England's shining lights in the series, James Anderson and man-of-the-series Alastair Cook.
Bob Willis
Quotes of the week
PRIME MINISTER'S XI v ENGLAND XI
10.30pm, Sun, Sky Sports HD1
Follow the Ashes
wherever you are
- on Sky Sports HD1, Sky Player, Sky Mobile and skysports.com
We all remember Ricky Ponting losing his rag at Melbourne and then regretting his actions, saying the next day that it wasn't the impression he wants to give young kids.
Children tend to mimic things they see sportsmen doing on TV and Strauss and his team have been exemplary in the standards that they've set - none more so than England's shining lights in the series, James Anderson and man-of-the-series Alastair Cook.
Turn the clock back four years and these two were feeling exactly the same as Michael Clarke and the Australians are feeling now - deflated and full of self doubt.
Back in 2006/07 Anderson and Cook weren't able to handle the heat of battle in Australia but they have come back in staggering fashion to lead the wicket and run lists respectively, and by quite some distance too.
Cook's ability to spend so much time in the middle, concentrating on every ball without getting flustered or fatigued to the point of failure has been incredible.
Quite simply, he has ground the Aussies into the dirt.
Undisputed
Likewise, Anderson has matured as a bowler and is now the undisputed leader of the pack.
He'll be as happy as anyone that David Saker has decided to stay on for another three years as bowling coach.
Most of us had doubts before this tour about what Anderson might be able to do with the Kookaburra ball in Australia and his answered those concerns with 24 wickets at 26.
England haven't had to bowl in typical Australian conditions - there have only been a couple of red-hot days on this tour; at times it's been more like a typically-pleasant English summer, which has helped to ease the physical demands on the players.
The depth of England's bowling has also been a crucial factor - aside from Anderson, there are six other bowlers capable of doing a great job.
Amid all of the celebrations over the next few days, let's not forget the contributions that Steven Finn and Stuart Broad have made on the pitch as well as the efforts put in - largely behind the scenes - of the likes of Monty Panesar, Eoin Morgan and Ajmal Shahzad.
With Graham Onions also waiting in the wings, Saker has an incredible number of options to consider going forward.
Progress
One thing is for sure - England won't have to wait another 24 years before they win the Ashes in Australia.
This is a team on a steep upward curve on the progress graph and Andy Flower already has his eyes on the next target, the World Cup and beyond that next summer's Test series against Sri Lanka and India.
We've just seen a terrific series between the top two sides in the world - South Africa and India; now England have that No 1 spot in their sights.
That's all for another day, though. For now let's reflect on an Ashes job brilliantly done - a campaign perfectly executed by Flower and Strauss.
Congratulations lads, you fully deserve your place in history.
Comments (10)
Roger Cooke says...
A fantastic series with England excelling with bat and ball. My personal highlight? Bob and Charles performing the sprinkler!
Posted 13:57 10th January 2011
Peter Graham says...
This series was fantastic, not only for the way England played but also for how it will shut up all the Aussies I have to work with...lol... One very big plus, and the Aussies take a lot of credit for this too, the crowds were fantastic. Full houses at every ground even when it looked as though England was going to walk it, the crowds were still there right to the end, I congratulate both sets of supporters for showing the doubters that test cricket is still the real stuff. Having said that I will still watch the crash and bash stuff with almost as much enthusiasm. One last comment I think Andrew Strauss is possibly the best captain England has ever had,. Calm, courteous a great cricketer and a true gentleman of the game. Peter.
Posted 08:49 8th January 2011
Jeff Williams says...
Well what a series, this was sheer nectar, retaining the Ashes which was the first piority but then winning the whole series by such an emphatic chasm was absolutely tremendous. They were magnificent, they covered all areas, the feilding was tight, the bowling so varied and the batting was unhurried and executed with precision. I do think our cricket has finally turned the corner, as long as we dont get complacent we can now challenge India for that top spot. It's hard to pick out a individual but I was captivated when Cooky took the crease, he pounded the Aussies, and I found myself laughing at every stroke that man played. WELL DONE BOYS. We are so proud of you.
Posted 06:27 8th January 2011
Denise James says...
just like to say i'm so proud of all the lads they were brilliant i've watched every ball bowled lets get to number one you deserve it cant wait for next match
Posted 14:50 7th January 2011
Gerard Metzer says...
watched every test match, loved the coverage, unfortunatley had the aussie team on comentary, missed the SKY team. a very professional preformance from start to finish by England. The Aussie stadia as a backdrop to the victory made for exceptional viewing. I thiought the review system is the best thing in a long time and added a new dimension of drama for the avid fan. looking forward to seeing the boys in South africa.
Posted 14:02 7th January 2011
John Pratt says...
Great win boys. This was not an Australian team who have just lost their best players. Warne,McGrath,Hayden & Langer retired in Sydney 4 years ago. They were just simply outplayed,outthought & outcoached by a superblytalented, prepared and athletic team.
Posted 12:50 7th January 2011
Mike Faulkner says...
It wasn't so long ago that some Aussie players (Marsh?) were saying that England were no longer a top test nation and should be demoted to the minnows with a three test instead of five test series. Looks the other way now eh? Thought the squad, team spirit and Barmy Army were inspirational. Mike
Posted 12:45 7th January 2011
Ann Chapman says...
Hear, hear! A really stunning victory. It is so satisfying to see how much this means to everyone involved in the England set up. Thanks for a tremendous achievement, it's made my year!
Posted 11:46 7th January 2011
Brenda Fray says...
I have been watching highlights of the cricket from Limassol Cyprus where I am on holiday. A superb result for England I hope they become number one team. I watch all there games when I am home. They thoroughly deserve this result. We now have a great team.
Posted 10:21 7th January 2011
Brian O'sullivan says...
Great performance. England should now be able to go on and become the number one test side. The side is mainly young and will continue to improve. South Africa and India are both ageing and Australia will not bounce back any time soon.
Posted 08:53 7th January 2011